Tensor
Alloys Skateboard Trucks
7 Reviews
(7)
Write a Review
Features
Non-Compatible Risers
Risers from the following brands are not compatible with the baseplates of these trucks.
Dooks
,
Independent
,
Krooked
,
Loaded
,
Lucky
,
Paris
,
Thunder
Sizing Reference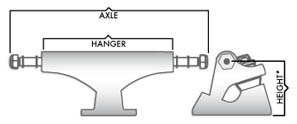 Note - Every skate truck brand represents their sizing a little differently, so it's easy to get confused. Take a look at this graphic and then reference the size chart.
Specs
| Size | 6.9 axle | 7.3 axle | 7.625 axle | 8.75 axle |
| --- | --- | --- | --- | --- |
| Hanger (mm): | 107.0 | 120.65 | 127.0 | 152.0 |
| Board Range (in): | 6.75 - 7.25 | 7.0 - 7.5 | 7.38 - 7.875 | 8.5 - 9.0 |
| Height (mm): | 49.5 | 50.5 | 50.5 | 51.0 |
| Weight (g): | 310.0 | 319.5 | 320.4 | 362.2 |
Reviews
by
Austin Ranft
in
Seguin, TX
(Verified Buyer)
Posted on 3/6/2020
Tensor Alloys Skateboard Trucks - raw (5.0)
The weight is good and the trucks feel high quality. I doubt my girlfriend will be doing many 50-50s so I can't say how well they'll hold up to grinds and more serious skating but they seem to be great quality.
If you trust Rodney Mullen than that's all you need to know.
by
Daniel Kurber
in
Middleton, WI
(Verified Buyer)
Posted on 1/25/2020
Tensor Alloys Skateboard Trucks - raw (6.0)
Solid trucks for a big guy
Posted on 1/16/2020
Tensor Alloys Skateboard Trucks
These are solid and they get the job done. I automatically like how i felt riding them. If I had to compare to Indy's I would say they are equal. This is a truck that I feel will last me but also is much less expensive option.
by
Josh
in
Philadelphia, PA
(Verified Buyer)
Posted on 1/11/2020
Tensor Alloys Skateboard Trucks - raw (6.0)
I got these because they are really inexpensive and I wanted to see if they could hold up to the standards set by the more expensive trucks. I've used them for three days now and so far I really like them. I switched out the bushings early on for bones soft bushings because I didn't like the turn originally, but with the bones they turn great.

The grind is not as slick as Thunders, but still grinds fine on both metal, concrete and granite, so no problems there. I haven't weighed them but they feel like they are lighter than Indy's or Aces, but slightly heavier than Thunders. So a good in between weight.

Design wise, they look fine, nothing bad about them.

I haven't had them long enough to test durability, but Tensor has a lifetime guarantee against manufacturer defects, so if they break when they shouldn't break, then they should be easy enough to replace. All in all, a really great truck considering the price.
Trucks are built for riding
by
Percy Shelton
in
Moreno Valley, CA
(Verified Buyer)
Posted on 11/7/2019
Tensor Alloys Skateboard Trucks - raw (6.0)
These trucks are fantastic have no grievances
by
Daemon Diehard
in
Siloam Springs, AR
(Verified Buyer)
Posted on 11/4/2019
Tensor Alloys Skateboard Trucks - raw (5.5)
Always a smooth ride.Tensors help keep me on the grind
---

More products from Tensor