Tensor
Alum Skateboard Trucks
Pay in 4 interest-free payments of $8.99 with
.
Learn more
Features
Non-Compatible Risers
Risers from the following brands are not compatible with the baseplates of these trucks.
Dooks
,
Independent
,
Krooked
,
Loaded
,
Lucky
,
Paris
,
Thunder
Sizing Reference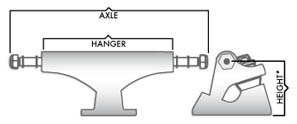 Note - Every skate truck brand represents their sizing a little differently, so it's easy to get confused. Take a look at this graphic and then reference the size chart.
Specs
| Size | 7.625 axle | 8.0 axle | 8.25 axle |
| --- | --- | --- | --- |
| Hanger (mm): | 127.0 | 137.0 | 142.2 |
| Board Range (in): | 7.375 - 7.875 | 7.75 - 8.25 | 8.0 - 8.5 |
| Height (mm): | 56.3 | 56.4 | 56.25 |
| Weight (g): | 352.7 | 360.7 | 369.0 |
Reviews
Tensors trucks are great for grinds
Posted on 2/24/2022
Tensor Alum Skateboard Trucks
I'd say give these a try because they go good and have a property of being the second best truck you could have. The Tensor Magnesiums seemed a little better at pace and these aluminums don't have the hollow hole on the axles but these ones slide good (I miss the plastic baseplate slider but oh well, grow up. These trucks I have on my board now I straight bombed a huge hill with them and they didn't even throw me into the traffic but these trucks are Hocus Pocus magical! Oh and the alloys the cheap cheap ones for $20 they look good for grinds like very solid strong and heavy truck. These ones I got for breaking my magnesium hollows and I need new wheels for them but they are super good. Best grinds and I killed it at the skatepark. Very good geometry of truck definitely make you a better skateboarder to have these trucks. Guaranteed against breakage too (if they're the aluminums [the alloys had no guaranteed they were just flat.]) Great trucks and they are just what you'd want to skate because the bushings rule too. The alloys get speed wobbles so the aluminum second best Tensor truck at the moment.
---
More from Tensor