Thirtytwo
Women's STW Boa Snowboard Boots 2021
Be the first to write a review
Pay in 4 interest-free payments of $34.99 with
.
Learn more
Out of stock
But there's another version of this product: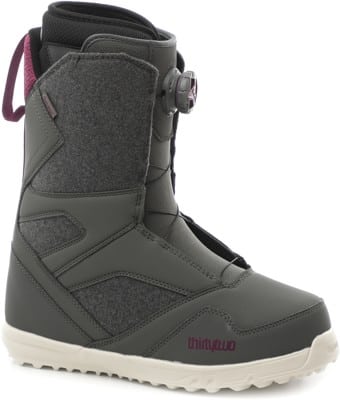 Thirtytwo
Women's STW Boa Snowboard Boots (Closeout) 2022
$153.95

(30% off)
More from Thirtytwo
---
Overview
The STW All-Mountain Snowboard Boots are ideal for people of all skill levels and riding styles. They feature a lightweight evolution foam outsole that provides better cushioning, the iconic Boa lacing system, and Thirtytwo's heat-moldable comfort liner for a precise fit and high performance.
Features
Key Features
Boa Closure System
STI Evolution Foam Outsole
1:1 True Fit Outsole
Liner
Comfort Liner
Comfort Footbed
Internal Liner Lacing System
Key Features
Boa Closure System - The Boa Closure System delivers a fit that hugs your feet and is backed by an ironclad lifetime guarantee, Boa proves that high performance and superb comfort can co-exist.
STI Evolution Foam Outsole - Designed at STI (eS, Emerica, Etnies) this foam provides better cushioning than traditional foam materials and dramatically reduces the weight of their boots by eliminating the need for a heavy rubber outsole.
1:1 True Fit Outsole - Creating true half-sizes is another huge step in achieving the best fitting boots in the snowboard market. Test it for yourself, you won't be disappointed.
Shell
3D Molded Tongue - ThirtyTwo's 3D Molded Tongues wrap your foot for easier lacing, an even flex, and improved fit and heel hold.
Liner
Comfort Liner - Heat moldable, dual-density foam and fleece lining for comfort with a focus on performance.
Comfort Footbed - Die-cut flat sheet EVA with a sherpa top sheet for warmth and comfort.
Internal Liner Lacing System - ThirtyTwo's Inner cuff Lacing System can easily be tightened with a single pull. This will keep the laces secure and the anatomical shape will keep your heel down.