Thrasher
Diamond Logo 4.5" Sticker
5 Reviews
(5)
Write a Review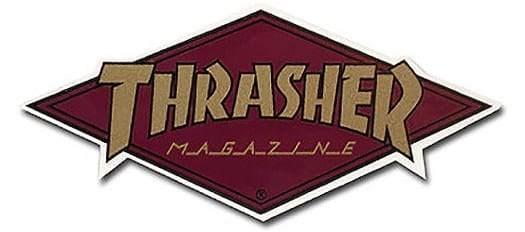 Overview
The Diamond Logo 4.5" Sticker from Thrasher.
Slap on your deck, your board or whatever else you ride with wheels.
Reviews
Sticker that will blow your mind
by
John Kolash
in
MARYSVILLE, WA
(Verified Buyer)
Posted on 7/9/2017
Thrasher Diamond Logo 4.5" Sticker - grey/silver
This sticker has a silvery look to it , almost as if it was some Area 51 material,its space age space i believe you earthlings call it a diamond.let me tell you this thing will stick almost any surface.
by
William Gessner
in
Patchogue, NY
(Verified Buyer)
Posted on 2/5/2017
Thrasher Diamond Logo 4.5" Sticker - grey/silver
by
Jake B
in
chico, CA
(Verified Buyer)
Posted on 2/21/2015
Thrasher Diamond Logo 4.5" Sticker - grey/silver
by
Tobias L
in
boise, ID
(Verified Buyer)
Posted on 1/12/2015
Thrasher Diamond Logo 4.5" Sticker - orange/white
Bad ass sticker here...brings all the ladies to the yard
by
Tobias L
in
boise, ID
(Verified Buyer)
Posted on 1/12/2015
Thrasher Diamond Logo 4.5" Sticker - gold/maroon
---

More from Thrasher