Ace
66 Hi Skateboard Trucks
15 Reviews
(15)
Write a Review
Overview
The 66's are huge beefy trucks for larger setups, best fitting decks that are generally 9.1 inches wide and larger. Ace knows what they're doing when it comes to skateboard trucks so grab yourself a pair of these and hit the park or the streets with confidence.
Features
Note on Hanger Shape
The hangers are not bent or defective, the bend you see in the images is due to the curved hanger construction which allows you to help lock into grinds more easily.
Non-Compatible Risers
Risers from the following brands are not compatible with the baseplates of these trucks.
Diamond
,
Girl
,
Independent
,
Loaded
,
Paris
Sizing Reference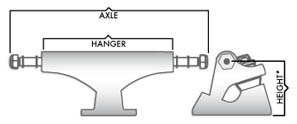 Note - Every skate truck brand represents their sizing a little differently, so it's easy to get confused. Take a look at this graphic and then reference the size chart.
Specs
| Size | 9.35 axle |
| --- | --- |
| Hanger (mm): | 171.45 |
| Board Range (in): | 9.1 - 9.6 |
| Height (mm): | 53.3 |
| Weight (g): | 418.5 |
Reviews
by
Bab
in
RI
(Verified Buyer)
Posted on 6/13/2020
Ace 66 Hi Skateboard Trucks - matte black
by
Sam Labonte
in
East longmeadow, MA
(Verified Buyer)
Posted on 6/8/2020
Ace 66 Hi Skateboard Trucks - polished silver
A must have for your quiver
Posted on 5/3/2020
Ace 66 Hi Skateboard Trucks
I did not want to buy these but they were out of indys, but after breaking them in a for a day Im glad i did. They are very responsive. They turn on a dime, grind consistently smooth, look sick, and are pretty light. If you like bigger wheels you might need an extra 1/8 riser to prevent wheel bite(56mm g slides and 3 1/8 riseres work well for me) great street trucks and probably great for shredding pools as well.
Ace trucks should have optional holes for old school decks
by
Jon F
in
Northridge, CA
(Verified Buyer)
Posted on 3/7/2020
Ace 66 Hi Skateboard Trucks - copper
Ace and other manufacturers should have optional holes for old school decks in their base plates or should offer old school optional plates
Wisest truck out there with great turn
by
Shan Reddy
in
New York, NY
(Verified Buyer)
Posted on 1/26/2020
Ace 66 Hi Skateboard Trucks - matte black
Ace's are terrific. Look great and widest truck out there
by
Ranson, Scott
in
Pueblo, CO
(Verified Buyer)
Posted on 10/16/2019
Ace 66 Hi Skateboard Trucks - shelby blue
---

More products from Ace