Best Park & Freestyle Snowboards | Tactics Picks for 2020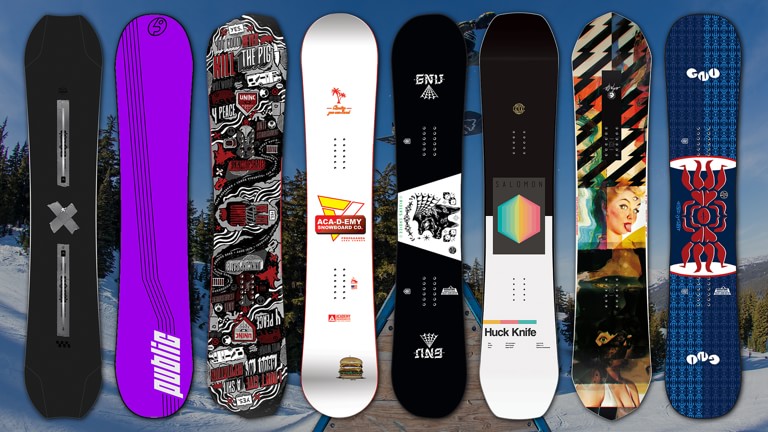 Whether you need a maneuverable snowboard to press and slide through technical rail lines or a stable and poppy ride to send it off jumps and hips, we have the top freestyle snowboards to suit a variety of different styles. Freestyle snowboarding can take many forms and the same is true for park and freestyle boards in terms of shape, profile, and flex. Scroll down to take a look at our top ten park and freestyle snowboards for 2020, and don't forget to hit those play buttons for on-snow rider reviews of how they perform out on the mountain.
Top Park & Freestyle Snowboards
Shop Park & Freestyle Snowboards
---
Gnu Head Space

GnuForest Bailey Head Space Asym C3 2020$459.95Shop Now
From the creative mind of Forest Bailey, the Head Space is an UNREAL freestyle board that packs response and power for creative riding in all conditions and terrain. Complete with an asymmetrical twin shape and a reactive C3 camber profile, this board has the landing gear to handle jumps with ease, while still being maneuverable and catch-free for techincal rail line the park.
---
Capita Ultrafear

CAPiTAUltrafear 2020$479.95Shop Now
Synonymous with park and freestyle snowboarding, the Ultrafear has been a staple in the Capita line for a number of years and has won countless awards for its unrivaled freestyle performance. Complete with a zero camber Park V2 Profile for easy presses and increased mobility in the park, the Ultrafear was built for rail riding. Added features like Kevlar/Titnal Body Armour™ and Cork Dampening provide increased durability and dampening for a ride that is lively all season long.
---
Ride Twinpig

RideTwinpig 2020$439.95Shop Now
A proud member of the Warpig family, the Twinpig features a softer flex than traditional Warpig and sports an asymmetrical hybrid shape for easy maneuverability and solid edge hold across the whole mountain. Ride built this board with a Foundation Tuned Core for strength, durability, and pop which is a must when lapping the jump line or cruising through the pipe.
---
Salomon Huck Knife

SalomonHuck Knife 2020$449.95Shop Now
The board of choice for Salomon pro Jesse Paul, the Huck Knife is a responsive, true twin, freestyle board that is designed for rails, jibs, and jumps. Featuring a Quad Camber profile, the Huck Knife provides the response or a full camber board but with the easy to ride and catch-free feel of a reverse camber snowboard. EQ Rad Sidecuts provide added grip and response when turning, and rubber dampening underfoot ensures less vibration and shock when charging through rough snow or on hard landings.
---
Gnu Riders Choice

GnuRiders Choice Asym C2X 2020$579.95Shop Now
Built for riders of all ability levels, the Rider's Choice features an easy to ride C2X camber profile and a true twin shape that is predictable for effortless switch riding. Complete with Magne-Traction Edges, an asymmetrical shape, and available in a wide range of sizes, this board is a go-to for beginners and advanced park riders alike.
---
Academy Propaganda

AcademyPropaganda 2020$418.95Shop Now
The Academy Propaganda is a budget-friendly park board that does not skimp on performance and durability. Featuring a flat camber profile and medium flex, this board was built with easy maneuverability in mind for technical rail lines both in the park and out in the streets. Features like Carbon VXR Laminates and a sintered base take this budget-friendly ride to the next level ensuring you are getting the most bang for your buck freestyle board on the market.
---
Public General Public

PublicGeneral Public 2020$409.95Shop Now
Built for riders of all skill-sets, the General Public is a versatile freestyle board that blends responsive camber with a forgiving flex. A go-to for many Public team riders, the General comes in a variety of sizes which makes it a great choice for riders just starting out, or advanced freestyle riders who demand quality and performance without the expensive price tag.
---
Yes Greats

YESGreats UnInc 2020$549.95Shop Now
Redesigned for 2020, the Greats UnInc. comes equipped with an updated asymmetrical Mid-Bite for added edge control and increased mobility. Featuring a CamRock 2-4-2 profile, an asymmetrical twin shape, and an asymmetrical flex, this board delivers better response and greater stability than ever before. The board of choice for JP Solberg and Colin Spencer, the Greats is an amped-up freestyle board that isn't afraid to lay down a Euro carve or two.
---
Burton Kilroy 3-D

BurtonKilroy 3D 2020$469.95Shop Now
Equipped with a responsive Pure Camber profile, the all-new Kilroy 3-D is a progressive freestyle board that is built for hangtime and rail lines. Complete with 3-D base contours on the nose and tail, this board offers a catch-free feel that promotes expressive freestyle riding across the whole mountain.
---
Nitro Team

Innovation and the perfect blend of flex and response has made the Nitro Team a trusted team favorite for over a decade. Featuring Trüe Camber, a twin shape, and a Dual Degressive sidecut, the Team offers the response, snap, and maneuverability needed for confident freestyle riding in the park and across the mountain.
---
LEARN MORE ABOUT SNOWBOARDING
Related Posts