Best Park & Freestyle Snowboards | Tactics Picks for 2019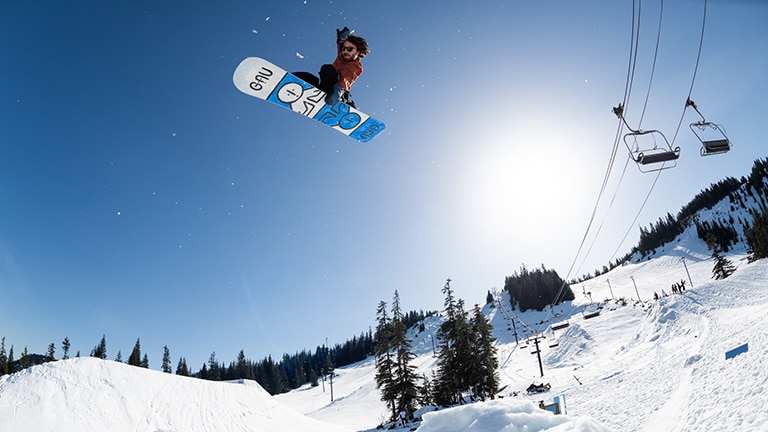 Whether you need a maneuverable snowboard to press and slide through technical rail lines or a stable and poppy ride to send it off jumps and hips, we have the top freestyle snowboards to suit a variety of different styles. Freestyle snowboarding can take many forms and the same is true for park and freestyle boards in terms of shape, profile and flex. Scroll down to take a look at our top ten park and freestyle snowboards for 2019, and don't forget to hit those play buttons for on-snow rider reviews of how they perform out on the mountain.
Top Freestyle Snowboards
Shop park/Freestyle Snowboards
Gnu Forest Bailey Head Space Asym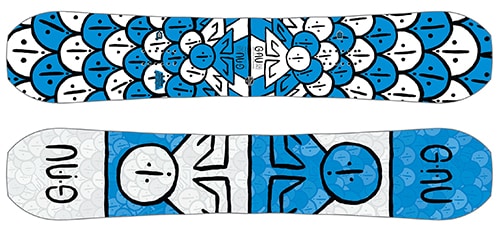 GnuForest Bailey Head Space Asym C3Shop Now
Sporting an unmistakable graphic done by the man himself, the Forest Bailey Head Space is an asymmetric twin that is built for jumps, rails and side hits alike. Featuring a powerful C3 profile, this board packs a ton of pop and response for snapping ollies and handling heavy landings. The versatile flex found on the Head Space allows it to be both responsive and highly maneuverable edge to edge with is a must when navigating technical rail lines. If you're looking for an adaptable park board to ride everything, the Head Space is one of our top picks for 2019 and a board that we are sure you will be seeing a lot of both inside the park and around the resort this season.
Gnu Money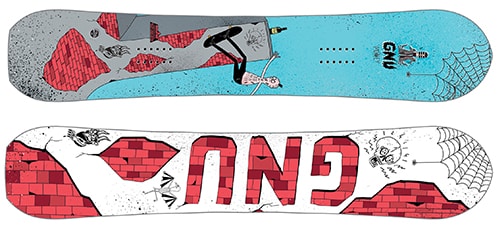 If your looking for a budget-friendly park board the Gnu Money is can't be beat! Featuring an easy to ride C2E hybrid camber profile, this board is a great option for beginners as well as experience park riders who demand maneuverability and versatility out of a freestyle snowboard. The hybrid profile seamlessly blends pop and power for maximum control and predictability in the park, while still maintaining excellent float in powder. The lightweight Aspen and Paulownia wood core provides strength and snap, while the co-extruded base ensures easy repairs from season-long rail riding.
Capita Indoor Survival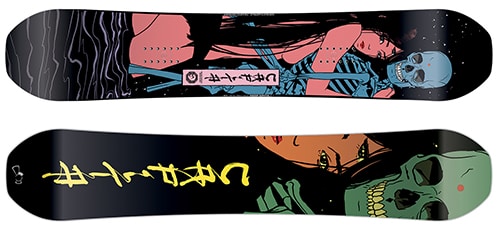 The Indoor Survival is an adaptable freestyle board that kills it in the park and handles powder with ease. Featuring a versatile Resort Camber profile, the large positive camber section underfoot increases pop and edge hold while small flat sections towards the tip and tail keep things catch free. With an FSC® Certified Dual Core™ and a medium flex, this board is a great choice for riders of all skill levels and an easy choice for any rider looking for a resort freestyle board that won't break the bank.
Ride Twin Pig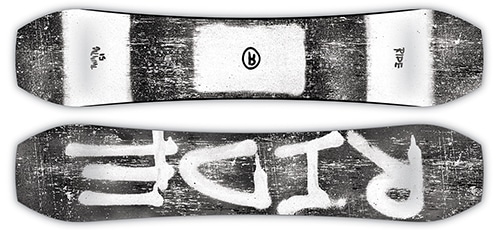 A proud member of the Warpig family, the Twinpig features a softer flex than traditional Warpig and sports an asymmetrical hybrid shape for easy maneuverability and solid edge hold across the whole mountain. Ride built this board with a Foundation Tuned Core for strength, durability, and pop which is a must when lapping the jump line or cruising through the pipe. Featuring an asymmetrical quadratic sidecut, the edges feature a blend of three different radius' to improve turn initiation and edge hold in all conditions.
Salomon Huck Knife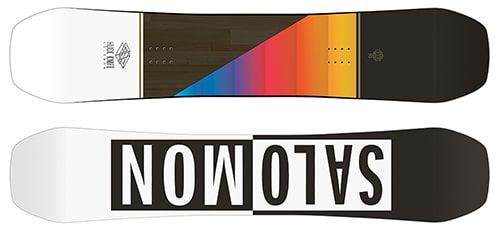 The Salomon Huck Knife is a responsive, true twin, freestyle snowboard that is designed for rails, jibs, and jumps. Featuring a Quad Camber profile, the Huck Knife provides the response or a full camber board but with the easy to ride and catch-free feel of a reverse camber snowboard. The true twin shape allows for uncompromised switch riding while the medium flex ensures pressing and sliding rails is a breeze. EQ Rad Sidecuts provide added grip and response when turning, and rubber dampening underfoot ensures less vibration and shock when charging through rough snow or on hard landings. The board of choice for Salomon pro Jesse Paul, the Huck Knife is a top of the line freestyle board can handle it all.
Public Bradshaw Public Opinion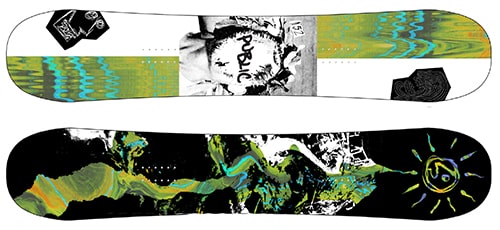 PublicBradshaw Public Opinion 2019$293.95Shop Now
Tuned to Chris Bradshaw's precise specifications, the Public Opinion features a minimal Blitz Camber profile which allows for a soft and playful ride that still packs a ton of pop and response. Designed for versatility, the Opinion can tackle resort cruising and technical park laps with ease. Urethane sidewalls increase dampening and add to the overall durability of the board for less edge damage during abusive rail riding. A sintered base ensures a fast and smoth ride, while Kevlar stringers add memory and response keeping this board lively and full of energy season after season.
Dinosaurs Will Die Bilocq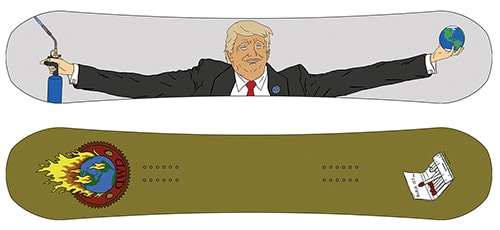 Dinosaurs Will DieBilocq 2019$336.95Shop Now
Freestyle snowboarding is expressive, and the Dinosaurs Will Die Bilocq embodies that idea not only with its controversial graphics but with its versatile construction and characteristics. Featuring a flat camber profile and a directional twin shape, the Bilocq is easy to ride and provides the best of both worlds when it comes to response, control and float in powder. From jump lines in the backcountry to a heavy session in the streets, the Dinosaurs Will Die Bilocq is ready for anything.
Burton Kilroy Process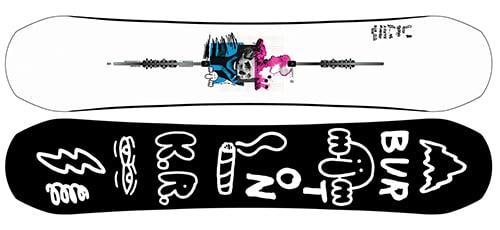 Designed for Burton's up and coming generation of riders, the Kilroy Process is tuned to help progress the art of freestyle riding. With a true-twin shape, traditional camber profile, and a forgiving flex, the Kilroy Process is versatile enough to handle everything from rail lines to pipe walls with ease. A lightweight Super Fly® Core and Biax fiberglass laminate offer durability, strength, and snap that will last all season long. Team rider Dru Brownrigg likes this board for its softer flex and overall versatility across the whole mountain.
Academy Propaganda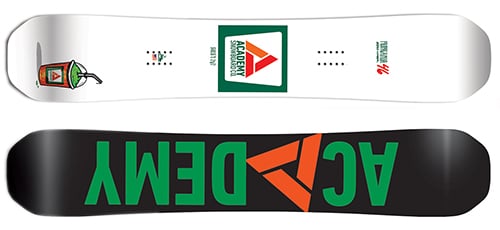 The Academy Propaganda is a budget-friendly park board that does not skimp on performance and durability. Featuring a flat camber profile and medium flex, this board was built with easy maneuverability in mind for technical rail lines both in the park and streets. The Press Flex Core provides the pop and stability of a traditional camber board while maintaining a good amount of flex for pressing boxes and rails. Features like Carbon VXR Laminates and a sintered base take this budget-friendly ride to the next level ensuring you are getting the most bang for your buck freestyle board on the market.
Slash Happy Place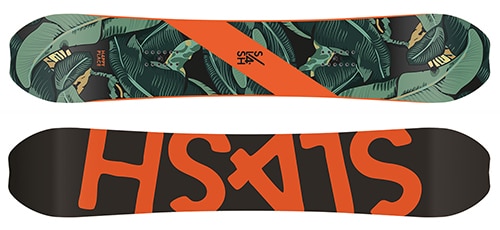 A favorite of team rider Andy Glader, the Happy Place is a true twin park board designed for all types of freestyle terrain. Featuring a versatile CamRock profile, this board maintains the perfect blend stability and play which makes it handle great on jumps and rails alike. The lightweight Pop Wood Core and Carbon Fiber Stringers increase the strength and response of the board for season-long dependability and pop. Complete with a progressive sidecut and Ultimate Traction Bumps, the Happy Place ensures maximum edge hold when riding adverse snow conditions or charging big jump lines.
Shop All Park/Freestyle Snowboards
Related Posts