Catching up with Justin Norman | Preseason Rail Missions

Despite our collective love for the snow and the countless days we spent in the mountains during the winter, when the seasons start to change and the snow begins to melt, many of us look forward to a change of scenery and activities. For snow team rider Justin Norman that is not the case. As one of Tactics longest standing riders, Justin has dedicated his lifestyle to being strapped into his board every chance he gets.
Before moving to Washington last year to pursue bigger terrain and a new profession, Justin was lucky enough to call Bend, Oregon, home for over a decade. Having spent countless days ripping Mt. Bachelor during the winter and numerous summers up on the glacier at Mt. Hood, Justin's commitment, drive, and effortless style have helped establish him as a well known and respected rider here in the Northwest.
Currently residing in Ferndale, Washington, Justin has spent the last two winters exploring new terrain around the Stevens Pass and Mt. Baker area, as well as some local street spots in northern Washington. With cooler weather on the horizon, Justin got the itch early last month to strap in and make a late August rail mission happen. With the help of a local ice rink and a solid crew of motivated photographers and friends, the dream of a Hot August Night session was made a reality.
We caught up with Justin while he was rolling through town and got a little insight into what it takes to make these unique sessions happen. He even took us to the first handrail he ever hit in Eugene when he was younger, as well as a few other spots he has been dreaming of hitting like the "Great White Buffalo."
Follow @jdnorman to keep up with all the trips, missions and adventures he has planned this upcoming winter.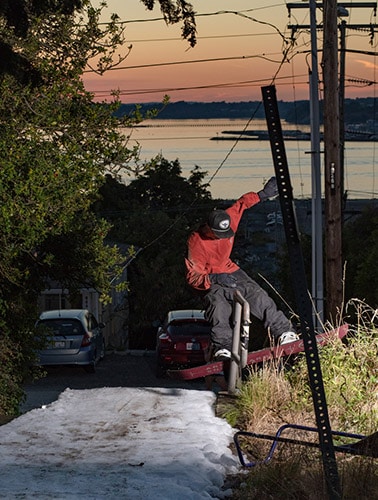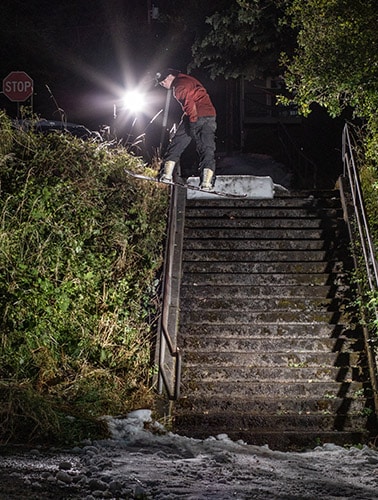 "for me going and doing something different is really just what drives me..."
"I can't help but continue to do it until I can't anymore honestly...it's something that's ingrained in my DNA"
Related Posts