Overview
The Tensor Mag Light skateboard trucks feature a hollow kingpin and axle to shave weight. The magnesium hanger and baseplate further reduce weight while maintaining the same strength as steel. The result is a truck that's 29% lighter than a traditional steel truck, but just as strong. What this means for you is easier ollies and a much lighter skateboard. That's a plus. A big plus.
Features
Axle/Kingpin Style
Hollow Axle & Kingpin - Hollow axle trucks cut down on the materials used in the axle, so your trucks feel lighter. Hollow kingpins further reduce weight while still maintaining strength in this critical area.
Non-Compatible Risers
Risers from the following brands are not compatible with the baseplates of these trucks.
Dooks
,
Independent
,
Krooked
,
Loaded
,
Lucky
,
Paris
,
Thunder
Sizing Reference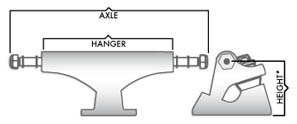 Note - Every skate truck brand represents their sizing a little differently, so it's easy to get confused. Take a look at this graphic and then reference the size chart.
Specs
| Size | 7.625 axle (low) | 7.875 axle (low) | 8.125 axle |
| --- | --- | --- | --- |
| Hanger (mm): | 127.0 | 133.35 | 139.7 |
| Board Range (in): | 7.5 - 7.75 | 7.75 - 8.0 | 8.0 - 8.25 |
| Height (mm): | 46.0 | 46.8 | 53.8 |
| Weight (g): | 247.6 | 236.0 | 267.6 |
Reviews
by
Dominic Watson
in
Pensacola, FL
(Verified Buyer)
Posted on 6/5/2019
Tensor Mag Light All Terrain Skateboard Trucks - black (5.5)
Super light weight trucks, turns take some getting used too. Overall great so far.
Light and Faster than every truck ive used so far
by
Daevon Phillips
in
Detroit, MI
(Verified Buyer)
Posted on 5/8/2019
Tensor Mag Light All Terrain Skateboard Trucks - black (5.5)
I ride 59 mm wheels and these trucks are low some how they still prevent wheel bite which is crazy. Not to mention the acceleration i get from these things are just INSANE
by
Scott
in
Sunnyvale, CA
(Verified Buyer)
Posted on 6/20/2018
Tensor Mag Light Skateboard Trucks - silver (5.5 lo)
I like low trucks, but like to keep the bushings loose enough to still turn. I tried indy hollow lows, but the bushings would always tear if you rode the trucks loose at all (I like to ride transition mostly). I ended up shaving them down a bit, but they still tore after a while.

I switched to these and they are great. I can use bones hardcore bushings and they fit fine, even on the lows. it took a minute to get used to how light they are compared to the indys, but now I notice I can ollie higher and the board doesn't hurt as much when it lands on me.
by
Jof
in
Grove City, OH
(Verified Buyer)
Posted on 5/30/2018
Tensor Mag Light Skateboard Trucks - silver (5.5)
Tensor trucks generally have bad reviews on the internet but as a beginner I wanted the lightest trucks to help with my ollies. I was not disappointed and actually surprised -- the trucks were not just amazingly light but turned really well. I switched the bushings to Bones hard to help even more with ollies and stability since I'm a full grown adult. Can't say much about grinding since I don't do that yet.
by
Christopher Maxwell
in
SPOTSYLVANIA, VA
(Verified Buyer)
Posted on 3/1/2018
Tensor Mag Light Skateboard Trucks - silver (5.25)
These things grind like butter
Posted on 10/30/2017
Tensor Mag Light Skateboard Trucks
I bought these after getting thunder hollow lights and not liking the insane response rate the thunders have. I like doing big jumps and ledges and I feel the way the thunders respond makes it harder to land but I am a very very picky skater so that is my very analytical personal opinion. These mag lights are the best and they're lighter and even look cleaner and more solid in their overall look feel and design. Expensive but they last long and are worth it, get them!
Asked by
Plaid Retina
on 6/10/2017
Hey guys can I get a height and weight for the 8.625? Thanx so much for your time!!
Answered by
James D
(Tactics Employee) on 6/16/2017
These trucks are 48mm tall from the ground to the bottom of the axle. Together as a pair, they weigh 1.2 lbs
---

More products from Tensor