Thunder Trucks
Team Titanium Skateboard Trucks
$65.95
4 Reviews
(4)
Write a Review
Overview
Featuring an ultra light and strong construction, the Team Titanium trucks come with aircraft grade hollow kingpins and titanium axles. What this amounts to is a super strong and lightweight pair of trucks. But that's not it, thanks to the cast baseplate these trucks are 1mm higher than Thunder's traditional baseplate giving you the opportunity to get more pop when you snap your tail down. More pop means more air, more air is good.
Features
Details
Original Cast Baseplates
1mm Higher than Forged Baseplate Thunder Lights
Axle/Kingpin Style
Titanium Axle - Ultra-light and strong, titanium axles help provide you with the lightest trucks on the market. Titanium has the highest strength vs. weight ratio of any commercially used metal today, which means these axles can take the most damage with the least amount of weight.
Origin
Made in the USA - Made in San Francisco, California
Non-Compatible Risers
Risers from the following brands are not compatible with the baseplates of these trucks.
Arbor
,
Diamond
,
Dooks
,
Girl
,
Independent
,
Loaded
,
Paris
,
Rayne
,
Sector 9
Sizing Reference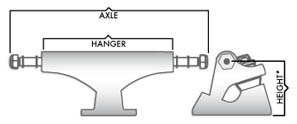 Note - Every skate truck brand represents their sizing a little differently, so it's easy to get confused. Take a look at this graphic and then reference the size chart.
Specs
| Size | 8.5 axle |
| --- | --- |
| Thunder Size: | 149 |
| Hanger (mm): | 150.0 |
| Board Range (in): | 8.25 - 8.75 |
| Height (mm): | 50.78 |
| Weight (g): | 321.0 |
Reviews
by
Michael Parker
in
Tupelo ms
(Verified Buyer)
Posted on 5/30/2019
Thunder Trucks Team Titanium Skateboard Trucks - polished (149)
I love these trucks. Had the team lites before these so I had to try the titanium version. Strong, and the lightest trucks available. Can't go wrong with these.
by
Derek Wright
in
MI
(Verified Buyer)
Posted on 2/28/2018
Thunder Trucks Team Titanium Skateboard Trucks - polished (148)
Best trucks I've bought so far. Grinding is amazingly smooth. With a very quick turn resonance.
Best trucks I've ever skated
Posted on 11/13/2017
Thunder Trucks Team Titanium Skateboard Trucks
The are just as light as my forged hollow Indys. If you want easier pop and tighter turns without having your trucks loose thunder is the best.
Posted on 10/1/2017
Thunder Trucks Team Titanium Skateboard Trucks
they are light, tough, and turn like thunders do. bushings are seem to be sticky at first but get very responsive once they are broken in. as far as trucks go these are as utilitarian as it gets.may not be pretty but they do their job!!!!
Asked by
Cesar
on 5/15/2018
Do these come with a Hollow Kingpin?
Answered by
Graig A
(Tactics Employee) on 5/16/2018
These have a hallow kingpin but the axle is not.