---

More from Gullwing
---
Overview
Barrier Kult and Gullwing trucks have teamed up to bring you the BAKU Pro II skateboard trucks. These trucks have the same geometry as the Mission 1 trucks and work best on wide cruisers.
Features
Baseplate Style
Standard
Old School Deck Compatible
Non-Compatible Risers
Risers from the following brands are not compatible with the baseplates of these trucks.
Sizing Reference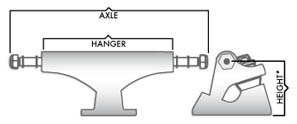 Note - Every skate truck brand represents their sizing a little differently, so it's easy to get confused. Take a look at this graphic and then reference the size chart.
Specs
| Size | 8.75 axle |
| --- | --- |
| Hanger (mm): | 159.0 |
| Board Range (in): | 8.6 - 9.0 |
| Height (mm): | 58.0 |
| Weight (g): | 396.5 |
Reviews
Gullwing BAKU Pro III Trucks
by
J
in
Brooklyn, NY
(Verified Buyer)
Posted on 9/25/2019
Gullwing BAKU Pro III Skateboard Trucks - black
I love Indy's, but these trucks feel amazing. Great turns, and a nice smooth floaty feel. I like the stock bushings on this, and the 58mm height is great for my 60mm wheels. I still need 1/4" risers for my set up but it's all good. Feels good in the park and definitely in the streets. I hit some pretty crusty streets on this. Working on barrier rides and these are perfect for that. I like the weight of standard Indy's. These are a little lighter, but still have nice weight to it. It took a minute to adjust. These are a little glidier than Indy's, but I love that. Also I love the BAKU!
by
Tyler
(Verified Buyer)
Posted on 10/23/2017
Gullwing BAKU Pro III Skateboard Trucks - black
The Gullwing groove helped me get more comfortable on coping. Black trucks rule
Perfect for cruiser and big boards
by
Brennan Brooker
in
bloomington, IN
(Verified Buyer)
Posted on 9/26/2017
Gullwing BAKU Pro III Skateboard Trucks - black
Really sick. Definitely a big difference in feel being higher up. Makes turning with 60mm wheels feel more natural and less wheel bite
Deep black BAKU Gullwing Pro III
Posted on 8/7/2017
Gullwing BAKU Pro III Skateboard Trucks
These trucks are pretty darn nice. I set up a bowl board with them and the groove has given me a bit more confidence and helped settle me into tricks on coping. They turn nice, grind well, and the older dudes at the park are always sayin "are those gullwings!?! Rad!"
by
Angel Ochoa
in
El monte, CA
(Verified Buyer)
Posted on 3/30/2016
Gullwing BAKU Pro III Skateboard Trucks - black
For some reason I thought I bought reverse kingpin trucks especially since these are made by Gullwing, they are not, that's okay I guess. What's not okay is the bushings on these and the included washers, I recommend buying some Array Machined Washers for the Road Side bushing of choice that you purchase along with the Board Side you purchase later, the truck's base plate hold onto any barrel bushing you put in to the Board Side but I'm not sure how these would perform with anything carve related there as I'm not sure you can fit another washer in the cupped section. Otherwise these are decently light in my opinion and the metal they are made of are high quality. The finish used on these are pretty good as well as the graphic has hardly chipped or scratched and where it has is hardly noticeable.
by
STU_BILLIT
in
CA
(Verified Buyer)
Posted on 3/22/2016
Gullwing BAKU Pro III Skateboard Trucks - black