adidas 3ST.001 Skate Shoes Wear Test Review

adidas Skateboarding took their footwear in a bold new direction with the 3ST family, so we had our team rider, Nick Propios, take some 3ST.001's out for a test drive.
The first thing Nick noticed was the fit of the shoes. Even though they ran about a half size large in the toe area, the rest of the knit-sock upper was still snug on his feet, and the TPU insert in the heel kept his foot from moving side to side. Geoflex hex pattern on the outsole provided maximum grip while retaining flexibility and boardfeel. The 3ST.001 uses vulcanized construction with a relatively thin, standard adidas insole. The shoe also uses adidas' TORSION arch support system, meaning that the forefoot and heel of the shoe to move independently of each other, resulting in a more responsive and flexible sole.
Nick had been skating his pair for about 3 weeks at the time of filming the wear test and the shoes showed surprisingly little wear. The inset lace system kept the laces unscathed and the suede upper held up well, never wearing through to the layer of adiTuff rubber directly underneath the suede. Altogether, Nick was stoked on the 3ST.001, noting that his only grievance with the shoe was that the sizing felt a little big in the toe area.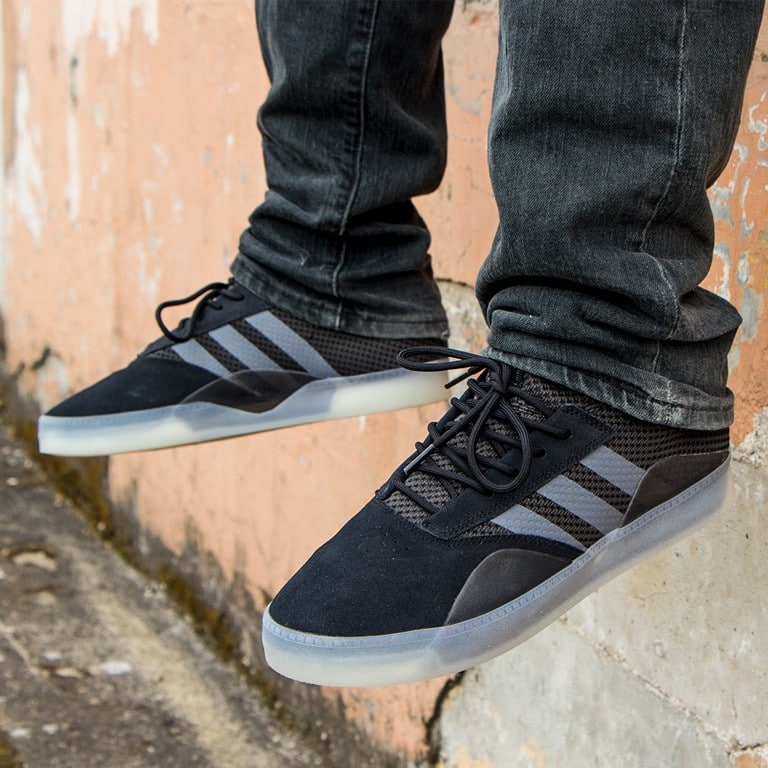 Related Posts