Adidas "Nora" Skate Wear Test
adfadfaeEnassdfadfdafa
"The Nora"- After years of putting in the work and earning her stripes as a leading woman in the skate industry, Nora Vasconcellos has achieved pro-model shoe status with Adidas Skateboarding. Nora and Adidas partnered to create a new pro-model shoe to celebrate Nora and what she represents and has accomplished. The Nora is a departure from the usual suspects in the Adidas shoe lineup. This shoe is an entirely new silhouette for the three stripes; by design, it emphasizes gender neutrality, comes in several different colorways, various materials, a cup sole, and, more notably, built-in arch support for us flat-footed skaters. We asked Tactics team rider Maya Volpacchio to put this latest shoe to the test and give her opinion on its overall performance. Maya and crew grabbed a session at her local indoor park Stronger, and made another stop at Adidas to skate at their facility. Click play on the video above to see what went down, and read along below to find out what this new design has to offer from a technical aspect and see how features held up through Maya's investigation.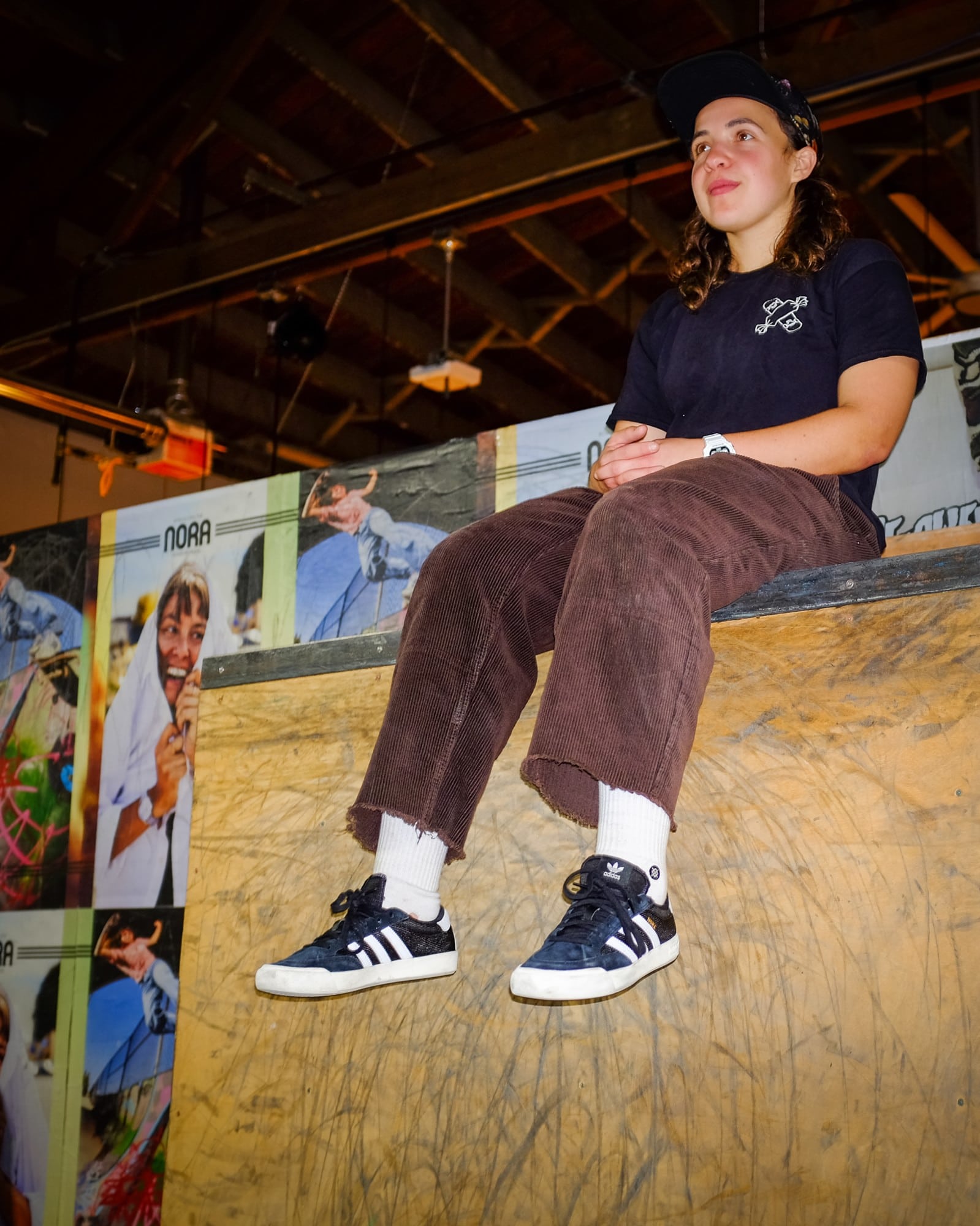 So what's good with this new shoe from Nora Vasconcellos?
* Solid Materials
* Arch support
* Good flick
* Board feel and traction
* No ripped laces
* Thick tongue
The Nora from Adidas has many essential ingredients you want and need from a skate shoe; good flick, grip, and board feel. Maya dug deeper into this shoe and pointed out some tech and details that caught her eye. Noting the mesh exterior quarter panel with "Nora" emblazoned in gold print then flows into a suede toe cap. The outer heel cup is where things become trippy with what we can only assume is a leather mushroom… if you have seen our latest foraging collection, you know we are fungi fans. While we are still on the shoe's exterior, let's discuss a common theme in wear tests, ripped laces. For this round, there were NO ripped laces… and Maya tears them constantly.
Now that we have covered the shoe's exterior let's dig into the details you can't see but can feel. The Nora has excellent Arch support, something you don't find in most skate shoes. Maya found it interesting at first but came away feeling positive. Nora and Adidas did it, so why don't skate companies make arch-support skate shoes more often? We don't have the answer, but it sounds good for taking care of our feet long-term.

Any drawbacks to this shoe?
* Low cut
* Low impact support
* Narrow
* We couldnt think of another drawback

There are some red flags with this shoe that Maya called out, and as we do for wear tests, we do not sugarcoat it when we find something that could be a turnoff. On The Nora, a part of the design is that this shoe is compact and sleek. These are good features, but they can expose some cracks in the foundation when looking at it from all sides. Diving deep, we arrive at the shallow cut around the ball of your ankle; That low cut exposes your ankle to getting hit by your board and other objects. Not the end of the world, but something to be aware of if you have sensitive ankles or have a large presence of ankle-biting scooter children at your local skate park.

Next, we found that the Nora isn't necessarily the most cushioned shoe on the market, and its design doesn't lend itself to absorbing super harsh landings. Its strengths lie in technical and transition skating. The NORA shoe is excellent for ledge skating and flip tricks. As we said in this blog, this shoe has a great flick. That great flick could be attributed to the compact and narrow nature of the shoe, but Maya found that the shoe seemed skinnier compared to her prior experiences with Adidas shoes. Shoes vary in shape and design, and it's something to consider when making a purchase.

---

So now that you have seen the shoe and watched Maya skate, read our breakdown on this latest shoe from Nora Vasconcellos and Adidas Skateboarding. You are now armed with all the info. It is up to you to decide if The Nora is your next shoe. Check out Nora's shoes and other pro-model goods from Adidas below.
Related Posts