Nike SB React Leo | Skate Shoe Review
NIKE SB REACT LEO
Reviewed By: Dakota Mead, Tactics Skate Team Rider
Written By: Hunter Murphy, Content Specialist
Welcome back to another Tactics shoe review! Today, we're taking a look at the Nike SB React Leo. This collaboration between Leo Baker & Nike SB is a whole new shoe for their lineup of skate shoes, and Leo Baker's first pro model with the swoosh. These skate shoes incorporate a React cushion insole and a blend of leather and suede in a mid-top design, adorned with Nike branding, and featuring Leo Baker's name on both the tongue tag and insole. The pivotal question we aim to address in these reviews is, "Are these shoes durable?"
For this task, we've enlisted the assistance of Tactics team rider, Dakota Mead, who took these shoes through the streets of Portland for nearly 30 hours of skating.
Click play above & scroll down to find out how the Nike SB React Leo held up.
---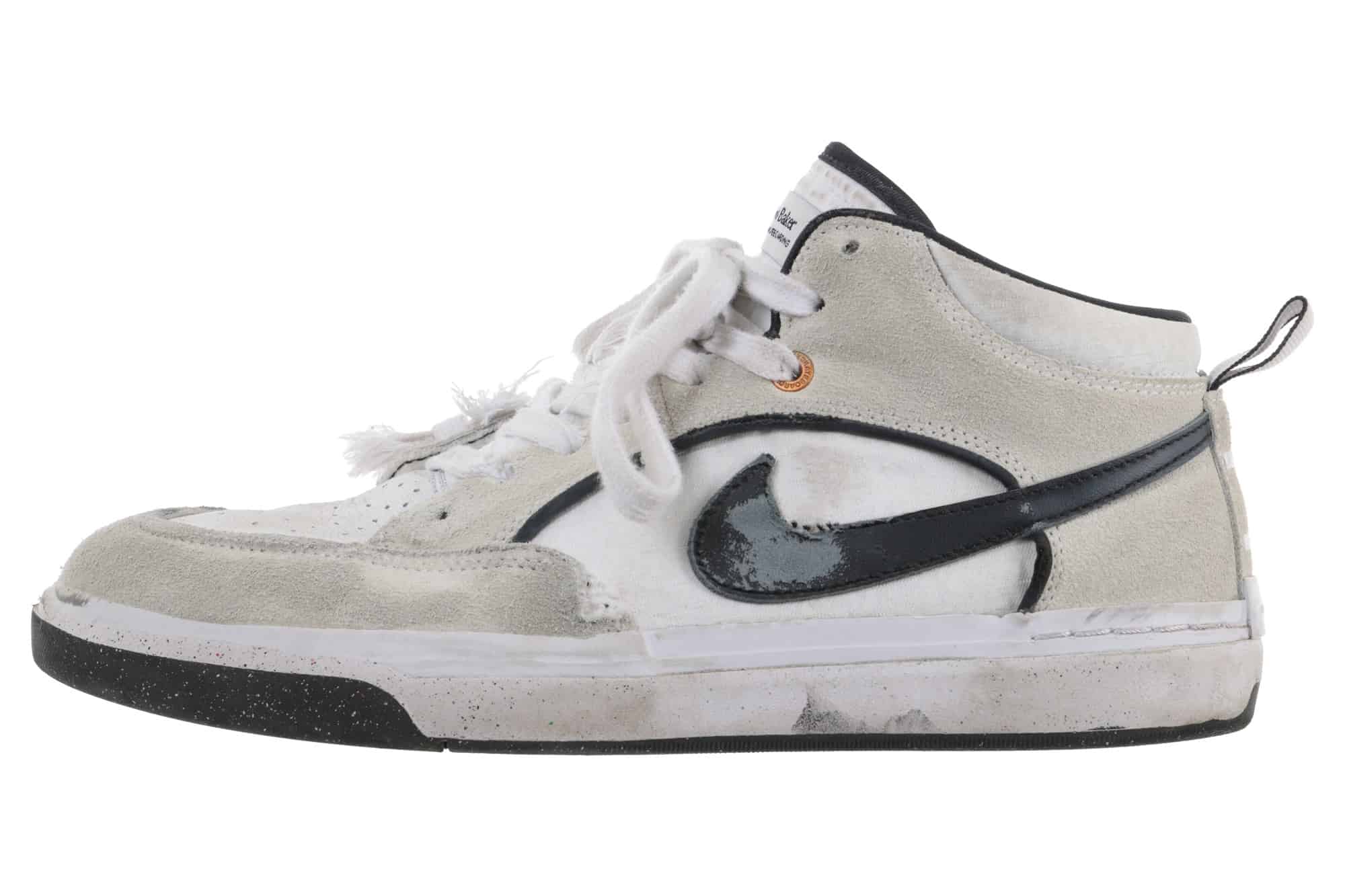 Fit and Comfort:
In terms of fit, these shoes closely resemble the Blazer, with a slightly wider profile. They fall in that comfortable middle ground between being too tight and overly roomy. What sets them apart is the ease of putting them on; they're notably more convenient to slip your foot into compared to the Blazer, with no need for lots of fussy unlacing.
Comfort-wise, the React insole is a standout feature. The heel section is notably thicker, providing excellent shock absorption, especially beneficial for those who've recently dealt with a heel bruise. The toe area, on the other hand, is thinner, granting exceptional board feel.
The combination of the thin toe and the supportive heel offers trust when jumping down things without the constant worry of painful heel bruises. Throughout the entire session, these shoes do a fantastic job of keeping feet relatively free from discomfort. There are no post-session complaints about sore feet; these shoes are an all-around comfort win.
.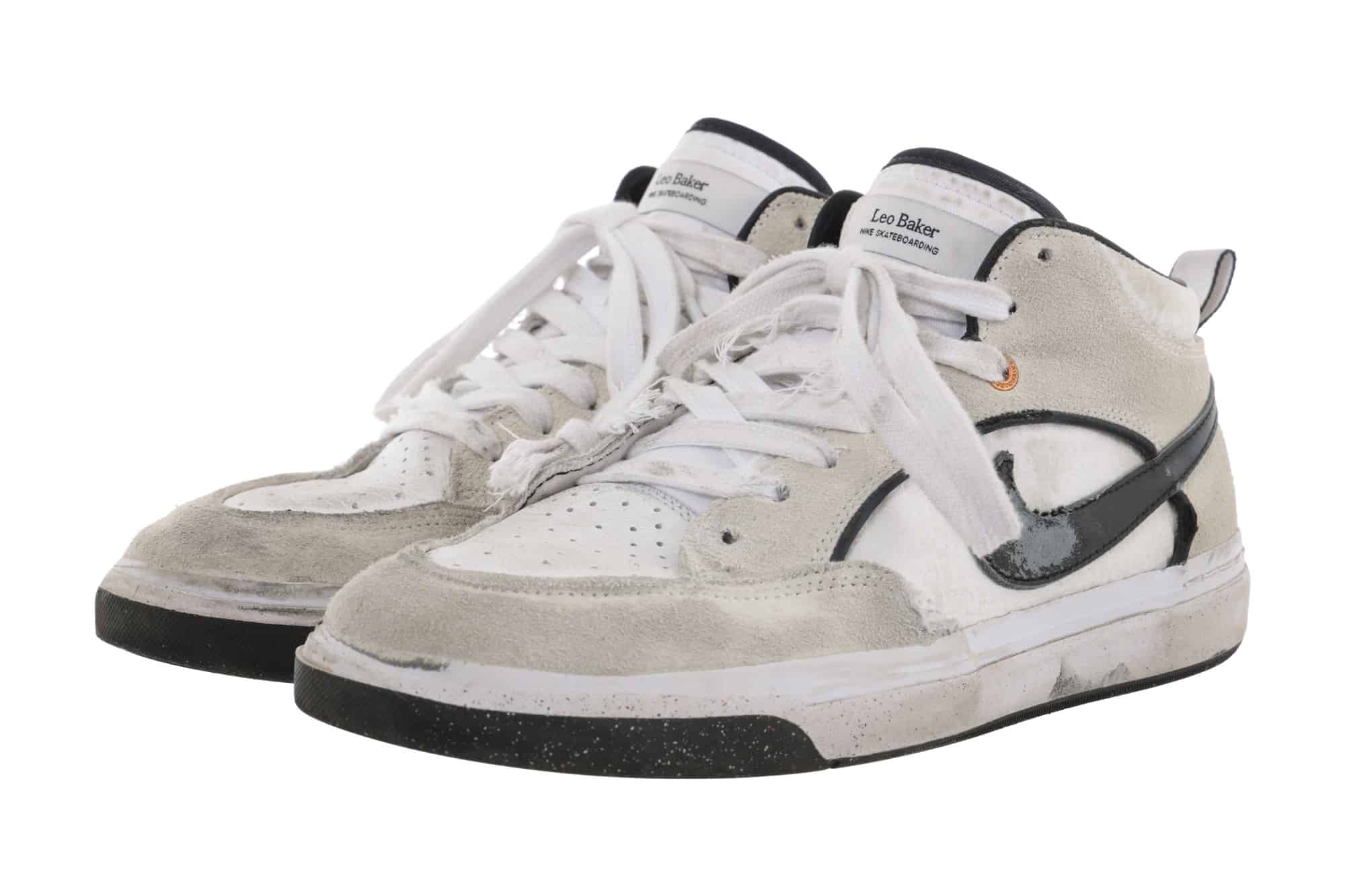 Break-in and Durability:
The process of breaking them in was relatively quick, giving off the vibe of breaking in suede as opposed to leather, which is typically stiffer initially. In terms of durability, these shoes prove to be rugged. They incorporate a clever design feature with a suede strip that reinforces the area prone to wear and tear, where holes and scuffs typically develop. Visible signs of wear, including scuffs and the formation of a small hole, were observed, particularly on the switch foot.
After about 30 hours of skating, these shoes showed they could take a beating. However, one thing to mention is that as they wore out, the flick from the toe became less effective. Although the general shape of the shoe still looked good, the rubber on the toe started to wear thin. It's worth pointing out that this part of the shoe doesn't have as much rubber as shoes like Blazers or Dunks, which have thicker rubber coverage, so it wore down a bit faster.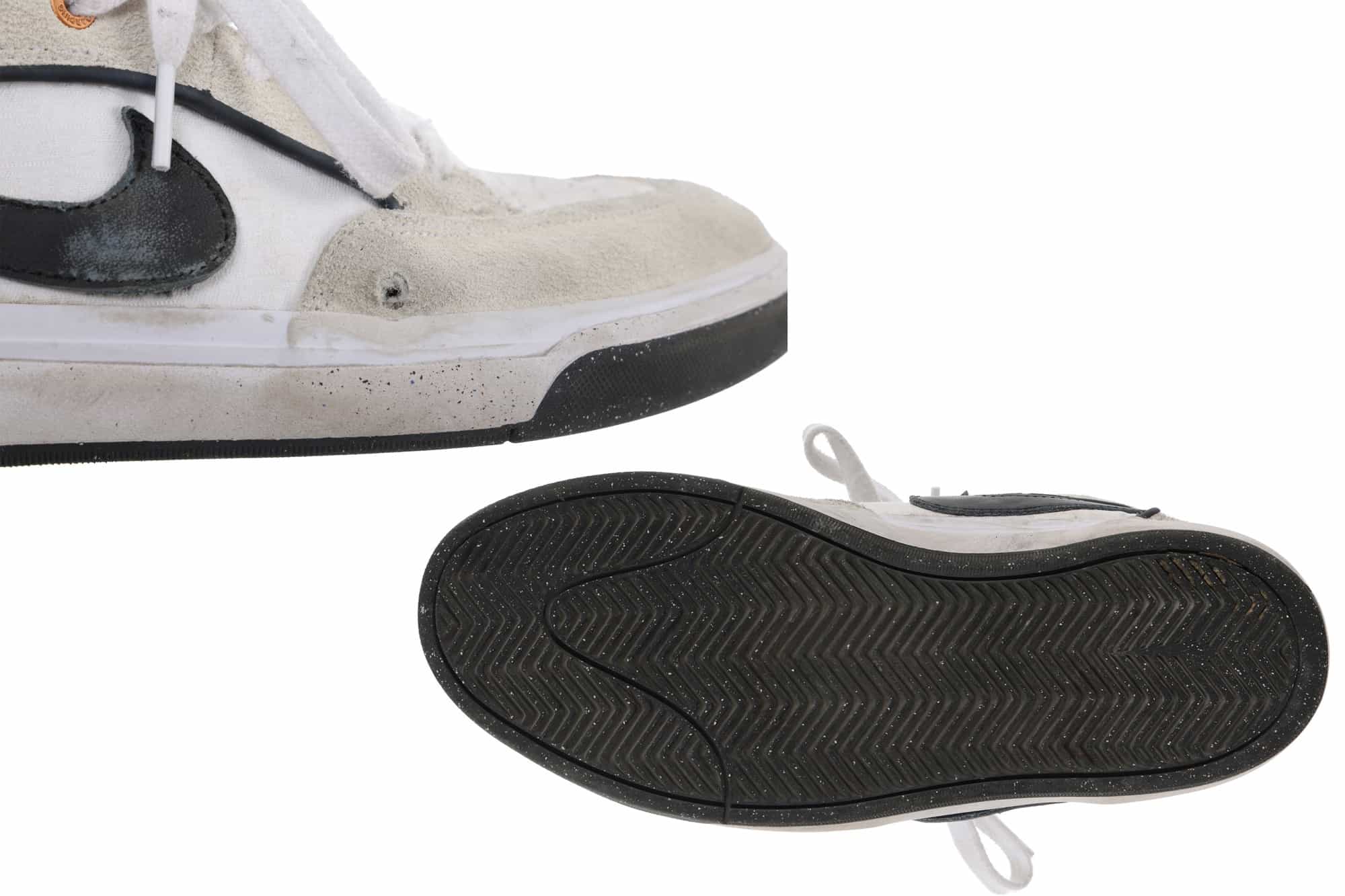 Sole and Flick:
The sole of the shoe presents an interesting combination. It features a cup sole at the base with standard treads and incorporates foxing around the inside. This setup offers a flick similar to what you'd find in a vulcanized shoe but with the added support of the cup sole, complemented by the comfortable React insole.
In terms of flick, it impressively strikes a balance between the characteristics of the Janowski and the Blazer. It delivers both support and a strong flick, accompanied by an appealing shape and a mid-top style. Overall, this shoe offers a lot in terms of performance and style.
Additional Features:
Additional practical features are included with these shoes, such as tongue straps that ensure the tongue remains in place and streamline the process of donning them. To enhance breathability, holes are incorporated in the toe area, and satin is employed on the sides.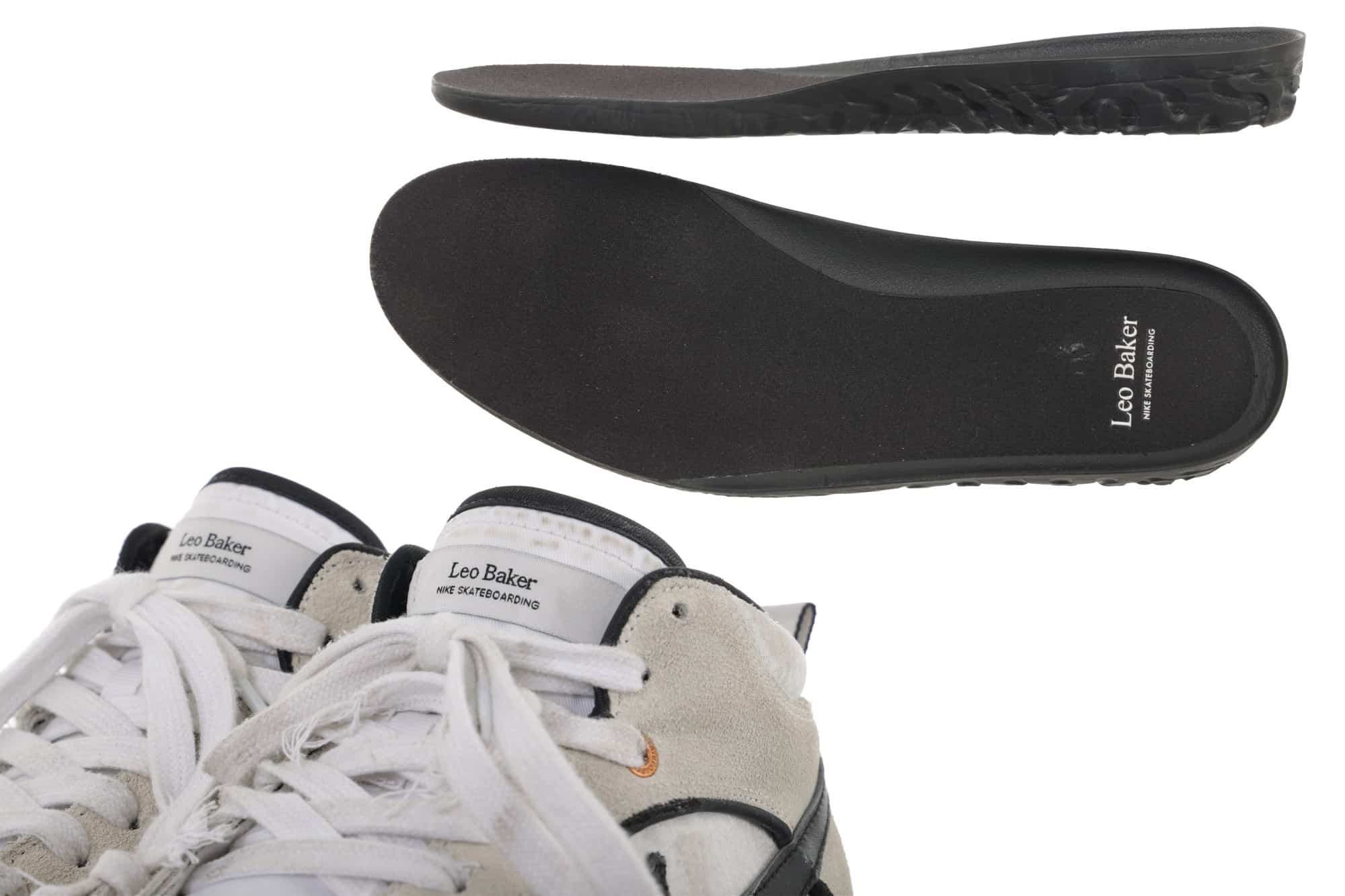 Final Thoughts:
In conclusion, the Nike SB React Leo is a highly recommended choice. Equipped with a supportive React insole, it is well-suited for tackling a variety of skateboarding, be it tech, rails, or big drops. The shoe's toe shape strikes a perfect balance for executing technical tricks, while the heel support minimizes the likelihood of discomfort.
These shoes prioritize inclusivity, making them a versatile option for all skateboarders. In addition to their durability, they offer impressive comfort, establishing themselves as a strong contender for those in search of high-performance skate shoes
---
STILL HAVE QUESTIONS?
If you're still curious about the Nike SB React Leo or need more information, rest assured that we have the resources to help you out. Our customer service team is highly knowledgeable and can answer any questions you may have about these shoes or other skateboard equipment. You can easily reach out to them by phone or message.
Additionally, if you are in Portland, Eugene, or Bend, feel free to visit one of our local shops and speak to one of our friendly and helpful retail employees. They'll be more than happy to assist you and provide any information or guidance you need. Don't hesitate to reach out to us - we're here to help!
Customer Service:
Call us toll-free at 888.450.5060
Text us at: 888.450.5060
Monday - Friday, 8 a.m. - 6 p.m. Pacific Time
Saturday - Sunday, 9 a.m. - 5 p.m. Pacific Time
help@tactics.com