Santa Cruz "My Colorway" Decks | Q & A with Artist Kyle Bunga
Styles are everchanging, but one thing that never goes out of style is hand-drawn skate art. Santa Cruz recently dropped their "My Colorway" decks, putting the artistic control in the hands of the consumer. We left a deck with Tactics Photo Manager and artist, Kyle Robinson, and let him make it his own. Check out our time-lapse of Kyle's creative genius, then check out Santa Cruz's "My Colorway" decks for yourself!

Where are you from and when did you start creating art? What got you started?
Born in SoCal, raised on the Oregon Coast. Been drawing as long as I can remember. 80s and 90s comics and skateboard graphics got me started.
Who and/or what influenced you to take your illustration skills to where they are today?
I started really getting back into illustrating around 2010 when I quit smoking. At first it was meant to be a distraction, but I ended up rekindling a passion. Social media and Instagram was on the rise back then too, so I started meeting a bunch of like-minded friends in the art scene there, and we kinda all motivated each other.
When did you know that you wanted to be an illustrator? Was there any particular moment when you knew you were onto something special?
My dad was super into hot rod art and showed me lots of stuff by Ed Roth (which was probably the first name I ever seen attached to art) so I drew lots of Rat Fink type dudes really young. In the 90s, comic books had the first "rock star" artist for me, so I emulated art by guys like Jim Lee and Todd Mcfarlane (X-Men and Spawn). As I got older and got into skateboarding, I kept the habit of learning the names of the artist who did my favorite graphics. Jim Phillips quickly became the godfather of skate art for me and led me down a path of finding other "lowbrow" artists who had similar aesthetics.

What are your favorite materials and tools to work with? Why?
More often these days I use digital tools. iPad Pro + Apple Pencil feels really good with software like Procreate. Any chance I get though, I still like to draw on real paper, usually with Micron Pens (I typically still color those digitally). Lately, it's been project after project with Posca Paint Markers too, definitely one of my favorite ways to color (and how this My Colorway Board was done).
For you, how does art tie to skateboarding?
Art is everything to me when it comes to skateboarding. Without art, 90% of all decks are the same. To me, skateboarding is self-expression, and having a graphic on your deck that you can identify with is the first step toward that.
Do you think that it is important to keep the tradition of hand-drawn, screen-printed deck graphics
alive? If so, why?
Definitely! As a collector of genuine old school and re-issued skateboards, I always look forward to the ones done right. You just cant beat it. It's real art!

What do you think of the My Colorway deck? Is it a good idea?
It's a GREAT idea, and great execution. The matte finish feels amazing and any artist can get in on the fun, no matter the skill level.
Any parting words, information or wisdom that you want to add?
Wise man say, forgiveness is divine but never pay full price for late pizza.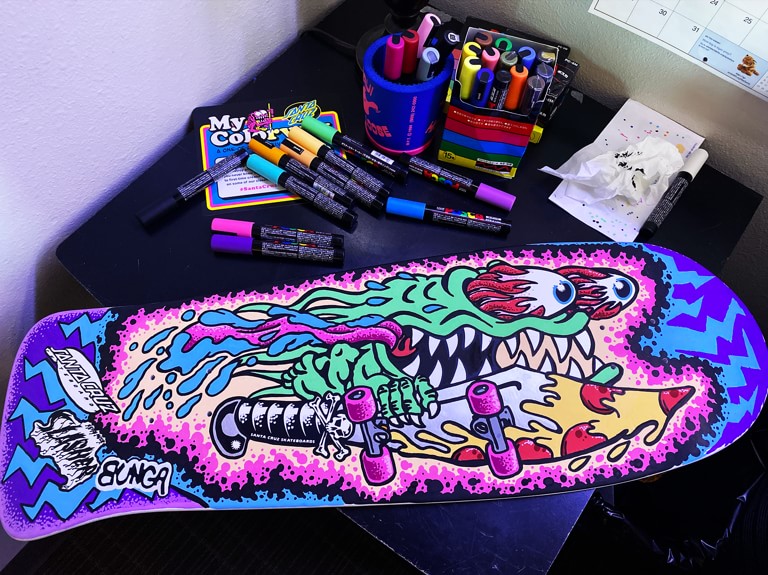 Take a look at Kyle's collection of artworks below.
WEBSITE
https://kylebunga.com/

INSTAGRAM:
https://www.instagram.com/kylebungadude/
Related Posts