Vans Skate Old Skool - Skate Shoe Review
THE VANS SKATE OLD SKOOL
Welcome back to the Tactics skate shoe review. For this review, we are taking a look at and skating the Vans Skate Old Skool. The Old Skool is a classic that has stood the test of time, first being introduced to the world by Vans in 1977.
Similar in design to the original, the Vans Skate Old Skool features a low-top silhouette with vulcanized construction, canvas upper, and a stripped-down design. While meant for skateboarding, this shoe has also become a popular lifestyle staple. It has been released in countless colorways and collaborations and has become a favorite among skateboarders, sneaker enthusiasts, and fashion-conscious individuals. But how do they hold up to skating?
We decided to ask our good friend and Tactics employee Josue to put the Vans Old Skool to the test. Josue used, abused, and skated the Skate Old Skool across the whole state of Oregon, from the Tactics distribution center in Eugene down to our favorite hideaway at the base of Mt. Hood, Seek Skateboard Camp.
Click play above & scroll down to find out how the Vans Skate Old Skool held up to the review.
---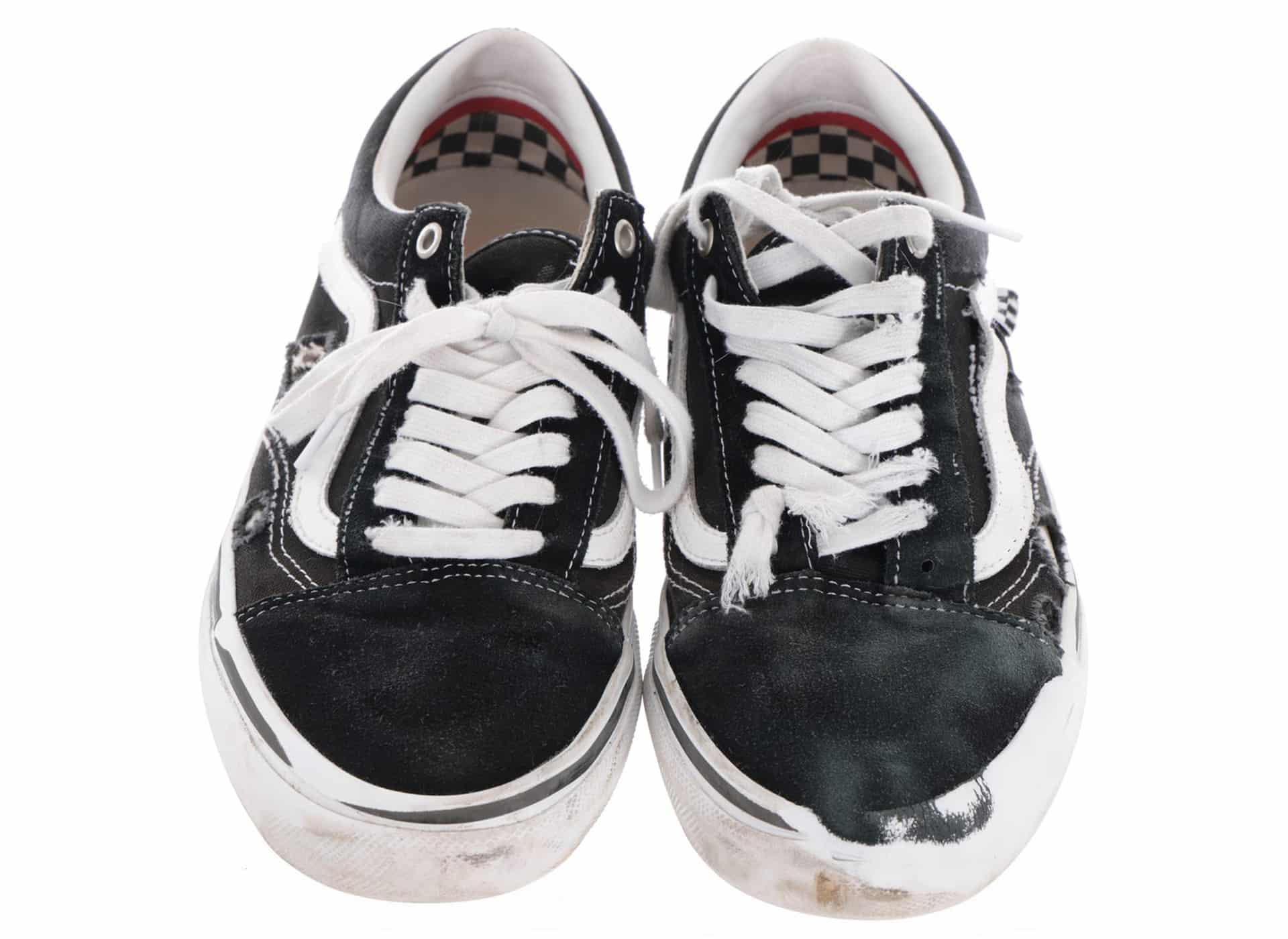 So, what do we like about the Vans Skate Old Skool?
- Waffle Outsole / Grip
- Dura Cap
- Classic Vulcanized Outsole
The Vans Skate Old Skool is a great shoe for skateboarding for many reasons, but more so due to a few unique features that provide excellent grip, durability, and board feel. Josue pointed out what he believes to be the key elements that make the Old Skool a popular choice among skaters. Specifically pointing out Vans classic vulcanized sole, waffle outsole, and durable materials.
Now that we have given you the bird's eye view of the feature that makes the Skate Old Skool great, let's zoom in.
Outsole Features:
One of the key features of the Vans Old Skool is the classic vulcanized sole. For those of you who don't know, the vulcanization process involves heating the rubber sole and bonding it to the upper, creating a strong and durable bond that is highly resistant to tearing. This makes the shoe more durable and long-lasting whilst also providing excellent grip and flick. This tech is a staple and an identifying part of most Vans shoes.
The next feature we want to touch on the Skate Old Skool shoes is the waffle outsole. Vans' signature waffle pattern is specifically designed to provide excellent grip on the board, giving the skater more control and stability while skating. The waffle pattern is made up of small squares and rectangles, which are arranged to create a grippy and textured surface that, as the name states… looks like your EGO breakfast waffle.
But there is more to this waffle than meets the eye, it's SickStick™ a gum rubber formula by Vans, designed to offer the highest level of grip and stickiness ever seen in their shoe soles. Vans' team riders have extensively tested this innovative formula to ensure optimal performance, durability, cushioning, and impact protection. With SickStick™, you can have better control over your skateboard and enjoy an improved riding experience. This combo of SickStick™ and the waffle outsole help to reduce the likelihood of slipping or sliding off the board, which is crucial for landing tricks and gripping your board.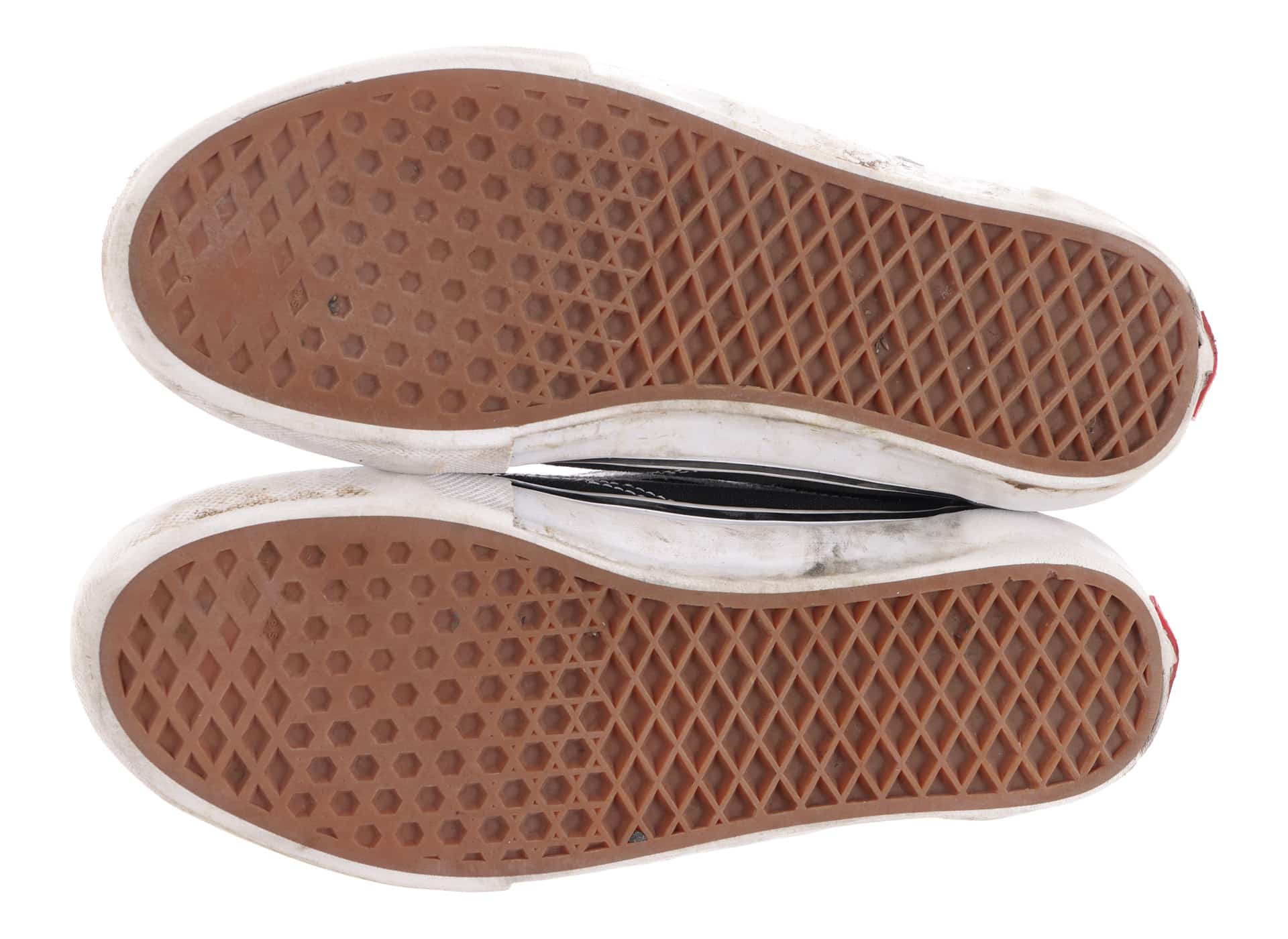 For 30 hours of skating, the waffle outsole looks no worse for wear.
Materials:
Now let's talk about DuraCap. Vans developed DuraCap technology to reinforce the toe area of their skate shoes, making them more durable and able to withstand the wear and tear of flip tricks by adding this extra layer of reinforcement around the toe box that is beneath the canvas/suede. Vans has significantly improved the lifespan of its skate shoes, which can save your feet from cuts and your wallet money from not burning through shoes as fast in the long run.
In addition to the Durcap vulcanized sole, and Waffle-outsole, the Vans Skate Old Skool is constructed from other durable materials that can withstand (some of) the wear and tear of skateboarding. The shoe's upper is typically made from a combination of canvas and suede, which are relatively highly resistant to abrasions and tearing. This means that the shoe can withstand the wear and tear of skating and provides protection for the feet. The padded collar and PopCush™ footbed also help to absorb impact and provide additional support and cushioning for the feet and ankles.
Overall, the combination of Vans' classic vulcanized sole, waffle outsole, and durable materials make the Skate Old Skool a reliable and functional skate shoe that provides excellent grip, durability, and board feel. These key features have made this shoe popular among skateboarders for decades.
Keep reading below to find out more.
---
What did we not like about the Vans Skate Old Skool?
- Toe box pinching / creasing
- Lack of heel flip protection / ripped upper
Welcome to the part of the review where we don't sugarcoat our findings. Lucky for Vans, we don't have very many things that we don't like about the Skate Old Skool, but we have to talk about a few small things. Let's start here; during the review process, Josue experienced discomfort with the Vans Skate Old Skool as the top toe box began to crease and pinch across the top of his foot.
To address this issue, Josue replaced the new PopCush™ insole with a slightly thinner insole from another Vans shoe. While this solution worked, in our eyes, it highlights the need for Vans to address the pinching and creasing that occurs because this isn't the first pair of shoes from Vans that we have heard of having this issue.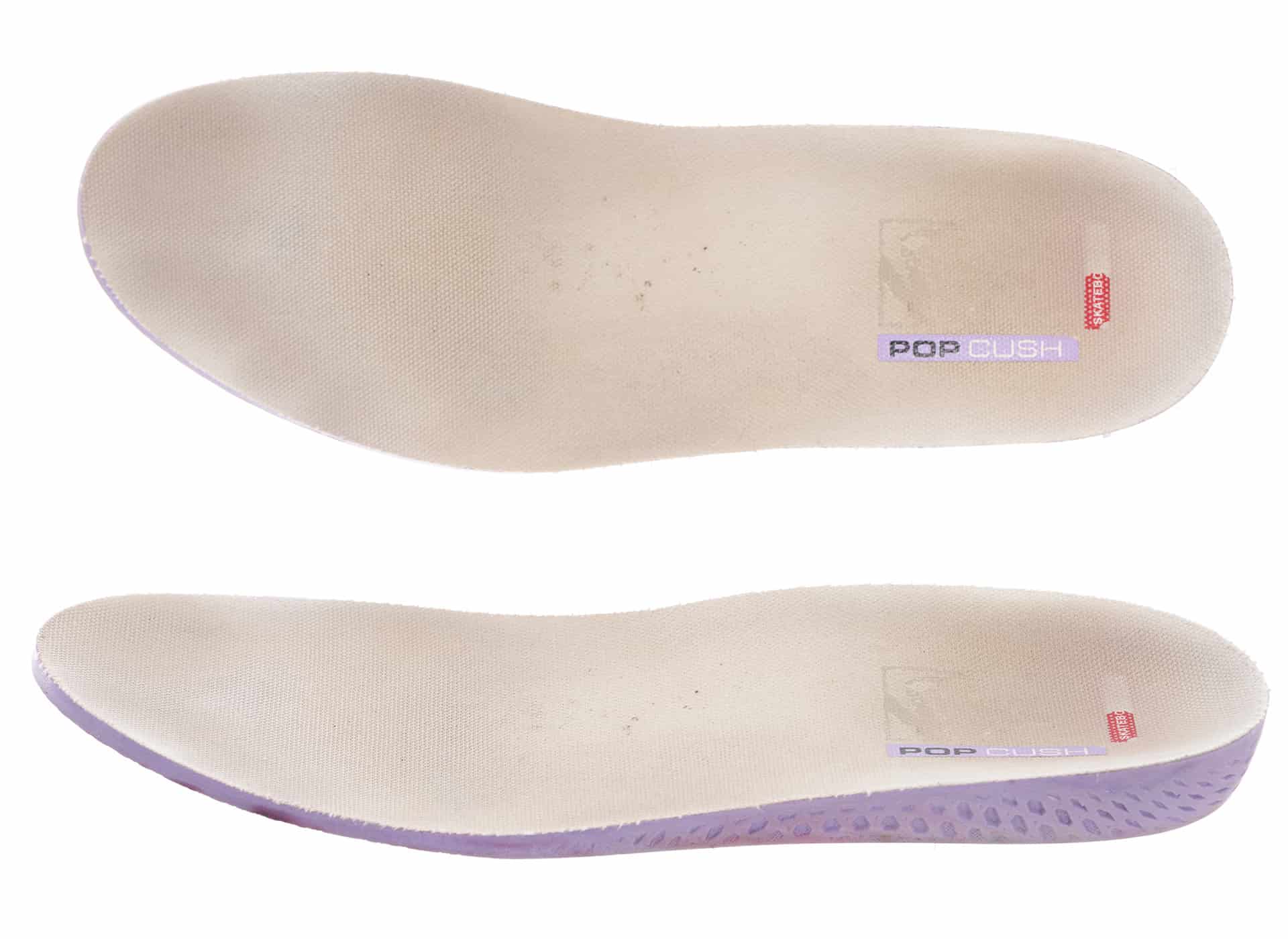 Additionally, Josue noted that the canvas upper of the shoe ripped. While this is typical wear and tear, particularly for people who do lots of heel flips in shoes with suede and canvas uppers. Our suggestion is for Vans to consider extending the DuraCap slightly further around the shoe.
Yes, we all know by now that the Skate Old Skool is known for its simplicity and stripped-down aesthetic. In our eyes, extending the DuraCap even slightly further could increase the shoe's overall durability and lifespan without compromising major design characteristics. But then again, we aren't asking Vans to change one of their longest-running skate shoes; it is a classic for a reason.
---
What are the results of this skate shoe review?
In conclusion, the Vans Skate Old Skool is a classic skate shoe. Its popularity is due to its excellent grip, durability, and board feel provided by the classic vulcanized sole, waffle outsole, and durable materials. The additional features of DuraCap and SickStick™ technology further enhance its durability, making it a reliable and functional skate shoe. However, Vans may need to address the toe box pinching and creasing issue and lack of heel flip protection leading to a ripped upper. Overall, the Vans Skate Old Skool is an excellent choice for skateboarders and sneaker enthusiasts looking for reliable and stylish shoes.
---
STILL HAVE QUESTIONS?
If you're still curious about the Vans Skate Old Skool or need more information, rest assured that we have the resources to help you out. Our customer service team is highly knowledgeable and can answer any questions you may have about these shoes or other skateboard equipment. You can easily reach out to them by phone or message.
Additionally, if you are in Portland, Eugene, or Bend, feel free to visit one of our local shops and speak to one of our friendly and helpful retail employees. They'll be more than happy to assist you and provide any information or guidance you need. Don't hesitate to reach out to us - we're here to help!
Customer Service:
Call us toll-free at 888.450.5060
Text us at: 888.450.5060
Monday - Friday, 8 a.m. - 6 p.m. Pacific Time
Saturday - Sunday, 9 a.m. - 5 p.m. Pacific Time
help@tactics.com