Thunder

Silas Pro Edition Skateboard Trucks

Be the first to write a review

Pay in 4 interest-free payments of $10.49 with
.
Learn more
More from Thunder
---
Overview
Thunder Silas Pro Edition Skateboard Trucks are a Silas Baxter-Neal Pro Model that feature team edition baseplates and premium grade solid kingpins for a strong and lightweight skateboard truck. Multiple axle sizes available. Sold as a set of two.
Details
Clear 90DU Thunder Bushings
Features
Non-Compatible Risers
Risers from the following brands are not compatible with the baseplates of these trucks.
Arbor
,
Diamond
,
Dooks
,
Girl
,
Independent
,
Loaded
,
Paris
,
Rayne
,
Sector 9
Sizing Reference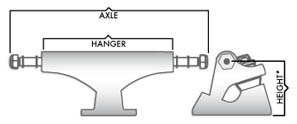 Note - Every skate truck brand represents their sizing a little differently, so it's easy to get confused. Take a look at this graphic and then reference the size chart.
Specs
| Size | 8.25 axle | 8.5 axle |
| --- | --- | --- |
| Thunder Size: | 148 | 149 |
| Hanger (mm): | 142.0 | 149.0 |
| Board Range (in): | 8.0 - 8.5 | 8.25 - 8.75 |
| Height (mm): | 52.0 | 52.0 |
| Weight (g): | 366.16 | 368.45 |