Marissa Krawczak Full Part and Q & A
From the rugged steeps of Corbet's Couloir, too the wide open bowls of Mt. Bachelors western most slopes, Marissa Krawczak aka @bigmountainmarissa is always on the hunt for new lines and fresh powder. As an avid splitboarder and huge fan of mountain biking, Marissa thrives in the mountains regardless of the season. As summer comes to a close and the excitement for winter grows, we caught up with Marissa to hear how she passes the time in the off-season, her latest video project with Jones, how she got into chasing big mountain lines.
Hey what's up Marissa! How are things going?
Oh hello! Things are great. I just checked out at the grocery store!
Haha. Nice! What's for dinner?
I'm trying something new tonite, jackfruit and purple rice burritos.
Damn, that sounds good! Besides new recipes, what's new in the world of @bigmountainmarissa?
Well, the bike park just wrapped up the season here at Mt Bachelor, but I'm still up there every day digging up lava rocks and helping build a new bike trail for 2024. I'm just keeping myself out of trouble and healthy, so I can enjoy snowboarding when the time comes. Other than that, I'm just getting stoked for cooler weather and enjoying all the rad movies and edits everyone shot last winter that are starting to come out!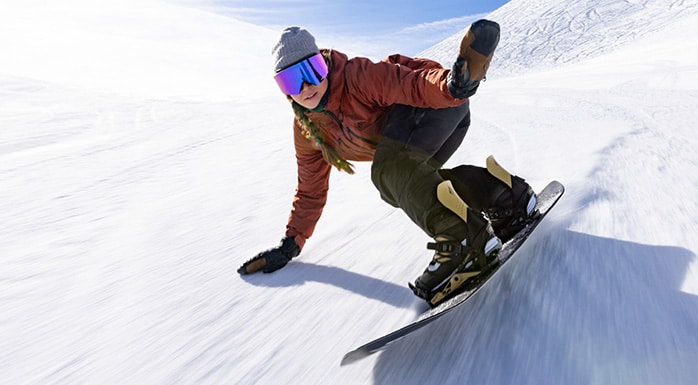 Oh yes definitely enjoying the cooler weather and changing of the seasons for sure. It's got to be pretty cool spending so much time up there, whether on a board or bike and seeing the mountain change as the snow comes and goes. You were working up there, correct? Any memorable experiences from biking/digging over the summer?
Yeah, I worked all summer for the resort, driving the kid's Gravity Camp bus and bike trailer, in ticket sales part-time, and then building trail with Dirt Mechanics after the resort closed. It's so nice up on the mountain, away from the chaos in town. The weather was most memorable for me, from riding in Mt Bachelor dust, to digging in the smoke and heat and finally rain! I had a downhill bike for the first time, and I made it a goal just to ride the chairlift as much as possible. I accomplished that and will never forget how much fun it was just riding bike park all summer! Now that all that is done, I'm ready to bootpack the mountain with my pow surf or split before the lifts start running. Nothing like an early-season storm!
"Whatever you are doing, do it the best you can, 100%."
Damn, that sounds like a good time and a great way to stay busy! Did you spend any time on Hood this summer?
Yeah, I did get over there with some of the Jones team in July. We tested new board shapes, rode from the summit, hiked the pipe, and made some fresh corduroy sunset turns. Plus, we indulged in some classic swimming spots and went whitewater rafting. I also really like the biking that way, so I spent some of my days off there. I originally moved to Hood from Michigan, and I have so many friends that live and visit there that it feels like home when I am there!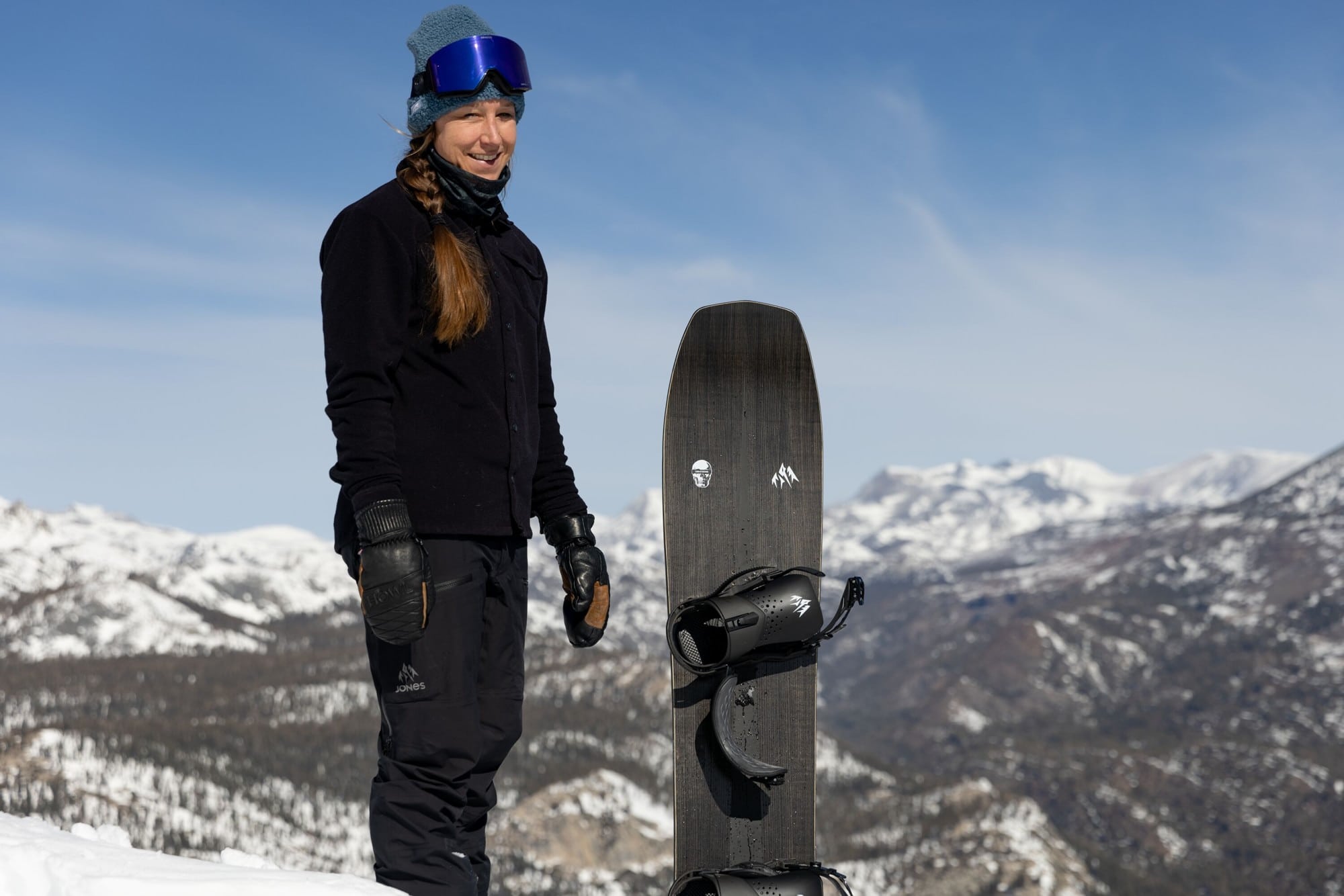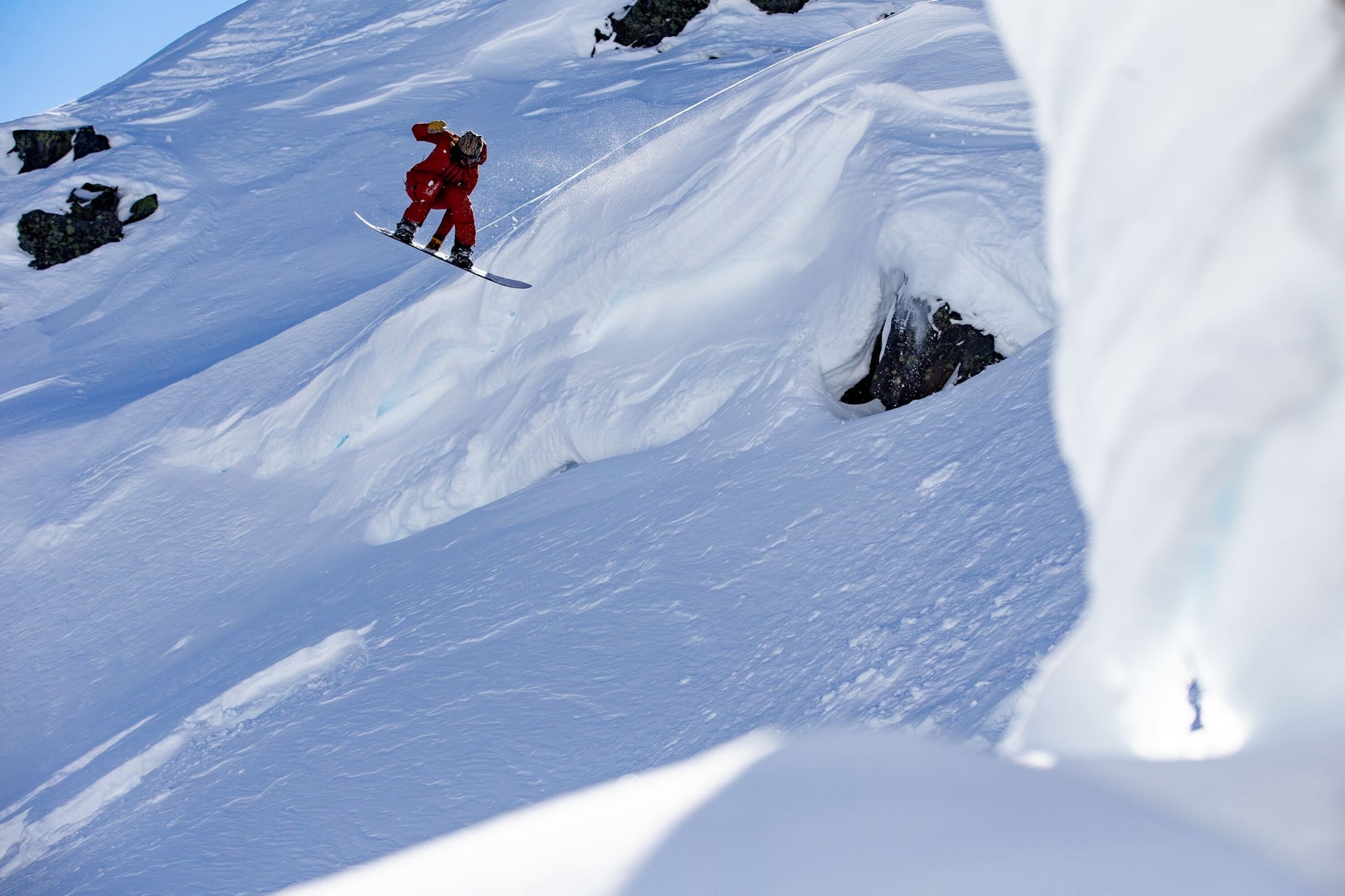 It sounds like you and the Jones crew checked all the boxes when it comes to experiencing all the Mt Hood wilderness. Speaking of Jones, you have been pretty involved with them the past few years. Anything you can share involving product development, projects, and content with the Jones Team for this past season?
Riding the Jones boards the past few seasons has been a wonderful and serious game-changer for my riding. Jeremy is incredibly passionate and meticulous regarding shape designs, and it really shows in the product's performance. There are a few new redesigns and shapes that Jones will introduce, including a cambered splitboard that will be the lightest ever made. I'm also stoked to see women's outerwear available in shops this fall. Jones has a unique team, and many riders have cool projects coming out. I'm excited to see the new episodes of Antti Autti's freeride series. I filmed throughout last winter for women's product content, and fortunately, I also have a small part coming out!
"Pre-shred rituals: Stretch the night before, good sleep, coffee, a big breakfast, good music, positive conversation and breathwork."
That's awesome to hear! No denying the products backed with Jeremy's name are top-notch. Excited to see the new shapes and models you and the rest of the team have been testing out in the future. Where did you get to travel and film last season? Any memorable trips or stories while out on the road?
I got to travel quite a bit and spent some time down in Mammoth because that is where the Jones media team, Greg Weaver and Andrew Miller live. I even got down to Big Bear to ride some park which was different for me. One of the most chill trips was to Cooke City last December for the Jones team avalanche refresher. We split into a hut for a few days and got schooled on safety by Murph and Clark, who ride on the Jones Guide Team. Between having no cell service, watching more snowfall every night, and ridgetop walks, it was the perfect way to focus on getting ready for the season out in avalanche terrain. Another super fun trip was up to Baker to help build BrainBowl with Max Warbington and Tre Squad. It snowed so much that we worked on the course for 8 or 9 days between boarding. It came out so sick, and so many people threw down! We were just fully immersed in snowboarding for 18 days straight.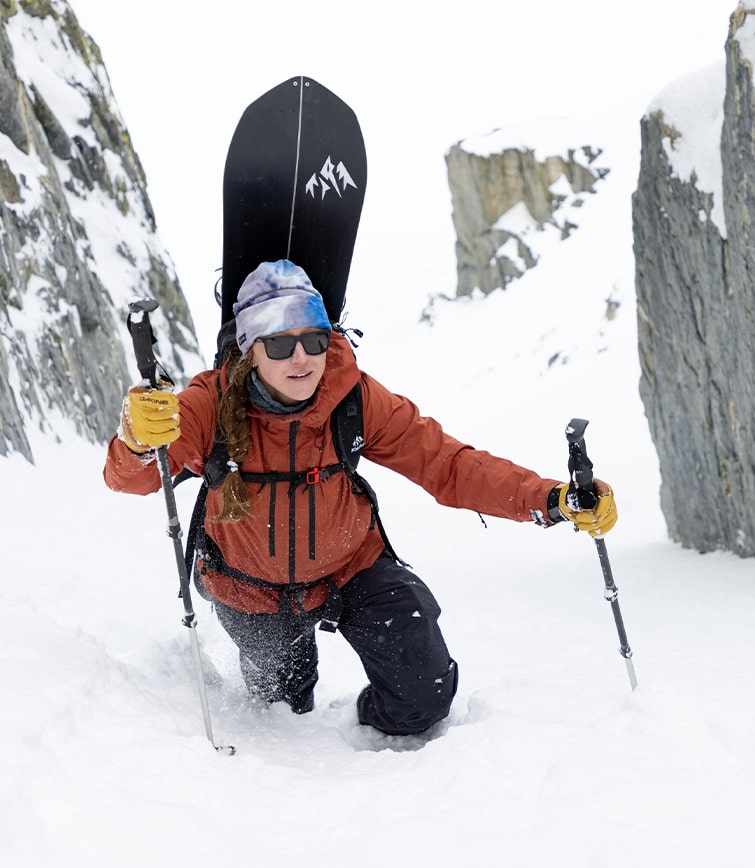 It sounds like you had a well-balanced season that allowed you to come away with some great footage. How does your season shake out regarding days spent in bounds at the resort or backcountry touring and exploring new zones? Do you prefer one over the other?
My season is usually about 50/50 between resort days and out on the split board. I favor out-of-bounds and exploring, but I am a massive fan of chairlifts. Getting a ton of riding in at resorts in different conditions builds solid skills to make snowboarding out in the hills way more fun. I like a balance, but if I didn't have the option, I'd be out on the splitboard.
When did you get serious with splitboarding? Any suggestions for those interested in getting started?
I started getting more into splitboarding after I had ACL surgery. I had just qualified for the Volcom PBJ finals but was just over the hard landings of an icy park. I was living near Hood and was getting flow from Nitro, so I got ahold of a split. I started waking up super early before Meadows opened and hiking up to get in shape for boarding, and I kept going and never really stopped hiking around!
If someone is just getting started, start small with no expectations. Get to know the gear, practice changeovers at home, and take a good amount of time to pack and prepare, so you don't feel rushed before your excursion and are organized at the trailhead. These things will make the mountain's variables easier to work with. Obviously, avalanche awareness education is important. I first had friends dig pits with me, and I read books and watched youtube videos. The formal courses came later. Anyway, you go about it and make it happen because, at the end of the day, you and your buddies are on your own in the backcountry so take care of each other. Just enjoy the adventure of it all, splitboarding is an exciting and unique endeavor, and there is no rush. It's a lifelong learning opportunity!
Slow and steady. That is excellent advice, considering how variable things can be in the backcountry. Looking forward to this season; what are you most stoked about? Any plans, trips or goals ahead of the snow stacking up?
This season I am stoked to just snowboard! I really can't wait to see what the PNW serves up this year. I'm flexible with the weather and like to work with what I've got. Fortunately, I have really good equipment and outerwear that I want to get as much use out of as I can. I have some lines here in Central Oregon that I've been eyeing for a while, so I hope those fill in this year so I can film them. Other than that, I want to be on my splitboard as much as possible, especially in the alpine. My main goal is to stay healthy, be ready for anything, and mix up some fun, playful snowboarding in the steeps of the alpine.
Bring on the powder! Thanks for the time Marissa. Stoked on the part and excited to board together this winter. Any last words or shoutouts?
Yo! Just thanks so much to Tactics for all the support!
---
Shop The Gear Marissa Depends On