IS THE NIKE SB ZOOM BLAZER MID DURABLE? | SKATE SHOE REVIEW
NIKE SB ZOOM BLAZER MID SHOE REVIEW
What's up, welcome back to another Tactics skate shoe review. This time, we're diving into the timeless Nike SB Blazer Mid. First introduced in 1973 as a basketball shoe, the Blazer has since become an iconic silhouette available in both low and mid-top variations. Its influence extends beyond basketball, making a significant impact on skateboarding and pop culture as a whole.
Over the years, this shoe has seen skaters like Lance Mountain and modern-era talents like Mason Silva becoming the faces of the Blazer Mid, each receiving their unique colorway(s). With such an impressive history, we couldn't wait to see how the Blazer Mid would hold up on the feet of Tactics team rider, Dakota Mead while skating around the streets of Portland.
Click play above & scroll down to find out how the Nike SB Zoom Blazer Mid held up.
---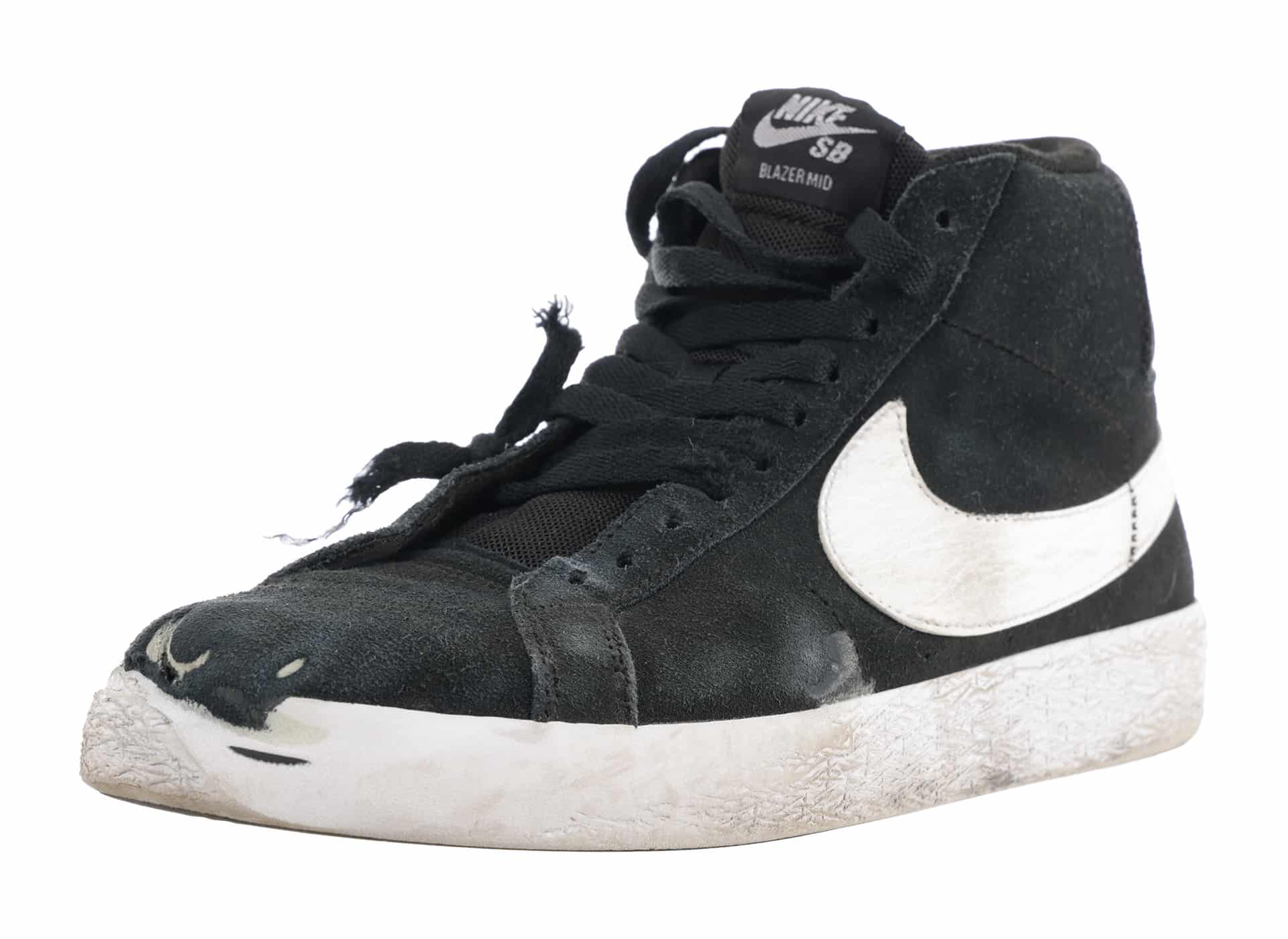 What we like about the Nike Blazer Mid:
Classic design and versatility: The Nike SB Blazer Mid showcases a basketball-inspired design featuring a simple, sleek mid-top upper profile with a well-crafted toe shape. Its timeless aesthetics, coupled with a durable vulcanized construction, offer unparalleled versatility, seamlessly transitioning from casual wear to skate sessions. As a result, it has become a staple choice among skaters for decades.
Board feel: The Blazer Mid has a vulcanized construction and herringbone tread design that provides ample grip, flexibility, and maneuverability. This construction offers the right amount of board feel allowing you to easily and accurately adjust your foot placement and flick for your tricks.
The Blazer has made its mark on both the basketball court and the skate park, and feeling the board and the ground beneath your feet is crucial in both situations, and the Blazer Mid excels in this aspect.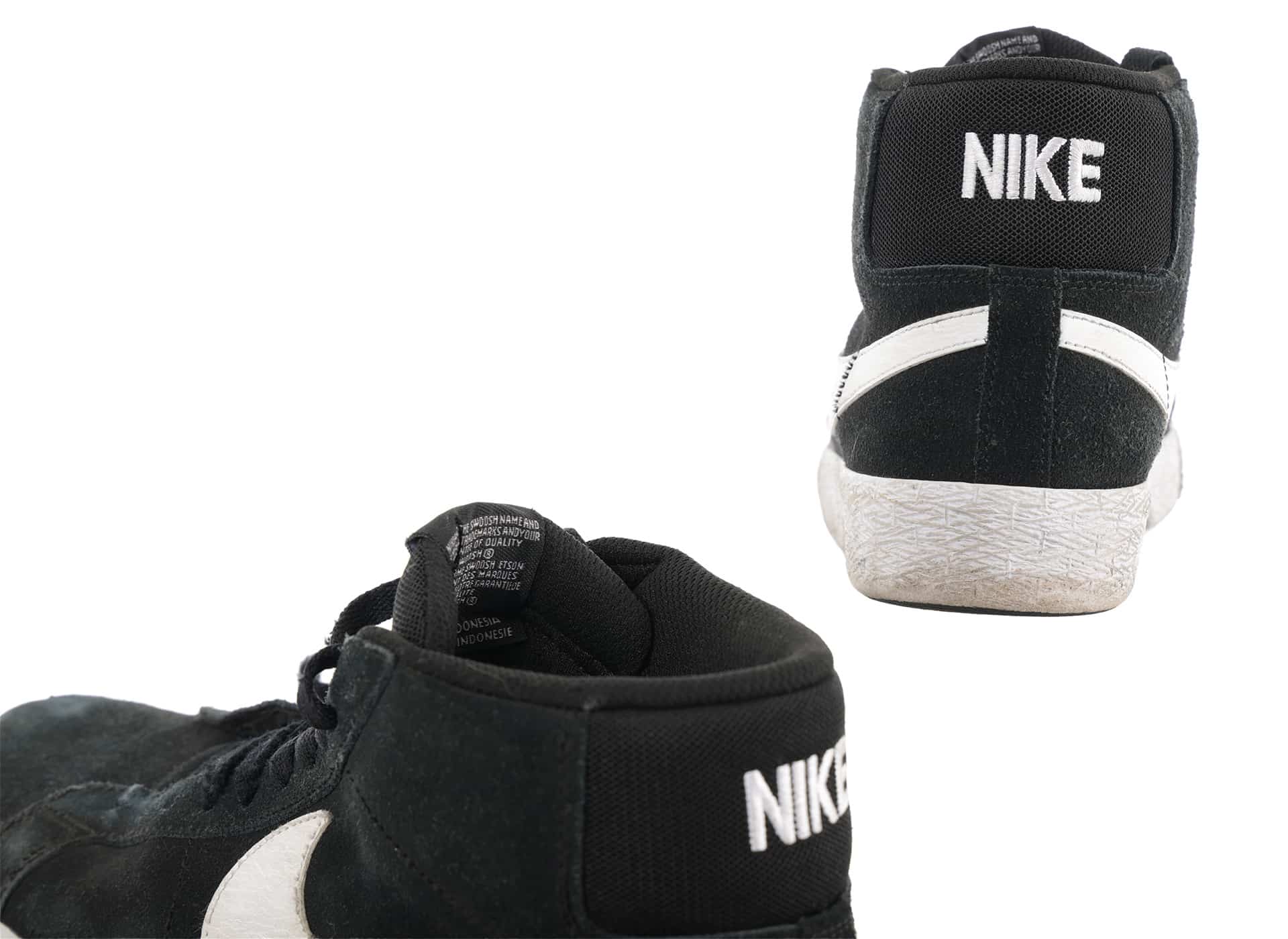 Overall durability support and protection: During the review, Dakota noted that the Blazer Mid proved to be durable and protective of the feet in the wake of some long skate sessions. The rubber underlay in high-wear areas, like the toe, provided added protection, preventing premature wear and tear.
Another feature that could and should be noted is this shoe's lack of board feel...
Wait didn't we just say the shoes have a good board feel? Yes!
We aren't talking about that type of feeling. The Nike Blazers' mid-top construction and the padded sock liner provide protection against pesky ankle biters. That's the type of lack of board feel that we are okay with.
The Mid top cut and sock liner padding also have another benefit, Ankle support. Rolling your ankle is a common injury in skateboarding. Some skaters specifically wear mid & high-top shoes for support and protection needed to prevent this.
Keep reading below to find out more.
---
Some things to be aware of:
Thin upper: Dakota noted that these shoes have a thin upper. The upper of a skate shoe plays a pivotal role in delivering essential elements of foot protection from wear and tear. That observation highlights a vital consideration for skaters when selecting their skate footwear.
The Nike SB Blazer Mid features an upper primarily crafted from suede, a material well-known for its soft texture, flexibility, and stylish appearance. But, Dakota found that the ollie spot of his shoe wore out quickly requiring a bit of super glue to keep it from ripping through. Wear and tear is to be expected, that being said, this is something to think about when it comes to your shoe selection.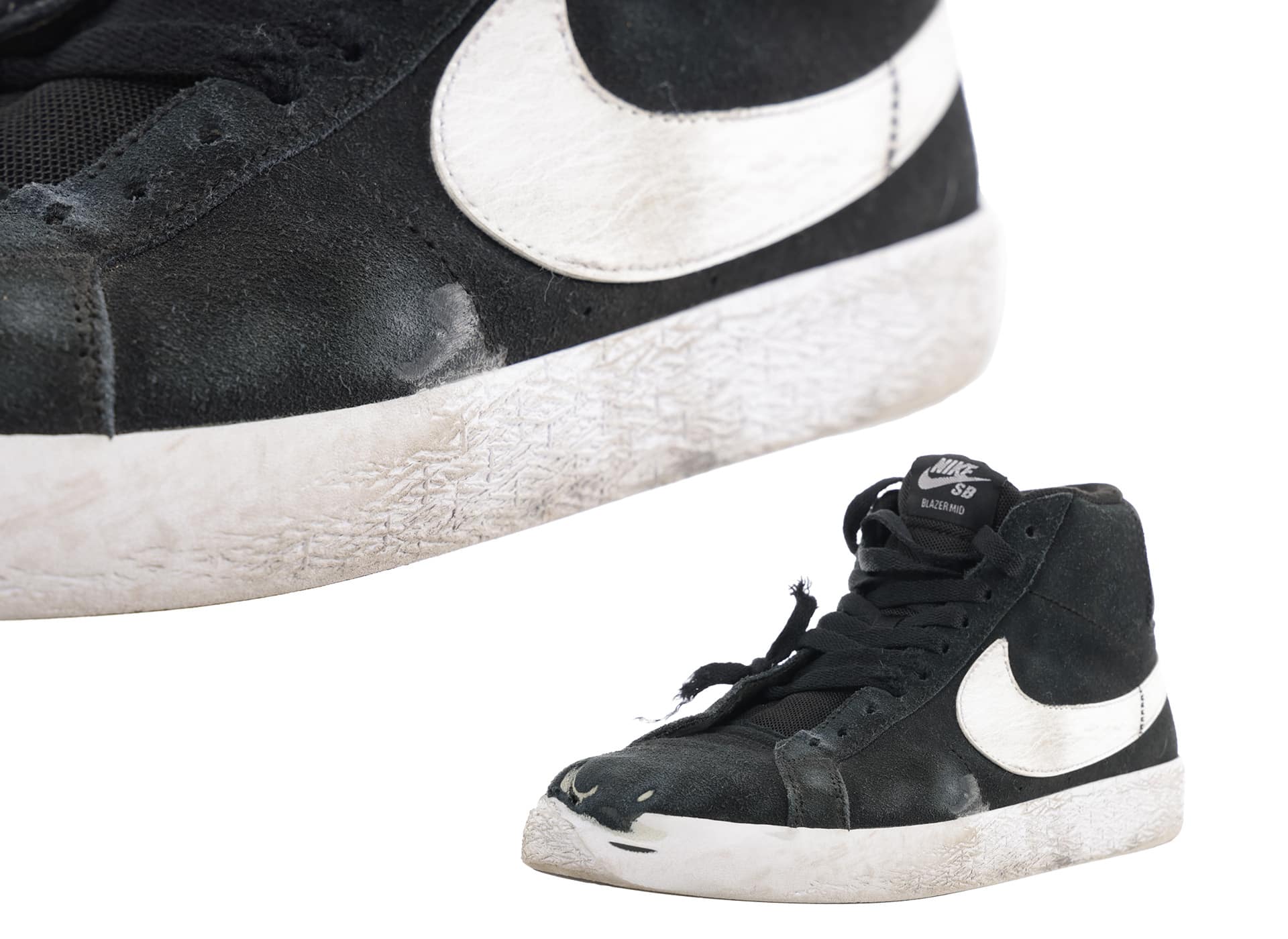 Tough to put on: The Nike SB Blazer Mid might not be the best choice for people with wide feet or those who prefer slip-on shoes. They require constant lacing and unlacing, making them a bit challenging to put on quickly and easily. If convenience is a top priority for you, you might want to consider other options. However, if you value the shoe's performance and style, it could still be worth it for you.
Break-in and pack-out quick: A question we are frequently asked in the shop is "Does the Nike Blazer pack out quick?"
The answer: Yes.
This ties into the aforementioned thin suede upper. Due to the nature of the suede and the moldability of the material it breaks in fast. The effect of this break-in can cause a bit more wiggle room throughout the shoes, in turn, skaters have to really crank down the laces when tying the shoes to get the snug and secure fit needed for skating after the initial break-in period.
---

What are the results of this skate shoe review?
In conclusion, the Nike SB Blazer Mid has truly lived up to its iconic status as a timeless skate shoe with a rich history. Its classic design and versatility make it a staple choice among skaters, seamlessly transitioning from casual wear to skate sessions. The board feel provided by the vulcanized construction and herringbone tread design ensures precise foot adjustments and flicks for executing tricks.
Notably, the shoe offers excellent overall durability, support, and protection, with a thoughtful mid-top cut and padded sock liner providing ankle support to prevent common skateboarding injuries. However, skaters should be aware of the thin upper crafted from suede, which may wear out quickly in high-stress areas. Despite this, the Nike SB Blazer Mid remains a go-to option for skateboarders, leaving a lasting impact both on and off the board, embodying the spirit of skateboarding and pop culture as a whole.
---
STILL HAVE QUESTIONS?
If you're still curious about the Nike SB Zoom Blazer Mid or need more information, rest assured that we have the resources to help you out. Our customer service team is highly knowledgeable and can answer any questions you may have about these shoes or other skateboard equipment. You can easily reach out to them by phone or message.
Additionally, if you are in Portland, Eugene, or Bend, feel free to visit one of our local shops and speak to one of our friendly and helpful retail employees. They'll be more than happy to assist you and provide any information or guidance you need. Don't hesitate to reach out to us - we're here to help!
Customer Service:
Call us toll-free at 888.450.5060
Text us at: 888.450.5060
Monday - Friday, 8 a.m. - 6 p.m. Pacific Time
Saturday - Sunday, 9 a.m. - 5 p.m. Pacific Time
help@tactics.com
Related Posts