Vans Half-Cab Pro Wear Test
THE VANS HALF-CAB PRO
If you have lived under a rock for the last 30 years, you may not know that Vans and Steve Caballero partnered up in 1992 to create the Skate Half-Cab. Following its creation, the Steve Caballero signature Half-Cab has become iconic. Breaking the boundaries of skateboarding and meshing into mainstream culture through collaborations with iconic skate and lifestyle brands like Palace, Supreme, Thrasher Magazine, and more, showcasing the versatility and creative spirit of the Half Cab. Beyond the cultural boundary-breaking, the Vans Half-Cab is widely known for its overall comfort, durability, classic vulcanized rubber sole, double stitched toe cap, padded tongue, and other high-quality materials. But how durable can it be? We decided to find out. After one call to Tactics shop employee, Rusty Jones, and a few sessions at some of Portland's classic skateparks, we found out.
Click play on the video at the top of the page to see how the ever-popular Vans Half-Cab held up to the notorious Tactics wear test.
---
So, what's good about the Skate Half-Cab Pro?
-Comfort
- Impact support
- Vulcanized rubber sole
- Durability
Throughout our Wear-Test efforts, we wanted to dig in and find out what was good about this classic shoe from Vans. The top thing on our list that we wanted to convey is comfort. The Half-Cabs are flippin' comfy, but what is that attributed to? It's a collab of a few features on the shoe, predominantly the padded collar and tongue, formulated from a combination of sturdy suede and canvas uppers. That comfort is complemented by Vans own POP CUSH™ insoles, designed not only to be comfy but to handle harsh impacts when jumping down stair sets.
While we are talking about jumping down things and the harsh nature of skateboarding, let's talk about this shoe's durability and protective nature for a second. Rusty is quoted in our wear test video saying the Vans Half-Cab is "Super protective and comfy to skate." The durable parts of this shoe stem from a couple technical features that Vans proudly boasts, those being Duracap™ and a vulcanized sole. For those of you who aren't aware of what a vulcanized sole is, we will give a brief overview. Vulcanization is a process that involves applying heat and pressure to rubber to strengthen it and make it more resistant to wear and tear. The vulcanized rubber sole on the Half-Cab provides excellent grip and is more resistant to damage than a non-vulcanized sole. Speaking of damage, Vans has two patented technologies that are specifically designed with durability resistance Duracap™ and Sick-Stick™.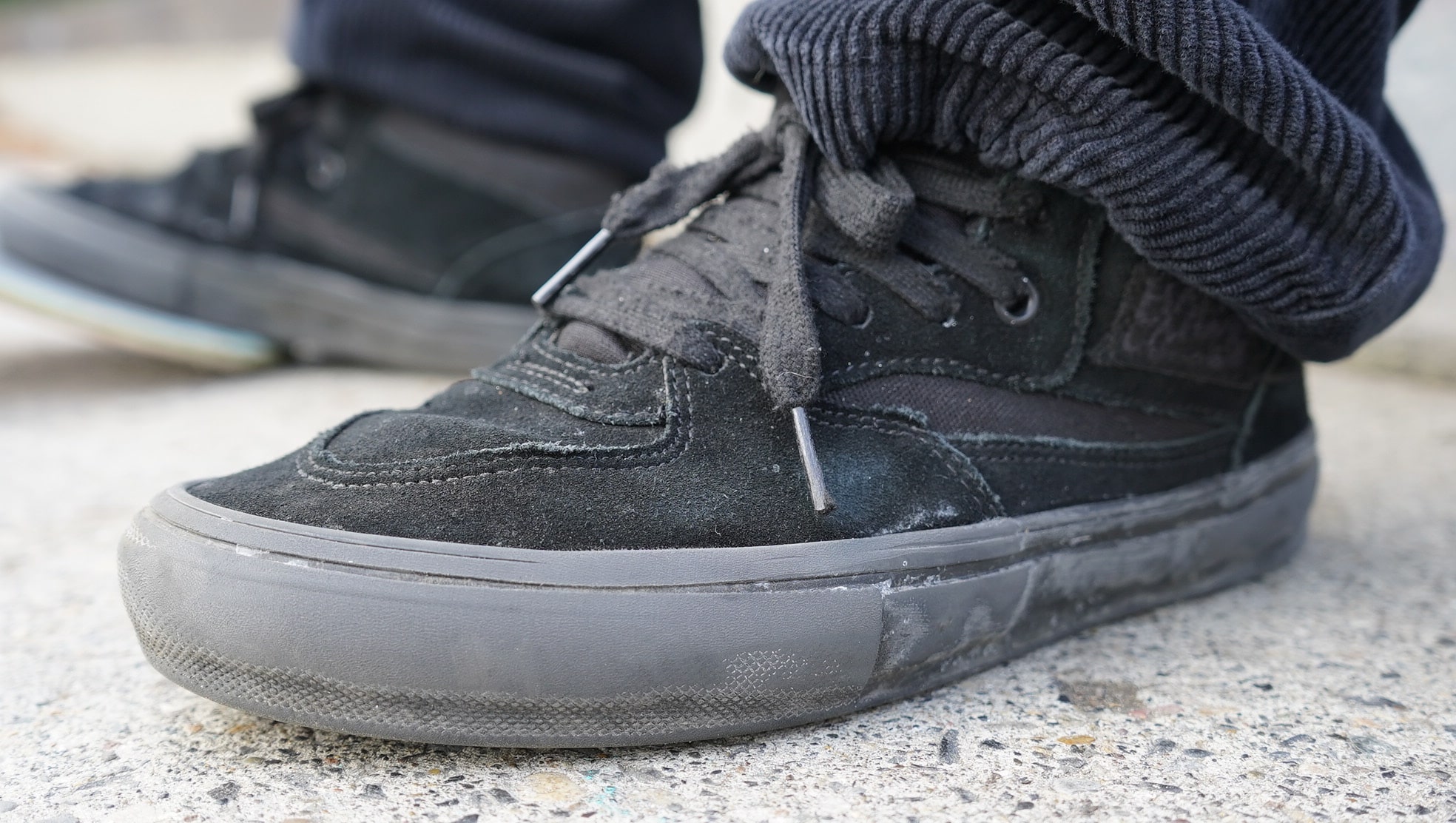 This so-called "Duracap™" is a technology developed by Vans that is designed to provide extra durability to specific areas of the shoe that are subject to high levels of wear and tear. It is intended to provide additional protection, helping extend the shoe's life. The second piece of tech built into the Half-Cab's for durability is Sick-Stick™, an upgraded rubber formula built into the waffle sole offering best-in-class grip and defense against wear and tear. Vans has developed all this tech to work symbiotically with a goal of creating the best all-around comfortable and durable skate shoe.
---
What could be better with the Vans Half-Cab?
- Loss of shape
- Lack of arch support
Just like there are good things about the shoe, there are going to be downfalls flagged during these wear tests that aren't the best attributes. That's just the nature of the beast, and we aren't going to sugarcoat it for you. Yes, the Vans half cab is a great shoe, but you should be aware of some aspects that may be a turn-off. Let's start with the fit and overall shape. Before we begin, let us preface this part with *This result could vary from person to person. Some people find the Half-cab to be a great fitting shoe straight out of the box, but if you've got a wide foot, they may be tight right away. Don't let that turn you off; when Half-Cabs break in, they are comfy as can be. Be aware that when they start to get super broken in, as Rusty pointed out during our Wear Test video, the shoe becomes "flat, bulky, and floppy looking."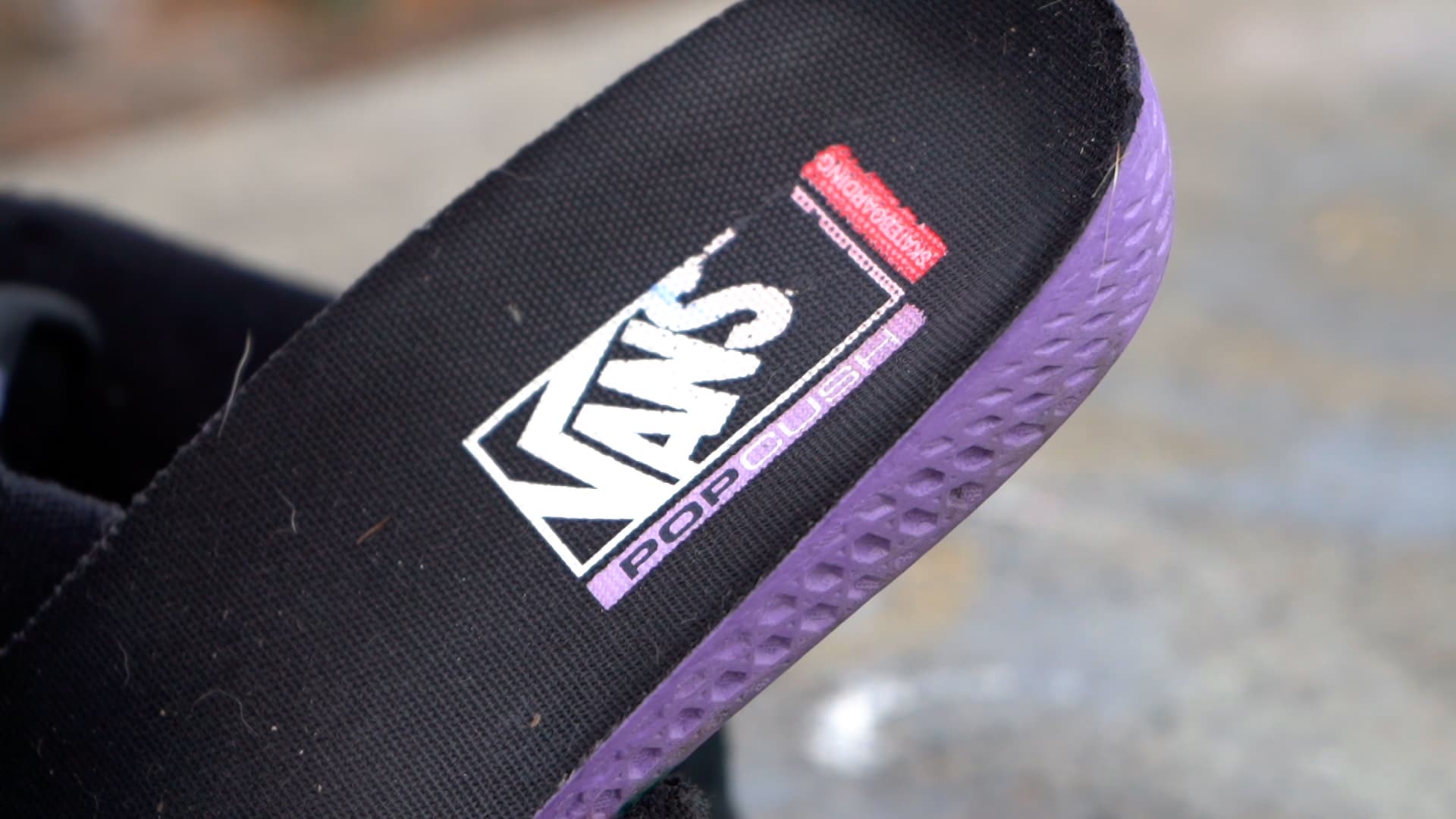 As we said above, these shoes feature the POP CUSH™ insole, which offers great cushioning for impacts but does not offer arch support. We probably just lost the young kids in the audience thinking that this is an old man problem (it is), but it's something that we believe is important to talk about. The Half-Cab is designed for a natural board feel and flexibility, with no arch support. If that is something you value, you may want to swap out the POP CUSH™ insoles for your custom orthopedics grandpa ones. If that doesn't do the trick, you may want to look for another shoe altogether that offers a more athletic design; believe it or not, there are "athletic" skate shoes that aren't very popular (yet).

What's The Verdict?
Overall, the Vans Half-Cab is a classic skate shoe that has stood up to the Tactics wear test. Its durability, versatility, and classic design will continue to make it popular among skaters and beyond. Ultimately, the choice is up to you if Half-Cabs are the right choice for your next skate shoe. If these things are something you look for and desire in skate shoes, look no further, the Vans Skate Half Cab is available at all Tactics retail stores and online now.
---
Related Posts