Every since the beginning skaters have been pushing the limits of skateboarding. It doesn't matter if you are sending it down massive street gaps or blasting a frontside air in the deep-end of a bowl, it hurts when you bail. Even if you don't slam and you land flat on your feet your knees, ankles and heel takes a beating. Luckily, there are plenty of insoles out there designed just for skateboarding. But what is the difference? At Tactics, we carry we what we feel are the 3 best insole brands out there, Footprint, Remind, and Etcetera.
Footprint Insoles. – Shop Here.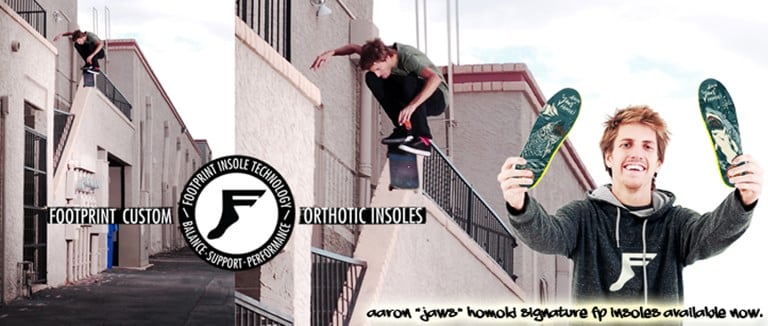 Since Footprint is backed by skaters like Jaws, Guy Mariano, Brandon Biebel, Jack Curtin, and many more, you know there must be something to them. Just watch Jaws "Criddler on the Roof" part and you will see why.
We were lucky enough to get a couple of pairs out to our team to put them to the test. Check out our Footprint wear test!
Remind Insoles – Shop Here.

Remind Insoles began as a combination of 30 years of bio-mechanic and bio-medicine research with years and years of being tired of having pain caused by skateboarding. The collaboration created a simple motto "To live the dream less painfully." Remind insoles are backed by a massive list of pro skateboarders, including Chico Brenes, Boo Johnson, and Keelan Dadd. Remind currently has 3 different models. The Destin Insoles is will offers the highest level of impact protection, the Cush Insoles feature self molding technology, and the Medic Insoles is going to offer full heel to toe protection for your feet.
Etcetera Insoles – Shop Here.

Etcetera Insoles feature the first ever Primo Pad. "The Primo Pad functions as a barrier between your arch and the edge of your board or any other object that attemps to impact the arch of your foot. Cut out arch bruises for good." The Primo Pad is just one of the many features of the Etcetera Hi-PRO and Lo-PRO insoles.