The Dern Brothers | A Week At Castle Bam

When the Dern brothers got the invite to visit Castle Bam last month the answer was clear, pack up the car and go! After a busy few months of quarantine at their home in Florida, Dalton, Destin, and Kanaan hit the road with their eyes set on parks and spots up the east coasts, and their heads spinning around antics that await in West Chester. Check out the full edit from their trip above, and scroll down to hear what Dalton had to say about how the whole trip came together.
Even through the pandemic you have stayed busy stacking clips. What has kept you motivated through the past couple of months?
The quarantine videos gave us a chance to really showcase the house like we've been wanting to do for some time now. My brothers getting me stoked was just like the old times! So much motivation going on and of course having the ramp helped every day be epic!!! The stuff we would come up with and build felt like a new spot it was so much fun!

You recently went on a trip up the east coast with your brothers. What was that trip all about and who all was in the crew?
We set a deadline to stop filming for the quarantine and left to Bam's a couple days later. It was basically our celebration trip for finishing the video then Steve Berra called me at Bam's and told me we won. It was really a celebration trip after that! It was Destin, Kanaan and I, then we met up with our filmer friend in North Carolina. We headed to West Chester from there and hit spots all over!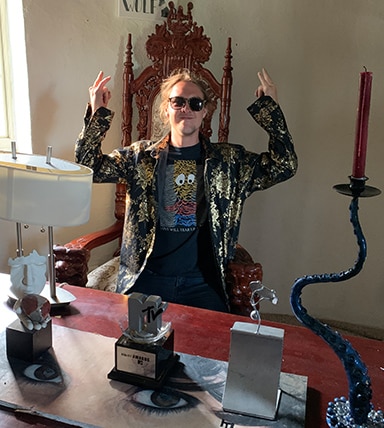 What are three things that are essential on a skate road trip?
Phone, wallet, skateboard & also your keys if you drove haha.
How did you get connected with Bam? What were you working on during your stay?
Brandon Novak saw a video of me skating Maitland Quarters, a spot in Florida, and got stoked on the spot. He hit up his filmer Lonnie Shamblin to find out the scoop. Lonnie hit me up, I said yeah come through I'll take you there. Seshed the quarters with Brandon, skated the house, and some other spots too. Lonnie brought up to me that he was filming a segment at Bam's house and invited me and my brothers to go out and film some clips for the segment! He then later brought up that he wants to do a segment at my house as well and we've already started working on it! The project is called HD Video Magazine.
What was Bam's house like? Was it everything you imagined?
It's like being on an old movie set! Everything was a trip! A lot has changed but there is also a lot of stuff that I remembered from the show! Every time I'd look at the heartagram on the wall I'd get stoked and couldn't believe I was looking at it!
What was the gnarliest thing you saw or did at Bam's?
Kanaan's Hobbit hole drop!!! (Check it out here!)

Is it safe to say the Viva La Bam era inspired you and your brothers to build out the park you have at your house?
A little bit yeah haha well anyone that had a sick looking ramp we'd look at and be like one day we hope! The small step up was inspired by Bam's step up that he had on his ramp that got burned down. Ours ended up coming out different but it was definitely inspired haha.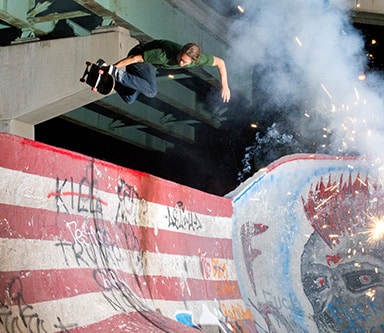 We saw you guys spent some time at FDR. What is the vibe like there? Any other parks you can compare it to?
It was awesome! Better than I even thought! Had that bridge vibe I love like Burnside and Washington Street! Everyone was ripping!
Favorite spot or feature you skated on the trip?
FDR was a DIY on High it was huge and so amazing! The locals killed it there I can't wait to go back one day!
What will you take away from that trip?
So much! I never thought I would end up there! I just wanna keep skating and keep the hype flowing!
What plans or projects do you have in the work next?
Skate Skate Skate and working on more and more video projects like finishing my part for you guys!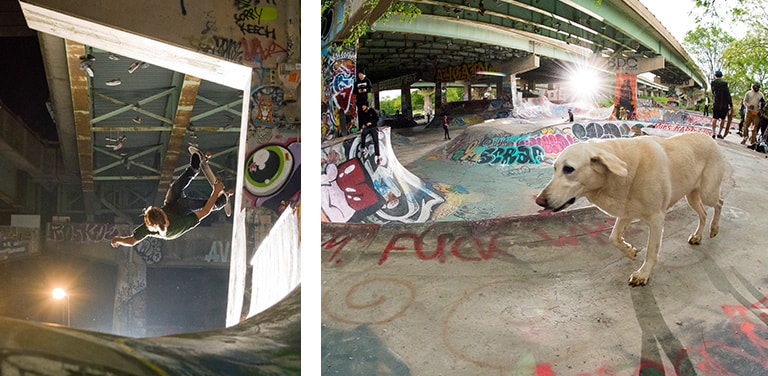 Any last words or shout outs?
Thanks to Bam and his family for everything! Also Lonnie Shamblin, Brandon Novak, and all the homies along the way!
One last question. What's up with the Coca-Cola shrine at your house?
Haha my parents love vintage memorabilia and have been collecting since before I was born. The room has been like that ever since we moved in. They got me stoked on antique and thrift stores.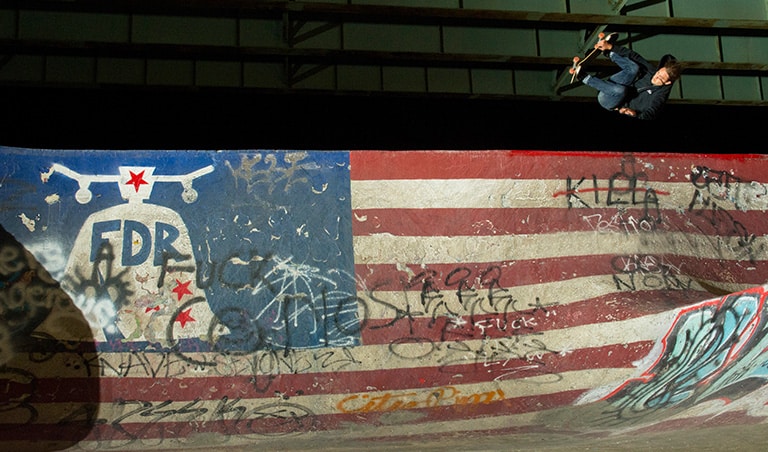 Related Posts