Welcome to the team | Nathan Vitale
adfadfaeEn
"Last year I received a phone call from my friend Sebastian, The Space Program Board Co. owner, that one of his riders, Nathan Vitale, was stopping through Portland on a road trip from Spokane. I had heard good things about Nathan prior to meeting him… That he could ollie over everything, he had a diverse bag of tricks (most NBDs and some reposted on The Berrics IG) and that he was a humble guy who loves to skate and have fun with his friends. When I arrived at the spot, Nathan was charging full speed towards an unmovable waist high trash can, then casually and effortlessly he ollied the can and went on about his day destroying everything in his path all with a smile on his face. Since then getting to know and hang with Nathan has been awesome, he tells great stories, has a unique outlook on life and is always down for anything. We are stoked to have him on the Tactics Team…. Welcome to the world of Nathan Vitale…" - Scott Koerner
Hey Nathan, how's your day going?
Day's pretty good so far, chillin in the backyard enjoying the sun before I go skate.
You just came off a week of living up at Seek Skate Camp as a guest pro, how was that experience?
Seek is so fun! They really know how to glamp it up as well! You know they got wireless chargers in the tents!!! Freaking futuristic if you ask me. Also the park is so great. Best pole jam this side of the Mississippi. Lots of fun to be had, I can't wait to go back yander.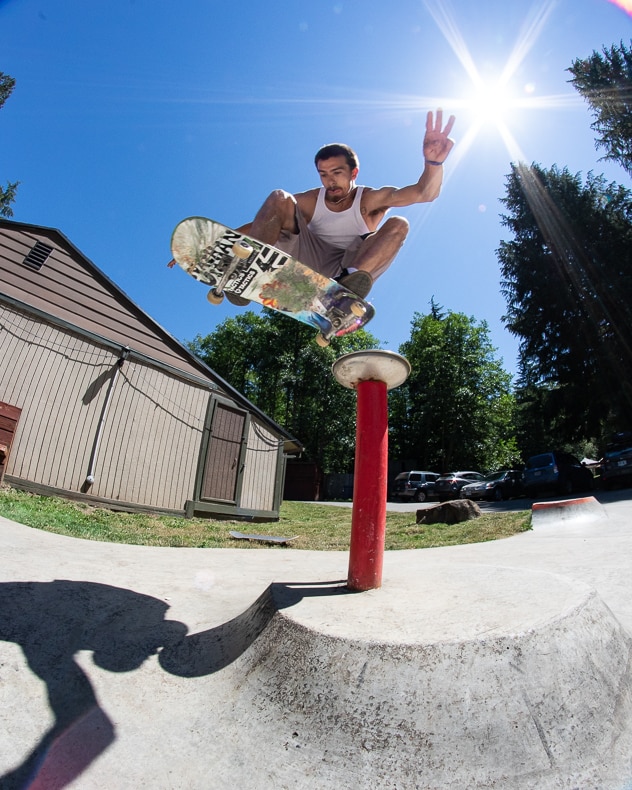 Speaking of pole jams, you have a really unique bag of tricks. What inspires your trick selection?
I really love dorking around on my skateboard. That's when I feel I'm truly having the most fun, sometimes I just try a bunch of different things and see what sticks the best. Then the battle commences.
Last year you took a trip to NYC with the Space Program Board Co. squad and put down an NBD 360 flip darkslide down Blubba. Did you have that trick in mind, or was it spur of the moment?
Before every trip I always have a trick in mind on a spot we are going to visit. It normally puts me in the mindset that even if I were to go on this trip and get one clip, what would I be stoked on doing? I learned tre flip darkslide before the trip. I feel like it's hard to find a good hubba for that trick. So when we got to New York I was plotting that for a while.
Any other good stories from the East Coast trip?
Couple good ones ! We were in Philly when Adam Sandler was filming Hustle. People love Adam Sandler, shit was poppin. I got pressed by a bunch of chess players when skating that curve rail. Even on the tre flip darkslide we got kicked out by like Law and Order or some other tv show. I landed it while they were on lunch break.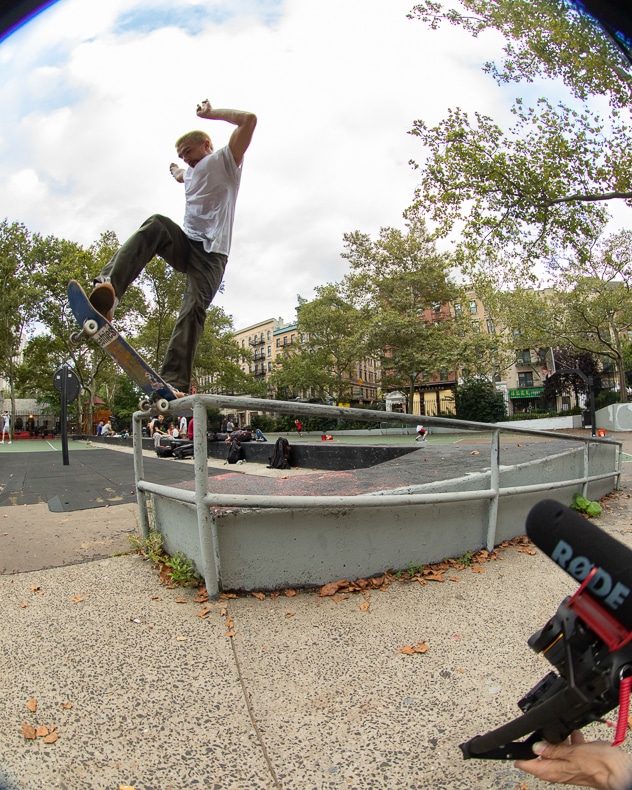 Haha damn, there's always good spots in those Law and Order Episodes. You get reposted by the Berrics, and numerous other "viral skate pages," but it really seems like you skate for yourself and don't force any of that stuff. What's that viral insta skate world like to be a part of?
I really appreciate anyone taking a liking to what I do on my skateboard. For them or anyone to want to share what I'm doing it always puts a smile on my face. It's a cool experience to be a part of. Shout out to anyone who has shared something of mine!
However, Side effects may include:
1. Getting flamed in the comments
2. "Bussup"
3. Randos going to your page and only liking your girlfriends photos (laughs)
Tell us about Pacific Northwest homegrown skate brand Space Program Board Co. What's that all about?
Well it all starts with Sebastian. Sebastian Lopez to be exact. He is the driver of the spaceship. Makes the graphics, puts up with all of us, runs the brand! Greatest guy ever! Space Program started out in Spokane, but the brand's HQ has since moved to Portland. The team has grown and we have a lot of ripping skaters on the program. I'm sure a lot of other skaters feel this way about their board sponsor, but it's like a big family.
We are very hyped to welcome you to the Tactics Team! What does riding for Tactics mean to you?
I'm stoked to be a part of it! Tactics is so sick! You guys have always made me feel included, I've made such amazing new friends! Overall it's a huge stepping stone in my skateboarding so far! I am very appreciative for the opportunity.
Thanks for chatting Natey! Any closing words?
Always down to chat. Thanks for having me! I don't know if I have a closing statement. So I'll just mash in some greats. Keep your head on swivel. Patience is a virtue. And most importantly keep on rockin in the free world doot doodle loot doot.
Words: Sam Goldberg-Jaffe
Images: Mike Miller, Hunter Murphy
Related Posts