Madness
Unravel Peel 9.625 R7 Skateboard Deck
1 Review
(1)
Write a Review
Features
Profile
Mellow Concave / Steep Kick
Details
Wheel Wells
Embossed Graphic Texture
Construction
Resin-7 - Resin-7 Construction boards are single pressed meaning that each board is identical to its brother on the shelf. Made from 7 plies of Canadian hardrock maple, the Resin-7 construction uses a gnarly epoxy that allows for more strength with less glue. This means that Resin-7 decks are considerably lighter, stiffer and longer lasting than traditional 7-ply construction.
Profile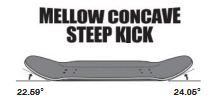 Mellow Concave / Steep Kick
Specs
| Size | 9.625 |
| --- | --- |
| Width (in): | 9.625 |
| Length (in): | 31.8 |
| Wheelbase (in): | 14.0 |
| Nose (in): | 7.125 |
| Tail (in): | 6.5 |
| Concave (in): | .563 |
Reviews
Posted on 10/28/2019
Madness Unravel Peel 9.625 R7 Skateboard Deck
I used this for a cruiser set up on 169 Indies and 66mm Powell Snakes, with a 1/8" riser, I still get no wheel bite even with the size of the wheel, partly due to the tightness of my trucks, and partly thanks to the manufactured wheel wells.
This deck is beautiful, the quality and detail really make it a work of art, with embossed textures in the print, the engraved or burnt in design on the tail, the stained look even under the design, awesome. I'm a huge fan of stickers, and this is the first deck I didn't want to add a sticker to, as I felt it would cheapen the aesthetic. I'm excited for the scrapes to tear through some of the design to bring up the tones in the stain.
The shape is perfect for a cruiser, not too long and unwieldy in the deck and wheel base, but plenty of width for foot placement, allowing for quick steering and a stable ride. I usually only buy anti-hero for my trick decks, but I may look at some of their 8.5's because I love a lot of their outside the box approach to design, print and shapes. Madness has a great team too, check their vids and website.
---

More products from Madness