Venture
P. Rod V Titanium Pro Skateboard Trucks
Be the first to write a review
Features
Axle/Kingpin Style
Hollow Kingpin
Titanium Axle
Baseplate Style
Forged - Forged baseplates are compression molded making them lighter, stronger, and more impact resistant compared to cast or poured-mold baseplates. Forging also eliminates the most common manufacturing defects and imperfections.
Axle/Kingpin Style
Hollow Kingpin - Lightening the load, hollow kingpins reduce weight for lighter feeling trucks, while still maintaining strength in this critical area.
Titanium Axle - Ultra-light and strong, titanium axles help provide you with the lightest trucks on the market. Titanium has the highest strength vs. weight ratio of any commercially used metal today, which means these axles can take the most damage with the least amount of weight.
Origin
Made in the USA - Made in San Francisco, California
Non-Compatible Risers
Risers from the following brands are not compatible with the baseplates of these trucks.
Dooks
,
Girl
,
Loaded
,
Paris
Sizing Reference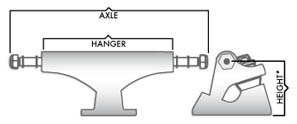 Note - Every skate truck brand represents their sizing a little differently, so it's easy to get confused. Take a look at this graphic and then reference the size chart.
Specs
| Size | 8.0 axle | 8.25 axle | 8.5 axle |
| --- | --- | --- | --- |
| Venture Size: | 5.2 Hi | 5.8 Hi | 6.1 Hi |
| Hanger (mm): | 136.4 | 153.5 | 155.6 |
| Board Range (in): | 7.75 - 8.25 | 8.25 - 8.75 | 8.5 - 9.0 |
| Height (mm): | 52.0 | 52.0 | 53.5 |
| Weight (g): | 306.1 | 322.0 | |