A comfortable and correct fitting pair of snowboard boots can be the deciding factor between an amazing day on the mountain or a miserable one. Simply put, understanding how snowboard boots should fit and perform is an essential factor for a proper snowboard set up. This guide will quickly explain everything you need to know about fitting snowboard boots so you will know how to buy the boots that are best for you and your riding style.
Here's what we'll cover:
A perfect fit for a pair of boots should be a tight, stable fit over the top of your foot and around your upper ankle. They will resist slightly when you lean forward and flex, but still allow for a comfortable range of motion without pressure points. Your toes should barely brush against the toe box and your heel should be firmly held into the heel cup of the boot.
When choosing a pair of proper fitting snowboard boots, your toes will barely brush up against the end of the boot liner while standing in place with the boot fully laced up. Your toes should not curl or feel any pressure on the tips of your toes, but rather just graze or be as close as possible to the end of the boot liner. As you bend your legs and crouch down into a snowboard-ready stance, you should feel your toes pull back ever so slightly resulting in a proper fit. It is important to note that you should always wear a proper pair of snowboarding socks when trying on boots and while riding.
Your snowboard boots will be the tightest they will ever be the first time you try them on. Over time, the padding inside your boot will "pack out" some (up to a half size), creating more space and a less "snug" fit. Some people make the mistake of buying boots that fit like shoes when they're new, with extra room in the toes. This feels great when you're initially standing or walking around, but will lead to heel lift and foot cramps when you're actually riding due to your feet and lower legs working excessively hard as they try to compensate for the "slop" of loose boots.
Snowboard Socks
There is a reason that snowboard specific socks were created. Wearing your everyday cotton socks on the mountain can lead to improper boot fit, frozen feet, increased fatigue and general discomfort. Snowboard socks are designed specifically to work with your foot and ankles' natural articulation. This leads to less bunching of the sock in your boots and a reduced risk of discomfort from long days of riding. These specially designed socks also offer added warmth, moisture wicking properties, and increased comfort.
---
Reference the chart below to make sure your boards' width and boot size complement each other. Having a board that fits your boot size is key for functionality and board control on the mountain. A board that is properly sized to fit your boot size will allow you to maximize the leverage and control you have over your board when maneuvering edge to edge. A board that is too wide will result in less control, while a board that is too narrow for your boot size will enable heel and toe drag causing a loss of edge control when turning.
| | | | | | | | | | |
| --- | --- | --- | --- | --- | --- | --- | --- | --- | --- |
| Snowboard Waist width (CM) | 17.9 - 22.1 | 22.2 - 23.1 | 23.2 - 23.9 | 24 - 24.4 | 24.5 - 24.9 | 25 - 25.4 | 25.5 - 25.9 | 26 - 26.9 | 27 - 27.5 + |
| Men's Boot Size (US) | 5.5 & under | 6 - 6.5 | 7 - 7.5 | 8 - 8.5 | 9 - 9.5 | 10 - 11 | 11 - 11.5 | 12 -14 | 15 - 16 |
| Women's boot size (US) | 6.5 & under | 7 - 7.5 | 8 - 8.5 | 9 - 9.5 | 10 - 10.5 | 11+ | 11+ | 11+ | 11+ |
| kids boot size (US) | 5.5 & Under | 6 - 6.5 | 7 - 7.5 | 8 - 8.5 | | | | | |
---
Different boots are made for riding in specific conditions, so knowing your preferred riding style is the first step to finding your ideal pair of boots. For example, most beginners are looking to enjoy the entire mountain and thus need an "All-Mountain" boot that offers a medium level of flex and mobility while a more freestyle minded rider will gravitate towards a boot with added mobility and more flex, sacrificing some support.
All-Mountain Snowboard Boots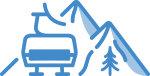 All-Mountain boots are built with the mid-level support and control you need to ride a variety of terrain and snow conditions. They're ideal for novice riders looking to progress their skills across the entire mountain and experienced rippers who shred everything in sight. It's no wonder the majority of snowboard boots on the market fall under this category.
Shop All-Mountain Snowboard Boots
Park/Freestyle Snowboard Boots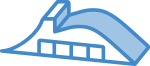 Designed for easy mobility and free range of motion, park/freestyle snowboard boots offer the flexibility you need to tweak grabs and press rails and boxes. These boots are designed for riders who spend the majority of their time riding terrain parks and urban features.
Park/Freestyle boots can also be a good option for younger or lighter riders as they are unrestricting and allow an increased range of motion with less force.
Shop Park/Freestyle Snowboard Boots
Freeride Snowboard Boots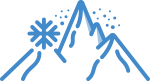 If you're charging steep runs or backcountry terrain, chances are you could benefit from a freeride specific boot. Freeride boots are designed with a stiffer flex and offer more response and control to help turn initiation and edge hold when riding challenging terrain. They'll typically offer other features too, like increased traction for hiking, more durable materials and warmer, higher quality boot liners. If top of the line performance and support is what you are after, a pair of freeride boots will not let you down.
Freeride boots can also be a good option for heavier riders as they provide the added support needed to maintain proper board control.
---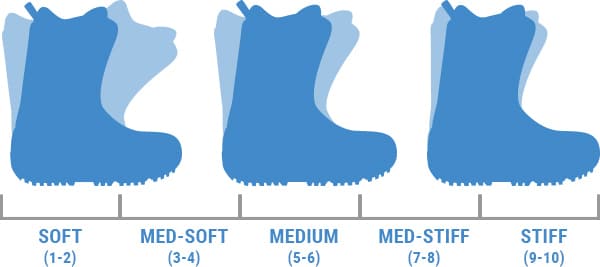 A snowboard boot flex rating refers to the boot's torsional and lateral bend under pressure. A "softer" flexing boot will offer more maneuverability while a "stiffer" flexing boot will be more rigid. There is no standardized flex rating for boots but many snowboard boot brands will use a 1-10 flex rating system (1=super soft, 10=very stiff). We think it's most helpful to break these down into three classes: soft, medium and stiff.
Soft Flex Snowboard Boots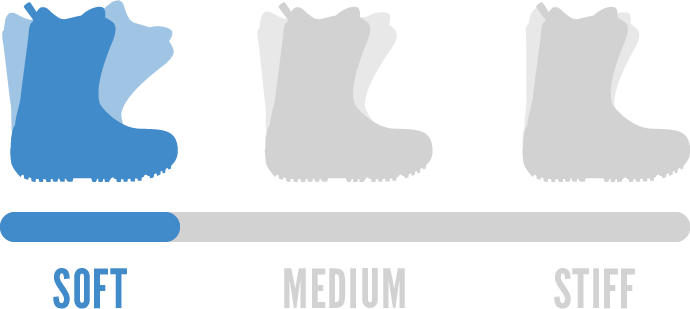 Soft boots are ideal for freestyle minded riders as they offer more amounts of maneuverability, allowing for more expressive styles of snowboarding. The downside to soft boots is that they lack support and response compared to medium and stiff boots. This means your legs have to pick up the slack and can lead to more leg fatigue during a day on the hill.
Medium Flex Snowboard Boots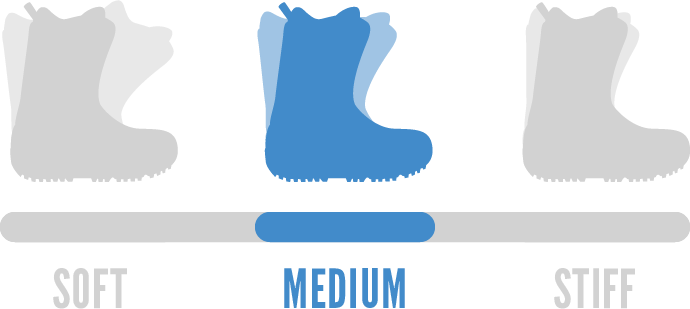 Most snowboard boots fall under a medium flex rating. A medium amount of flex is ideal for riding all types of terrain and is what we suggest for most beginners, weekend warriors and experienced rippers who ride everything. If you've done your research and are still unsure of what flex rating is best for you, a medium flexing boot is usually a very safe buy.
Stiff Flex Snowboard Boots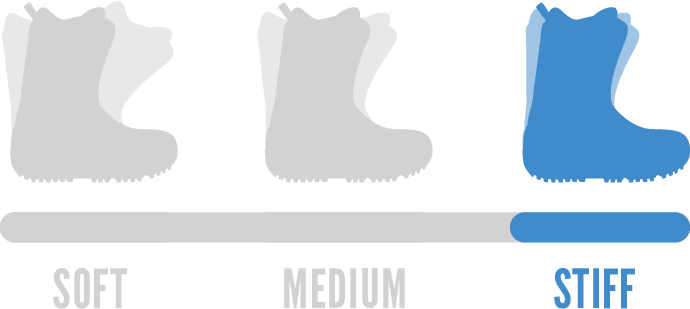 Stiff boots are designed for hard-charging, freeride focused riders who want the best performance on the steepest, most challenging terrain. By increasing the boot's stiffness, riders get added leg and ankle support that allows them to drive more immediate pressure into their snowboard's edge, creating more secure edge hold and response on steep, challenging terrain. Stiff boots don't leave as much room for correcting mistakes while riding though and are a bit overkill for most newbies so we don't recommend them for beginners.
---
Snowboard boot laces come in three main types of boot lacing systems; traditional laces, speed laces, and the BOA® lacing system. Each of the three systems has their own pros and cons as we explain below. Ultimately the decision comes down to personal preference and what you find works best for your ride style and on-mountain needs.
Lace Snowboard Boots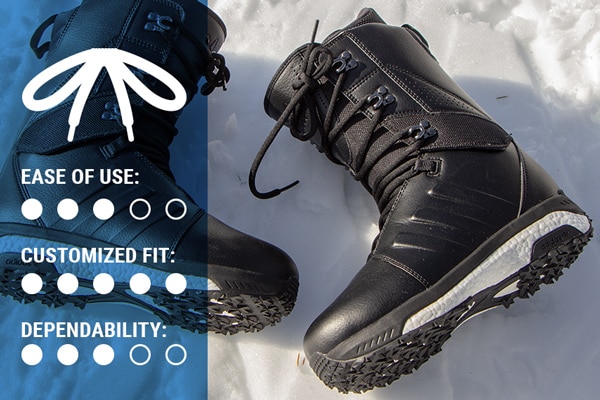 Tried and true, traditional laces offer foolproof closure that ensures a snug and secure fit every time. By leaving complete customization up to the user, lace boots can be tightened and tuned to the users' individual comfort and fit needs. Did we mention broken laces can be easily replaced?
PROS:
Lace replacement is easy.
Fit and overall boot tightness are easily fine-tuned.
You're not paying for added features.
Traditional snowboard boot look and feel.
CONS:
Not easily laced or adjusted with gloves on.
Susceptible to loosening throughout the day.
The strength of rider determines overall tightness achieved.
Shop All Traditional Lace Boots
Speed Lace Snowboard Boots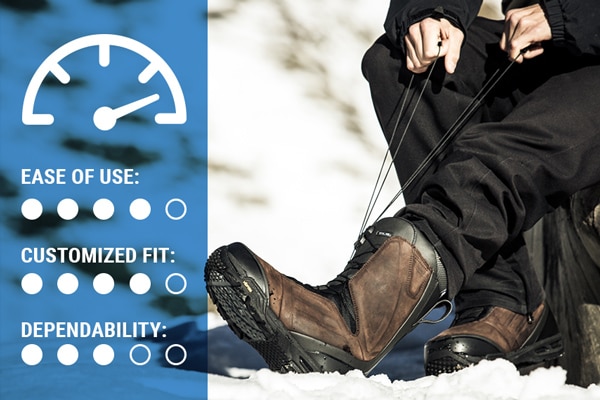 Snowboard boots with speed lace systems come in various styles and configurations but all strive for the same results; superfast entry and exit, easy adjustability and a secure fit. Using two reinforced nylon cables attached to quick-pull handles, speed lacing systems can be independently adjusted across the top of the foot and above the ankle for an on-the-fly custom fit that'll hold your foot in place all day.
PROS:
Can be adjusted while wearing gloves.
Quick and convenient.
Customizable fit.
CONS:
The strength of rider determines overall tightness achieved.
Not easily repaired if broken on the mountain.
Boa Snowboard Boots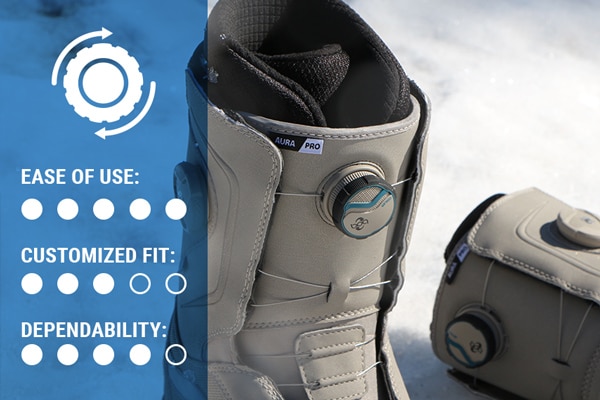 The BOA™ Lacing System is a quick and easy alternative to traditional laces. Offering quick entry and exit, BOA boots are the easiest to adjust and ensure a very snug and uniform fit every time. BOA™ dials can be adjusted with your gloves on and are a great option for someone who wants to beat everyone from the parking lot to the chairlift.
PROS:
Easy and convenient.
Can be adjusted while wearing gloves.
Precise micro adjustments for customizable fit.
CONS:
Single BOA™ systems only offer single fit throughout the foot.
BOA™ boots may not be easily repaired at the mountain.
Additional cost.
---
Buying boots that are either too small or too big. Follow our suggestions above or swing into the shop to have our knowledgeable staff guide you through the fit process.
Buying boots not suited for your style of riding or skill level. See our section on snowboard boot types to decide what boots will best suit your needs.
Overlooking the fact that boots are the one piece of equipment that you will spend most of your time in. Whether that's kicking back in the parking lot, lapping the park or hiking a pillow line, you will always be in your boots. Invest wisely, don't blow all your budget on a board and bindings. Trust us, your feet will thank you.
Buying boots simply because they look cool. Styles and trends come and go, make sure you are investing your hard-earned cash into something that will be comfortable and compliment your style of riding.
Taking advice from others without shopping around. Just because your buddy loves a certain brand or model of boots does not mean your feet will. Shop around and make the big decisions yourself.
---
Shell – the durable and water resistant outer portion of the boot that the liner slides into.
Toe box – the area of the boot that covers your toes or end of your foot.
Articulated Cuff – grooves or removed shell materials that allow the upper and lower zones of the boot to flex independently of one another. This reduced shell distortion over time and provides natural flex.
Rubber/Grip Backstay – a strip of grippy or grooved material on the back of the boot that runs up the ankle to provide extra grip and heel hold with your bindings highback.
Laceposts – metal post on the upper portion of Traditional Lace boots that unsure lace tightness and fit adjustability.
Boa Dial - circular dial that tightens and loosens the Boa cable providing easy fit adjustments and a on the fly changes.
Boa Cable – steel or braided cable that works in conjunction with the BOA Dial to tighten the boots shell, ensuring a secure and proper fit.
Boot Liner – the removable portion of the boot that is held in place by the shell and inner lace harness. These are often made of EVA foam and can be heat molded.
Footbed – or the insole of the boot which is found within the liner and can often be removed.
Inner Lace Harness – a cinch up hardness that is attached to the inner portion of the boots shell which holds the liner and your heel in place.
Sole – the bottom of the boot which provides grip and durability.
---
Still Have Questions?
We're here to help. You can call, email, chat or IM during business hours seven days a week. We're happy to help you with all things snowboarding
Learn More About Snowboarding: