Royal
The Royal Forged Inverted Kingpin Skateboard Trucks
Pay in 4 interest-free payments of $9.49 with
.
Learn more
Features
Axle/Kingpin Style
Inverted Kingpin - An inverted kingpin means the threads are in the trucks, meaning that even after prolonged grinding, you will always be able to tighten or loosen your trucks.
Non-Compatible Risers
Risers from the following brands are not compatible with the baseplates of these trucks.
Sizing Reference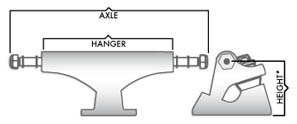 Note - Every skate truck brand represents their sizing a little differently, so it's easy to get confused. Take a look at this graphic and then reference the size chart.
Baseplate Style
Forged - Forged baseplates are compression molded making them lighter, stronger, and more impact resistant compared to cast or poured-mold baseplates. Forging also eliminates the most common manufacturing defects and imperfections.
Specs
| Size | 8.0 axle | 8.5 axle |
| --- | --- | --- |
| Royal Sizing: | 139.0 | 149.0 |
| Hanger (mm): | 138.1 | 148.1 |
| Board Range (in): | 7.75 - 8.25 | 8.25 - 8.75 |
| Height (mm): | 52.0 | 52.0 |
| Weight (g): | 347.6 | 361.1 |
Reviews
Posted on 2/11/2022
Royal The Royal Forged Inverted Kingpin Skateboard Trucks
These new revamped royals are great trucks they turn and track very well, so much so that some rough pavement felt even rougher with them and some beefier wheels felt necessary for it. They grind and slide comfortably too and their 52mm height helps with lining and popping anything.

Now the downside… I wouldn't recommend the reverse kingpin model, due to them being prone to lateral movement and eventually a lose nut/brace that holds the kingpin. Within a month this happened to one of my trucks and now shakes even when tightened. And gl getting them to answer towards their guarantee, as I've had no luck so far. : /
---

More from Royal