Best All-Mountain Snowboards | Tactics Picks For 2020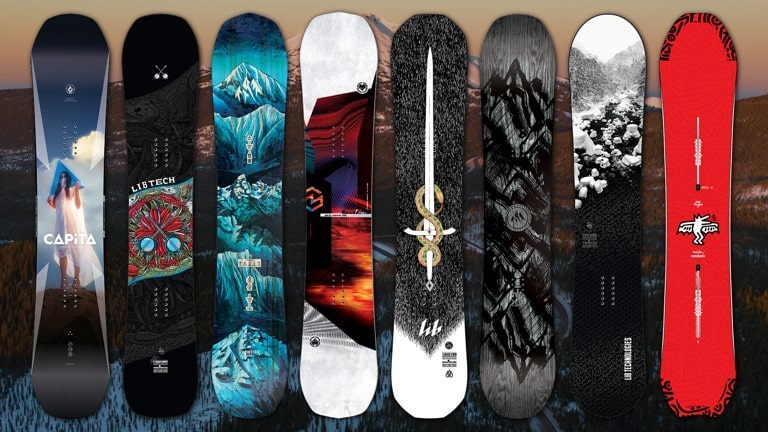 Whether you're a weekend warrior casually cruising the resort or a seasoned rider who needs one board that will stand up to all conditions and terrain, all-mountain snowboards are designed to be versatile and easy to ride. From pow slashes in the morning, to park laps in the afternoon, these are the boards you can depend on no matter what the snow conditions are like. Scroll down to take a look at our top ten all-mountain snowboards for 2020, and don't forget to hit those play buttons for on-snow rider reviews of how they perform out on the mountain.
Top All-Mountain Snowboards
Shop All All-Mountain Snowboards
---
Lib Tech EJack Knife

Lib TechEjack Knife HP C3 2020$419.95Shop Now
Tuned to the exact specification of Eric Jackson, the EJack Knife is a directional all-mountain board with a hint of freestyle influence. Featuring a responsive C3 camber profile, the EJack Knife packs power and stability while still remaining floaty in powder thanks to an extended nose and a directional shape.
---
Jones Ultra Mountain Twin

JonesUltra Mountain Twin 2020$419.95Shop Now
Designed for power and response, the Jones Ultra Mountain Twin features a reactive 9/10 flex and a true twin shape. Built for intermediate to advanced riders, this board packs the stability, edge hold and power needed for riding at high speeds and navigating technical terrain in a variety of snow conditions.
---
Ride Warpig

Built for all-mountain ride-ability, the Warpig allows riders to step down from their normal board size without sacrificing stability, float, and response. Featuring a directional rocker shape, and an ample amount of taper, the short and wide profile of this board is highly maneuverable and offers unmatched versatility that truly shines across the whole mountain.
---
Burton Skeleton Key

BurtonSkeleton Key 2020$349.95Shop Now
Designed for everything from resort ripping, to untracked lines in the backcountry, the Skeleton Key is a versatile all-mountain board that is playful when you want it and aggressive when you need it. Featuring a Directional Camber Profile with an extended rocker nose, the Skeleton Key trenches turns on groomers and floats with ease in the deep stuff.
---
Jones Frontier

JonesFrontier 2020$383.95Shop Now
Previously known as the Explorer, the Frontier is an easy riding, directional daily driver that is designed to handle all conditions and terrain with ease. A floaty freeride nose provides excellent float in powder, while a responsive freestyle tail allows for quick edge-to-edge initiation for unmatched control and response whether you're cruising groomers or slashing around on side hits at the resort.
---
Lib Tech Cold Brew

Dependable and easy riding, the Cold Brew features and all-terrain but freestyle ready design that ensures effortless float in powder and confidence across the whole mountain. A versatile C2 camber profile blends response, control, and float making this a perfect daily driver for casually cruising the resort or hunting for powder in the side country.
---
Burton Deep Thinker

BurtonDeep Thinker 2020$405.95Shop Now
Tuned to the specification of Danny Davis, the Deep thinker is crafted for creative all-mountain freestyle riding. From park to powder and everything in between, this board handles all conditions with ease thanks to a directional camber profile that packs a ton of pop and response for heavy landings and choppy snow conditions.
---
Lib Tech T. Rice Pro


Lib TechT. Rice Pro Blunt HP C2 2020$419.95Shop Now
Catering to the all-mountain needs of Travis Rice, the T. Rice Pro is available in two shapes (blunt/pointy) and comes equipped with a C2 camber profile for effortless control in all conditions. Horsepower construction provides a lightweight and responsive feel that can withstand high speeds, adverse snow conditions and technical terrain with ease.
---
Capita Defenders of Awesome

CAPiTADefenders Of AwesomeShop Now
The winner of countless Transworld Snow Good Wood awards, the DOA is an all-mountain freestyle board that can handle it all. Featuring a true twin shape that ensures effortless switch riding, and Carbon Fiber Beams which add pop and response, it's no wonder the DOA is one of the best-selling snowboards on the market today.
---
Never Summer Proto Type Two

Never SummerProto Type Two 2020$412.95Shop Now
Freestyle performance and all-mountain rideability make the Proto Type-Two one of our best-selling boards year after year. Featuring Never Summer's Ripsaw Rocker Camber profile and an asymmetric twin shape, the Proto packs unmatched response and edge hold for charging groomers while still being playful enough to toss around in the park and float with ease through the deep stuff.
---
LEARN MORE ABOUT SNOWBOARDING
Related Posts