Best Powder Snowboards | Tactics Picks For 2019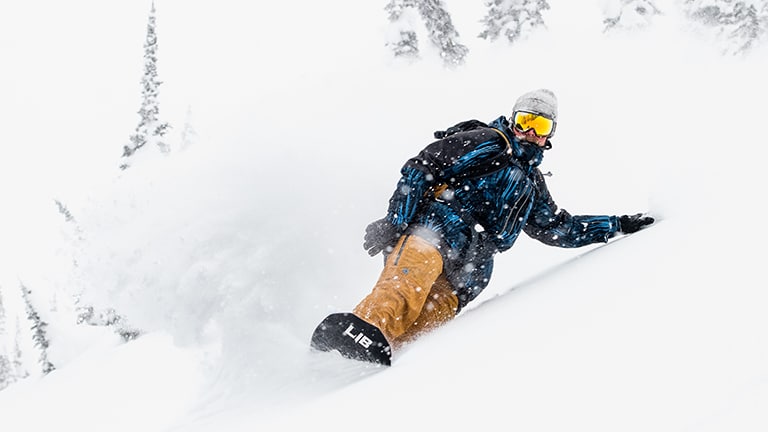 Having the right board on a waist-deep powder day can be the difference between countless tomahawks or an out of this world experience. Luckily for you, we handpicked some of our favorite pow boards and compiled a list of rider reviews covering our top 10 picks for 2019. Whether you need a short and maneuverable stick to float through tight tree runs or a long swallow tail for speed and wide open turns, we have a variety of powder specific boards to suit your needs. Scroll down to take a look at our top ten powder and freeride snowboards for 2019, and don't forget to hit those play buttons for on-snow rider reviews of how they perform out on the mountain.
Top Powder & Freeride Snowboards
Lib Tech T.Rice Orca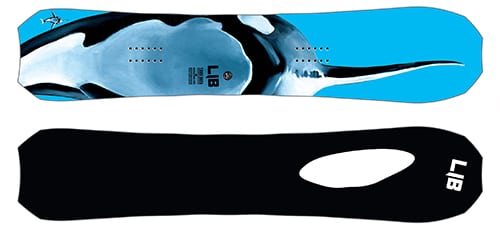 Lib TechT. Rice Orca C2XShop Now
A new board to the Lib Tech line for 2019, the T. Rice Orca is a directional powder board built for aggressive riders who want to surf powder and bomb groomers. The short running length and versatile C2E camber profile provides a ride that is powerful, poppy and highly maneuverable. Pair that with a wide waist width and a tapered Whales Tail, the Orca ensures stability with the ability downsize without sacrificing float and power.
Spring Break Slush Slasher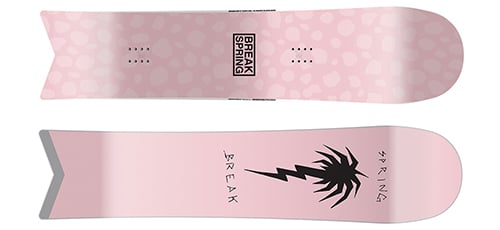 CAPiTASpring Break Slush SlasherShop Now
Don't let the name fool you, the Spring Break Slush Slasher was built for powder. Perfect for navigating tight tree runs and slashing side hits, the short and wide profile of the Slush Slasher allows riders to downsize without sacrificing stability and response. The directional rocker profile ensures maximum float in powder while the short running length provides unmatched maneuverability in all conditions. Complete with an alloy-plated swallow tail for durability and fun, the Slush Slasher brings the party to all conditions and terrain.
Jones Snowboards Mind Expander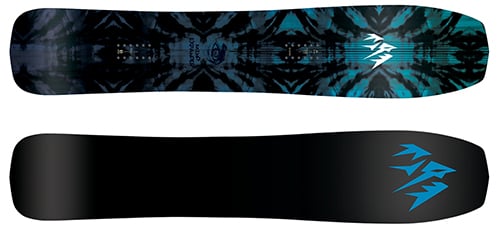 Jones SnowboardsMind ExpanderShop Now
Back for its second season, the Mind Expander is a powder-oriented freeride board that features a unique flat with rocker profile designed by surfboard shaper, Chris Christenson. The long blunted nose and Bamboo Surf wood core gives this board a playful and surfy feel that handles great in powder and hard-pack alike. Tip-to-tail Carbon increases response and liveliness underfoot making this board precise and predictable when you need it most.
Lib Tech Stump Ape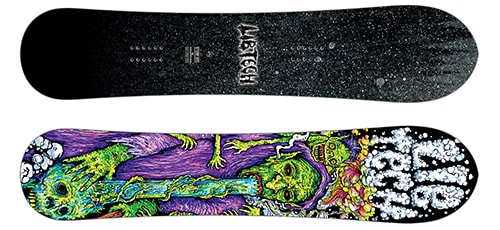 Lib TechStump Ape HP C2XShop Now
Designed for taller riders or individuals with larger boot sizes, the Stump Ape was crafted for riders who have been looking to downsize to a short and maneuverable powder board without having to worry about toe drag and stability. Featuring a wide waist width, this directional powder board ensures a stable platform that can handle waist deep powder and tight tree runs with ease. If you're a fan of the Skunk Ape, we are sure you will love the all-new Stump Ape from Lib Tech.
YES Optimistic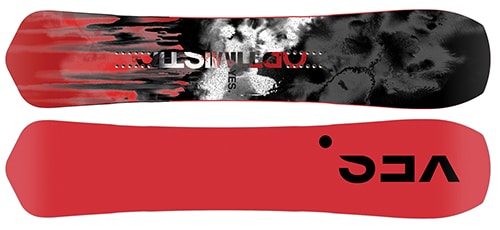 YESOptimistic 2019$479.95Shop Now
The YES Optimistic is a top-shelf powder/freeride board designed for riders who need an aggressive board to handle all conditions. Featuring a responsive Modern Camber profile that packs a ton of response and energy, the Optimistic was built for big terrain and precision. The directional nose and tail ensure maximum control and float in powder, while Underbite Edges maintain superior edge hold when you need it most.
Ride MTN Pig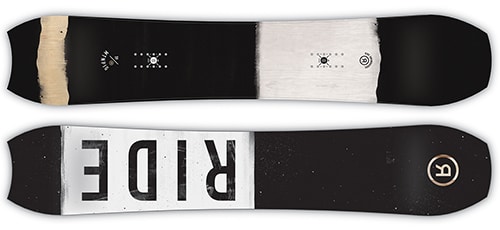 RideMTNPIG 2019$405.95Shop Now
A new board to the Ride line for 2019, the MTNPIG features a tapered shape and directional hybrid profile which ensures effortless float when the snow gets deep. Carbon Stringers provide a responsive and lively ride underfoot while Carbon Slimewalls® provide dependable edge hold and maximum dampening. As the Warpig's older brother, the MTNPIG is built for pillow lines, groomers, and everything in between.
Burton Family Tree Stun Gun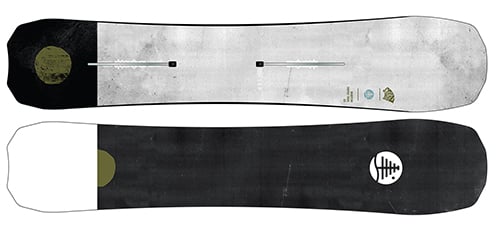 BurtonFamily Tree Stun Gun 2019$599.95Shop Now
Part of the Burton Family Tree line, the Stun Gun is a powerful powder board that is tuned for advanced riders who demand stability and power. Featuring a setback camber profile, the Stun Gun has the pop and response needed for handling drops and jumps, while the rocker nose ensures minimal tomahawks when the snow piles up. Features like the Pro-Tip™ technology tapers the tip and tail to reduce swing weight and increase maneuverability for easier spins and transitions while charging the whole mountain.
Salomon Sick Stick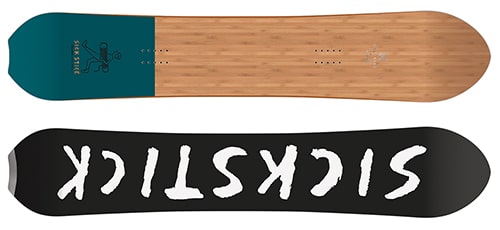 SalomonSickstick 2019$519.95Shop Now
Shaped by Wolfgang Nyvelt, the Sick Stick is an all-mountain freestyle board that shines in powder. Featuring a versatile Rock Out Camber profile and a directional twin shape, the Sick Stick ensures stability, maneuverability and effortless switch riding in all conditions. A lightweight and sustainable Ghost Green Core with Popster additives provides a responsive and lively feel underfoot for quick turn initiation and maximum control.
Arbor Cask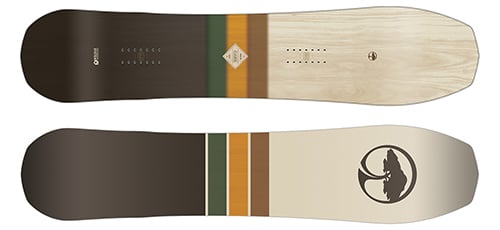 Short, wide, and nimble, the Arbor Cask is a playful powder board design to navigate technical lines and wide open powder stashes with ease. The long nose and short tail ensure maximum float in powder, while the full camber profile provides stability and edge control when riding at high speeds or dropping down narrow chutes. Because of the wide waist width of this board, riders can confidently step down in size without sacrificing stability and control.
Never Summer Swift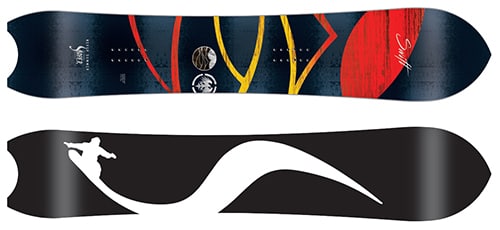 Part of the Shaper Series line, the Never Summer Swift is a directional powder board that is built for speed and float. Utilizing a directional shape and hybrid camber profile, the Swift has the stability you need to charge hard on groomers while still being playful and surfy in powder. With added features like rubber dampening, a Carbonium top sheet, and a 3-year warranty, you can't go wrong with the powder inspired Swift by Never Summer.
Related Posts