Best Powder Snowboards | Tactics Picks For 2020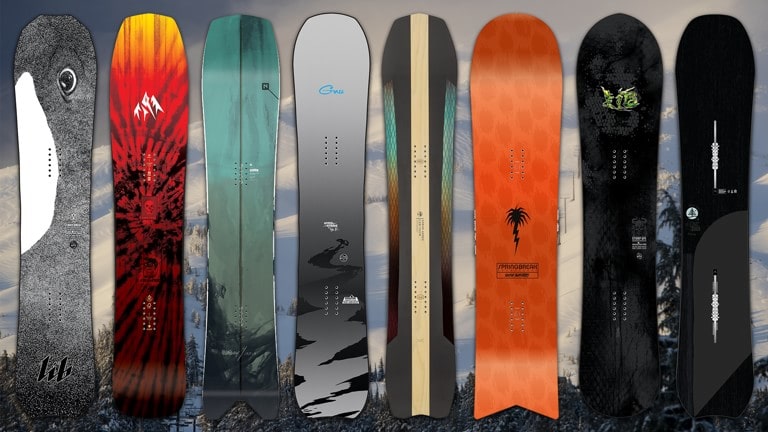 Having the right board on a waist-deep powder day can be the difference between countless tomahawks or an out of this world experience. Luckily for you, we handpicked some of our favorite pow boards and compiled a list of rider reviews covering our top 10 picks for 2020. Whether you need a short and maneuverable stick to float through tight tree runs or a long swallow tail for speed and wide-open turns, we have a variety of powder specific boards to suit your needs. Scroll down to take a look at our top ten powder and freeride snowboards for 2020, and don't forget to hit those play buttons for on-snow rider reviews of how they perform out on the mountain.
Top Powder Snowboards
---
Lib Tech Orca

Lib TechT. Rice Orca C2X 2020$599.95Shop Now
Back for its second season, the Lib Tech Orca is the experiMENTAL board of choice of Travis Rice. Complete with a versatile C2X camber profile, this directional all-mountain freestyle powder machine was designed to ride everything ease and shine in the deep stuff. Sporting a new graphic for 2020 and available in three sizes including a women's specific 147cm, the Orca has quickly become a coveted classic in the Lib Tech line up.
---
Gnu Hyperkyarve

GnuHyper Kyarve C2X 2020$519.95Shop Now
Inspired by the smooth style of Blake Paul, the Hyperkyarve is a directional freestyle board that is tuned for big mountain terrain and bottomless powder. Featuring an easy to ride and highly maneuverable C2X camber profile, this board is packed with response, float, and playfulness for creative riding in all conditions.
---
Jones Mind Expander

Jones SnowboardsMind Expander 2020 (COMING SOON)$599.95Shop Now
Featuring a unique flat with rocker surf profile, the Mind Expander is a powder-oriented freeride board designed by surfboard shaper, Chris Christenson. Utilizing a long blunted nose and a Bamboo Surf Core, this board is both lightweight and playful. Tip-to-tail carbon provides added response and liveliness underfoot making this board precise and predictable both on hardpack and in the powder.
---
Nitro Squash

NitroSquash 2020$529.95Shop Now
Directional in shape and extremely responsive, the Squash features a tapered swallowtail design that provides effortless float in powder and superior edge hold on groomers. A favorite of team rider Jared Elston, the Squash utilizes a Trüe Camber profile which provides unrivaled response, power, and control for high speeds, heavy landings and charging through deep snow conditions with ease.
---
Gentem Stick Mantaray

GentemstickMantaray LTD 2020 (COMING SOON)$980.00Shop Now
Carefully shaped with hand-crafted precision, the Mantaray is a long-standing staple in the Gentemstick line. Utilizes an Accel-Camber profile and a wide surface area, this often replicated, but never duplicated shape provides superior float in powder and unrivaled precision across the whole mountain. Developed in Niseko Japan to handle some of the deepest snow on earth, the unique Half-Moon tail design found on the Mantaray provides increase maneuverability and float for navigating technical waist deep lines.
---
Spring Break Slush Slasher

CAPiTASpring Break Slush Slasher 2020 (COMING SOON)$379.95Shop Now
Don't let the name fool you, the Spring Break Slush Slasher was built for powder. Perfect for navigating tight tree runs and slashing side hits, the short and wide profile of the Slush Slasher allows riders to downsize without sacrificing stability and response. The directional rocker profile ensures maximum float in powder while the short running length provides unmatched
---
Yes Optimistic

YESOptimistic 2020 (COMING SOON)$669.95Shop Now
The YES Optimistic is a top-shelf powder/freeride board designed for riders who need an aggressive board to handle all conditions. Featuring a responsive Modern Camber profile that packs a ton of response and energy, the Optimistic was built for big terrain and precise control. The directional nose and tail ensure maximum response and float in powder, while Underbite Edges maintain superior edge hold when you need it most.
---
Burton Family Tree One Hitter

BurtonFamily Tree One Hitter 2020$499.95Shop Now
Part of the Burton Family Tree line, the One Hitter is a directional all-mountain powder board that designed for stability at high speeds and trenching turns in powder. Complete with a responsive directional camber profile and a medium flex, this board feels lively underfoot and is highly maneuverable making it great for slashing side hits, catching air and getting creative across the whole mountain.
---
Lib Tech Stump Ape

Lib TechStump Ape HP C2X 2020$619.95Shop Now
Designed for taller riders or individuals with larger boot sizes, the Stump Ape was crafted for riders who have been looking to downsize to a short and maneuverable powder board without having to worry about toe drag and stability. Featuring a wide waist width, this directional powder board ensures a stable platform that can handle waist-deep powder and tight tree runs with ease. If you're a fan of the Skunk Ape, we are sure you will love the all-new Stump Ape from Lib Tech.
---
Arbor Annex

ArborBryan Iguchi Annex 2020 (COMING SOON)$699.95Shop Now
Designed for big mountain lines and tuned to the needs of Bryan Iguchi, the Annex features a drawn-out nose and an ample amount of taper which provides precise control and unmatched float in powder. Featuring Arbor's System Camber technology, Powerply stringers, and an all-new Carbon Vector Net, the Annex is packed with response and predictability for high speeds and precise edge initiation for riding technical terrain.
---
LEARN MORE ABOUT SNOWBOARDING
Related Posts