The DC Evan Smith S Skate Shoes are DC's entry into the rubber toe cap game. Every brand seems to have their own take on it, and the Evan Smith gives a much more clean and subtle look than most. While some options offer thick and extensive rubber coatings, Evan's new shoe slightly extends the foxing tape onto the toe cap for extra durability coverage. This more simplistic design is a little easier on the eyes, and avoids adding excess weight.
The shoe also feature's DC's Super Suede, Super Canvas, and introduces their brand new Impact I technology. To top it off, Evan Smith just dropped his epic new Time Trap Full Part. All these things made us stoked to get the shoes off the shelf and on the feet of Tactics warehouse crew member Tim McCoy for a wear test.
Shop DC Evan Smith S Skate Shoes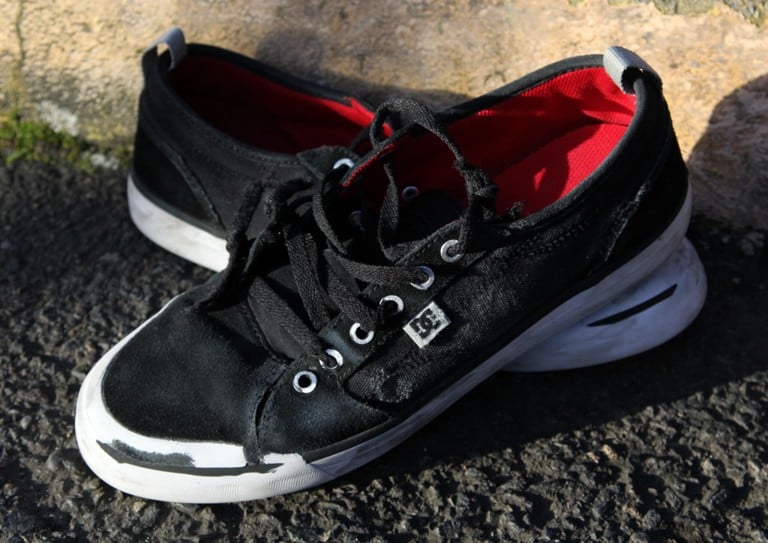 The Evan Smith is built with a low profile vulcanized construction to provide natural flexibility and board feel. However, it took Tim about an hour to loosen them up, and a day or two to fully break them in.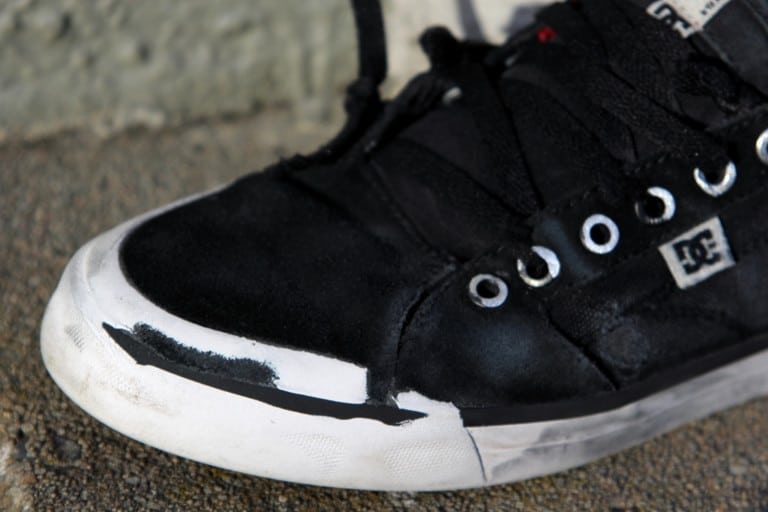 This was Tim's first time skating a rubber toe cap shoe. "I was surprised how much more flick I got with my tricks… I didn't feel like it made my tricks any easier, I just had to get used to it… it wasn't groundbreaking." A rubber toe cap will not make you a better skateboarder, but it flicks well and makes your shoes last longer. That's a pretty good deal, and many of our team riders and shop employees now prefer the extra grippy flick of a rubber toe cap.
Tim skated this set of Evan Smith's very heavily for about three weeks. He wore through the rubber in the highest wear areas, but DC's Super Suede held strong underneath. What about the canvas side panels? Although his ollie area fell directly on a canvas panel, the Super Canvas backing did not break through. All the materials held up very well, but there was some separation on the toe cap seam. Once Tim wore through the rubber, there was little to prevent the seam from blowing out.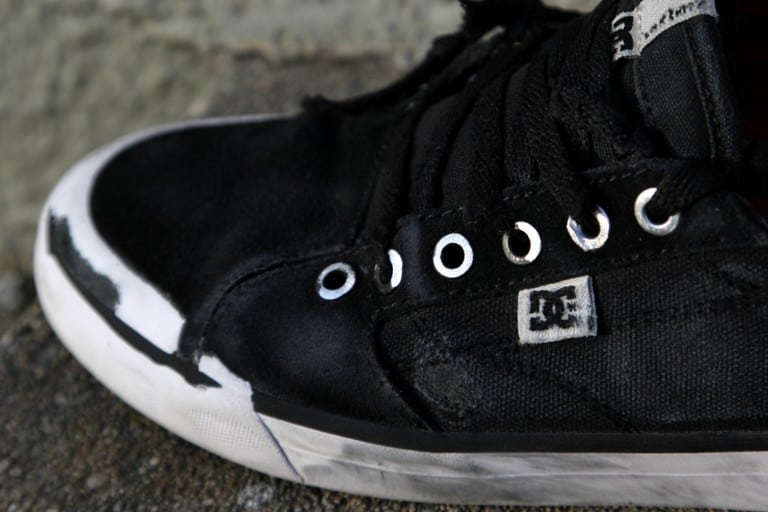 The most unique and interesting feature of the DC Evan Smith S is its Impact I technology. The goal is to utilize a thin vulcanized sole for maximum flexibility, while providing impact protection from inverted cones placed throughout the outsole. When you jump onto the shoe, the cones compress to partially absorb the impact.
Why bulk up the insole and midsole when you can provide support with outsole geometry? It sounds great in theory, but we weren't sure if it worked until Tim put it to the test.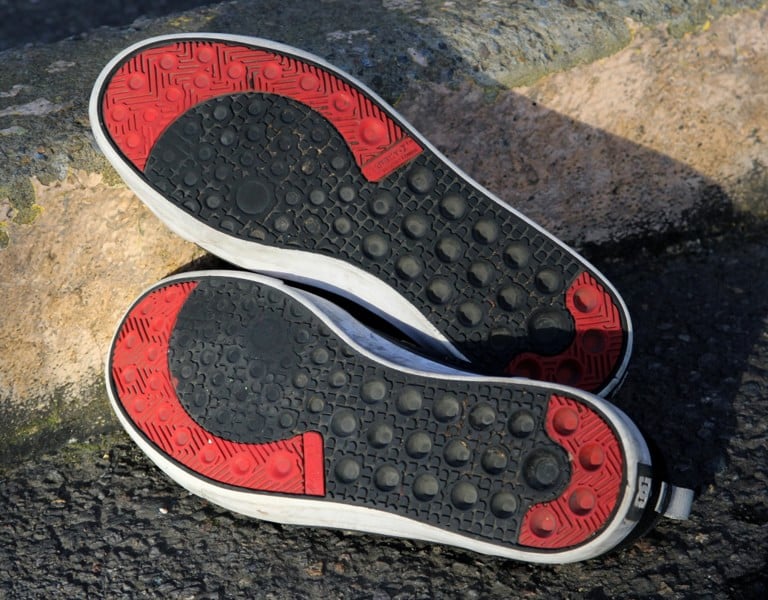 On a recent skate team trip to The Grotto, Tim got stuck battling a backside heel flip down the stairs for a good 30 minutes. "The sole has a lot of squish to it, and the Impact I cones on the bottom actually provided a lot of impact absorption… My feet didn't hurt the next day. The rest of my body did, but not my feet, haha." With the added cushion of an OrthoLite insole, the Evan Smith's preformed surprisingly well against repeated impacts.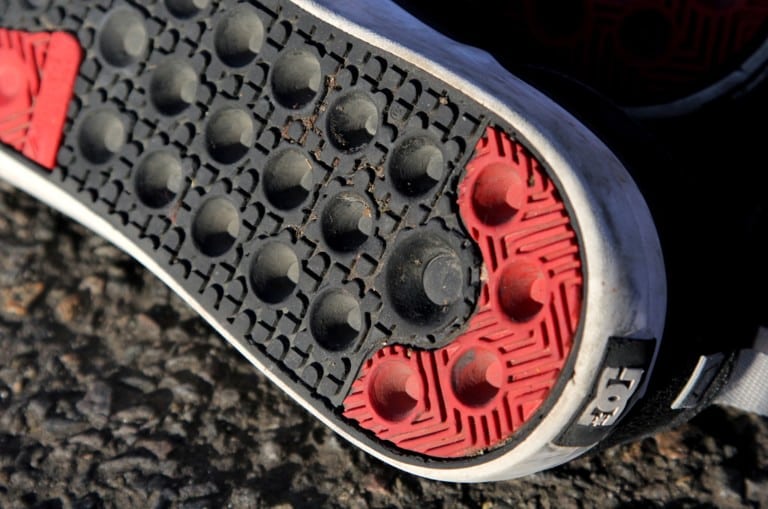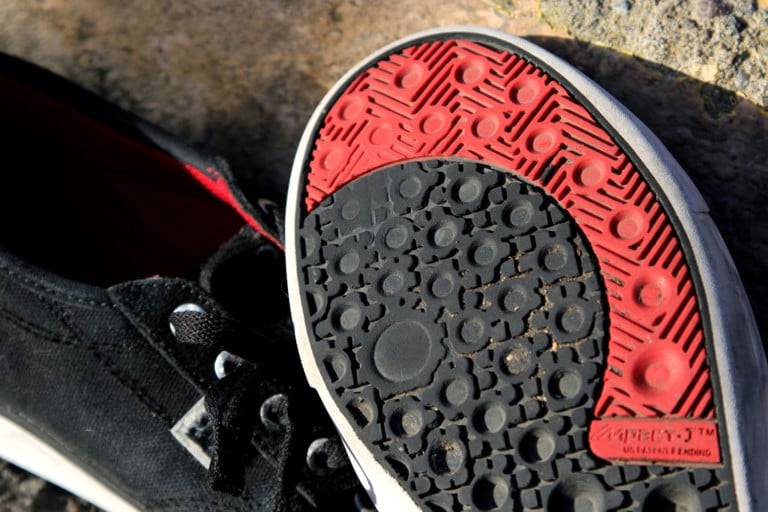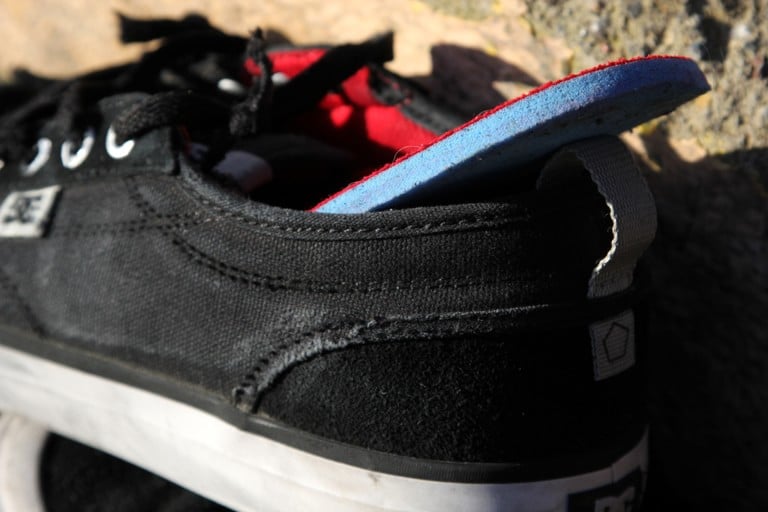 The main negative feedback that Tim gave us on the shoe, was that the minimally padded collar didn't provide much comfort around his ankles and often rubbed against his achilles. In comparison to other low profile vulcs, the padding is very similar. If you're used to shoes with minimal padding, you're unlikely to have a problem. If you typically ride thicker shoes like Tim, we'd recommend a shoe with more padding, like the DC Switch S Skate Shoes.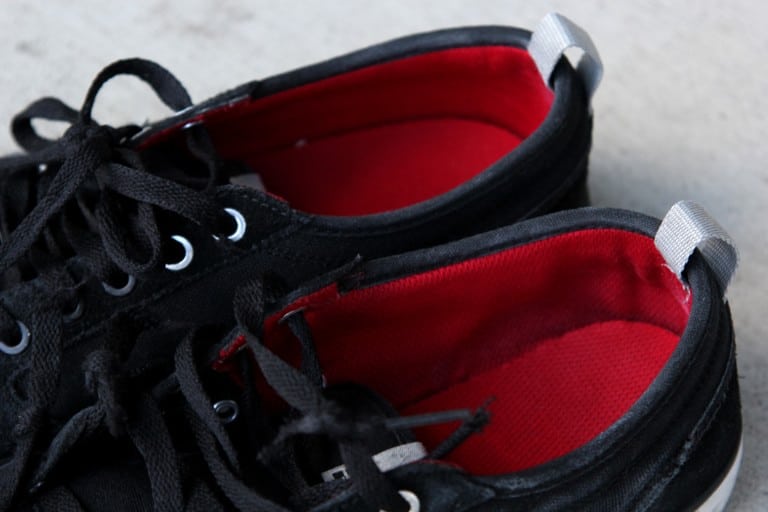 The shoe's metal eyelets extend to the base of the toe cap to provide a snug fit, but this also leaves the laces vulnerable to breakage. Tim had to retie his laces on multiple occasions.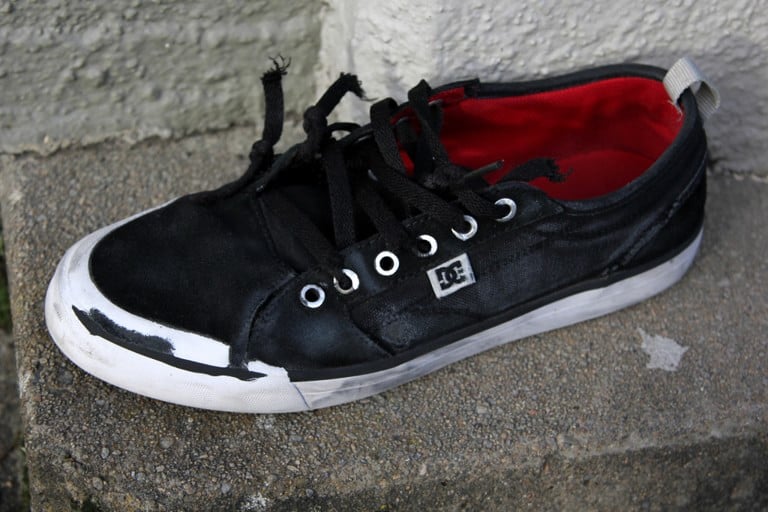 When you take it all in, you're left with a lightweight, flexible skate shoe that provides strong durability and a surprising amount of impact protection. "This is a really good shoe for people who want to do a technical type of skating like manny pads and ledges, but it also has the support you would need to jump down stuff or skate tranny. I mean, it's really an all-purpose shoe." Despite a few small flaws, the DC Evan Smith S scored high in all categories, and will likely be a mainstay in the DC lineup for some time.
Shop DC Evan Smith S Skate Shoes