Royal
The Royal Standard Skateboard Trucks
Pay in 4 interest-free payments of $7.74 with
.
Learn more
Overview
The Standard trucks have been updated with a reinforced construction and feature Royal's classic geometry for tried-and-true performance.
Features
Non-Compatible Risers
Risers from the following brands are not compatible with the baseplates of these trucks.
Sizing Reference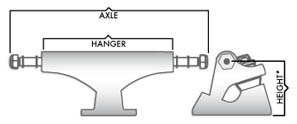 Note - Every skate truck brand represents their sizing a little differently, so it's easy to get confused. Take a look at this graphic and then reference the size chart.
Specs
| Size | 7.6 axle |
| --- | --- |
| Royal Sizing: | 5.0 |
| Hanger (mm): | 127.0 |
| Board Range (in): | 7.5 - 7.75 |
| Height (mm): | 50.5 |
| Weight (g): | 350.7 |
Reviews
They're getting it done!!
by
Gnardello
in
TITUSVILLE, FL
(Verified Buyer)
Posted on 1/15/2021
Royal The Royal Standard Skateboard Trucks - raw (5.0)
I put these on my daughter's first deck. She's almost four but she can turn these. Solid little trucks and way better than any stock trucks you get on a "complete" board these days. Running Mini Super Juice w/these with a shop blank. Great first trucks!
by
Jason
in
Austin, TX
(Verified Buyer)
Posted on 5/29/2019
Royal Standard Skateboard Trucks - black/black (5.0)
Think i might have gone with a different color scheme. Bushings are good, grinds good, wear is as expected.
by
HAYDUB CINEMA
in
San Francisco, CA
(Verified Buyer)
Posted on 9/18/2018
Royal Standard Skateboard Trucks - raw (5.25 lo)
Superior and supreme standard skateboard trucks. For you and your crew. Boo.
by
Chris Graham
in
Birmingham, AL
(Verified Buyer)
Posted on 8/23/2018
Royal Standard Skateboard Trucks - raw (5.25 lo)
Took a while to get used to, but very nice
by
Edward Bennett
in
Boston, MA
(Verified Buyer)
Posted on 8/28/2017
Royal Standard Skateboard Trucks - black/black (5.5)
Trucks amiright?! These are v cool. Always wanted all black trucks and these finally popped on sale so boom! Would recommend. As usual, does not come with hardware so dont forget that.
Posted on 6/27/2017
Royal Standard Skateboard Trucks
The size of the trucks in the listing is wrong..! The 5.5's are not 140mm. It's more like 150mm. Axle is 8.5inches. Anyways on to the review.

Indy's have a high center of gravity and are quite twitchy in my opinion. The hanger also gets yanked side to side and gets stuck off-center, causing the board to carve unexpectedly when rolling over cracks. I hate the feel of indy's.

Aces are great a feeling truck, but are quite high and tend to cause me to come dangerously close to speed wobbles unless I am actively focused and seriously concentrated on flowing with the twitchy movements.

Polar bear 155's are very low, and feel quite dead. They are pretty stable though, however. Definitely the truck I have the most confidence when downhill bombing wicked fast around 35-40mph.

Mini-logo trucks have a very all-around decent feel. A little lower than most, pretty predictable carving. But I cruise around town a lot and the rocker shaped hanger barely gives me clearance over small rocks and pebbles, I've rock-stop slammed more with them than any other truck I've ever had. Despite the lower height, they really do turn and carve quite comfortably. More carve than the polar bears, but less than indy's and aces.

But these 5.5 royals...I set them up on an 8.5 deep and steep blind deck. It was love at first carve. They're the perfect truck. Sleek styling, perfect flowing predictably deep, deep carve. Incredibly stable at high speeds. And the ride height is stunningly perfect. I love these trucks. Seriously. I freakin love these trucks. Stock bushings and pivots are wonderful. The manufacturing is spot-on, clean and on point. It's like if indy and the polar bears got married, and had a baby girl. Then their daughter met and fell in love with the aces. They had another daughter. And then God himself blessed their daughter with exquisite beauty and a genuinely kind, and understanding soul.

I WILL NEVER RIDE ANOTHER BRAND OF TRUCKS EVER AGAIN. EVER.

People hate on royals so much it's obnoxious. I didn't try them until now because of what people always said. They're idiots. These trucks and hands-down, 1-800-bar-none the greatest thing I have ever done to my skateboard setup. Thank you Royal. Your my skateboard setup for life. Pure, unadulterated dopeness. Thank you a million times over.
Asked by
Adam
on 12/23/2016
Does Raw mean the king pin is inverted?
Answered by
Danny M
(Tactics Employee) on 12/28/2016
No, raw is referring to the color being a raw silver rather than painted.
---

More from Royal