How To Choose A Wetsuit
---
Unless you are fortunate enough to live in the tropics, you know how important a wetsuit is to your comfort and health when surfing in the chilly waters of the open ocean. There is a wide array of wetsuit types to choose from, as well a range of material thicknesses, allowing you to customize your gear to the water and weather conditions wherever you may be.
Types
---
FULL SUIT
This suit envelops your entire body, usually with long sleeves (some have short sleeves) and full leg coverage.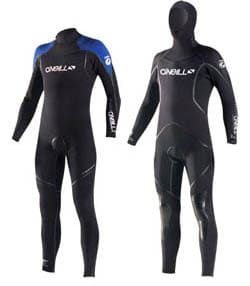 SPRING SUIT / SHORTY
With legs that cut off a few inches below the knee, and either short or long-sleeved arms, this suit is designed for warmer conditions and is usually made of a thinner material.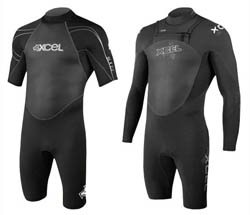 FARMER JOHNS
The overall of the surfing world, this suit is sleeveless with long legs, designed for use with a rash guard on days when the outside air is warm.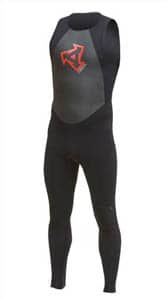 SHORT JOHNS
This suit is a shorter version of the Farmer John, with the same sleeveless construction but the cooler feel of cut-off legs.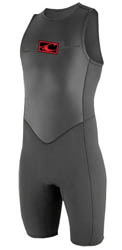 MIX-AND-MATCH PIECES
Neoprene vests, jackets and shorts, all made with the same construction as a typical wetsuit, fall into this category. These pieces allow customization based on the weather and temperature, both in and out of the water.
Materials
---
NEOPRENE
The idea behind a wetsuit is to permit a small about of water to seep into the suit initially, which, once heated by your body, forms an insulating layer of warmth. Foam neoprene, treated with water-repellant chemicals, prevents the cold ocean water from continuing to wash in and disturb the temperature within the suit.
The thickness of the suit determines how warm the surfer will remain after time spent submerged in the frigid water; the fatter the material, the warmer he'll be. Neoprene panels come in several thicknesses: usually between 1-6 millimeters. Depending on the water temp, suits are usually pieced together using different thicknesses of neoprene, heavier on the chest and back areas, and thinner on the arms, legs and shoulders. This multi-thickness construction leads to nominal classifications such as 3/2mm (3mm on the core and 2mm on the extremities, in this case).
BACKING MATERIALS
Because of neoprene's rigid and grippy nature, it can be really tough to yank on a wetsuit and pull it up into place. Luckily, suit manufacturers figured out a way to lessen the resistance formed between the wetsuit and the rider's skin. Smoothskin nylon facing is attached to the inside of the wetsuit, making getting in and out much easier, as well as providing added warmth to the surfer. Sometimes, the material is attached to both the inside and outside of the suit – a material construction known as Nylon 2 – which increases warmth, but also makes the suit more bulky. Smoothskin was a needed advance in wetsuit construction; however the added bulk coupled with a decreased durability in nylon-backed suits are the unfortunate side effects of such a progression. Manufacturers have now begun using lycra, spandex and even wool blends as a replacement for raw nylon backing, leading to wetsuits with much more flex and stretch, and a more streamlined fit.
Stitching
---
TAPE
The first wetsuits weren't terribly effective, largely due to tiny holes left by sewing the pieces of neoprene together. These little gaps allowed the cold outside water to seep in and cool down the trapped, warm water, virtually eliminating the benefits of the suit altogether. In addition, it was easy to tear the fabric apart at the stitching when getting in or out of the suits, as the seams just weren't strong enough to withstand much stretching and pulling. Eventually, taped seams emerged as a way to cover the needle holes and add durability. The tape is made from a strong nylon cloth strip with waterproof backing. By either melting the tape to the neoprene with a heat-sealer or through the use of a chemical solvent, manufacturers can bond the tape to the suit and create a powerful and waterproof connection between panels.
GLUE
Glued seams emerged for the same reasons that taped seams did: the sewing process left detrimental openings in the wetsuit and needed to be either covered or eliminated. Taping the seams covered the holes and gluing eliminated them. Despite the smooth, low profile surface that gluing creates, the hold is still not very durable on its own. Therefore, gluing is usually coupled with taping to add strength along the seams.
BLINDSTRITCH
As backed neoprene became the industry standard, this new method of stitching evolved. With the neoprene pieces placed edge to edge, a blindstitch sewing machine uses a curved needle designed to penetrate the material just deep enough to secure a good stitch, but without breaking though the facing on the opposite side. This revolutionary technology gives manufacturers the ability to sew strong seams without leaving any holes behind. It is the most widely used stitching method for waterproof protection and can be found on nearly every modern cold-water wetsuit.
OVERLOCK
An overlock is the most basic of all seam stitches. If you've ever sewn a pillowcase, you'll recognize the process. The neoprene pieces are placed together, with the outside surfaces facing each other, then stitched together down the edge. When the pieces are bent the other direction (so that the inside surfaces now face each other), they have a solid grip and an invisible seam. The benefits of this construction are a strong hold and a snag-free outer surface. However, the inner hem is raised (which can be irritating), and the seal is not very watertight. Water-resistance can be improved by taping the seams.
FLATLOCK
This is a more expensive variation on the overlock stitch. Instead of back to back, the neoprene pieces are placed edge to edge and sewn in a flat, circular pattern. The result is a more comfortable seam, but with more needle holes. Because of the additional holes, the flatloc stitch is weaker along the seams and not terribly waterproof, both problems curable by taping the seams.
Fit
---
The fit of a wetsuit is not only important for comfort's sake but also to ensure that the suit is properly insulating the wearer. Basically, the pocket of extra space between the suit and the surfer's skin is designed to trap and heat a layer of ocean water to provide a cocoon of warmth. If a wetsuit is too baggy, the water won't heat up enough; if it's too tight, there won't be enough water to heat. Either way, a proper fit is the only way to get the most out of a wetsuit.
The way that the neoprene material flexes and moves is also a significant aspect of a suit's fit. To surf in comfort, you need to have a wide range of motion through the shoulders and knees to help you paddle and pop up with fluid motions.
Features
---
WRIST / NECK / ANKLE CLOSURES
These closures should prevent water from washing in and out of the wetsuit at the critical, open portions. Typically, a single-backed strip of neoprene wraps around the opening, making a tight interface with the surfer's skin. This keeps water from entering/exiting, but can be a painful cause of discomfort if not fitted correctly.
ENTRY
Getting in and out of a wetsuit is a learned art. Even the easiest entries, such as full-back zippers, require a bit of practice and a lot of patience at first. The tight fit, sticky material and awkward flexibility of most suits make them pretty tough to adorn. And yes, people do get stuck sometimes, so don't worry if it happens to you.
When you're pulling on the suit, be really careful not to cut the fabric with your fingernails. It's common to want to grab the chest of the wetsuit, dig your nails into the material and yank it on that way, but that can damage the neoprene. Instead, pinch the wetsuit between your fingers and slowly work it up your body. A torn wetsuit is a finished wetsuit. So take good care of yours.
There are several types of wetsuit entry systems designed with either ease-of-use or waterproof comfort in mind. Although called by various technical names in the market, they essentially fall into one of three categories: full back zip, ¾ back zip or chest/front entry. The back zips are the easiest ones to use, but the chest/front entries generally give the best protection from the cold water.
TITANIUM LINING
Titanium lining has gained praise as an effective insulator, trapping heat and adding warmth to the suit. The lining is also very low-profile, a needed characteristic in wetsuit construction. It works by reflecting radiated heat back onto the wearer, increasing their warmth. Some surfers swear by it, while others insist there is no difference, so you'll have to decide for yourself whether the somewhat premium price is worth the rewards.
HEATED SUITS
Heated suits are the latest innovation on the surfing scene. Rip Curl is pioneering this technology, in which a battery-operated heat source warms the suit from the inside. The batteries and the coated fiber elements are built into the lower back of the wetsuit, separated from the wearer's skin by a layer of neoprene. Test riders have claimed that the heated suit is the next big thing in surfing, so stay in the loop and try one for yourself!
PATAGONIA SUITS
Patagonia is reinventing the wheel, so to speak. Now surfers don't need super thick neoprene to stave off the cold ocean water. Rather than relying on the outer layer of fabric alone, Patagonia has introduced a merino wool-lined series of wetsuits, which trap more heat and wick away moisture. In designing these new suits, Patagonia has tapped into their many years of alpine outerwear expertise, building a product that is highly regarded by the surfing community.
Prices
---
The price of a wetsuit is based on its thickness, stitching and features. Suits can range in price from under a $100 for a thin summer suit to over $500 for a high-performance model. Thicker wetsuits designed for really cold conditions are usually blindstitched and glued and have more advanced entries and ankle/wrist/neck closures. These construction elements require more time and material cost, so they tend to cost the most. Conversely, spring suits are made from much thinner material and don't have the most watertight stitching or entry systems. Therefore, these suits tend to fall in the cheaper end of the spectrum.
Your comfort and warmth while in the ocean should be one of your highest priorities when buying surf gear. If you're miserable and freezing because you didn't spend enough on a proper wetsuit, even the sweetest surfboard and killer waves will do little to brighten your day.
Accessories
---
HOODS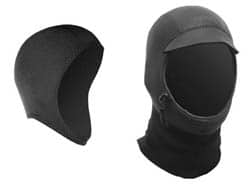 Because heat escapes so readily through your head, it's a good idea to invest in a hood if you surf in colder temps. They also serve to protect your ears from cold water "slaps" and surfer's ear. Hoods are fashioned out of the same neoprene as a wetsuit, and can come attached to your suit or as an add-on accessory. Many hoods have a bill to shield your eyes from the sun and the water, and they'll either wrap around your chin or under it, depending on the type. Hoods also come in various thicknesses, so pick one that will provide the best protection for the conditions you surf. All in all, this is one of the most important secondary items a surfer can have if they want to stay toasty and last longer in cold water.
GLOVES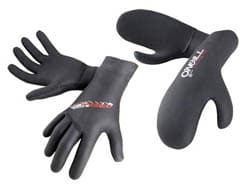 Cold hands never helped anyone ride better, and they really only lead to one thing… a shorter surf. Protect your paws with a pair of surf gloves, made from neoprene and stitched to block water from entering your wetsuit system and cooling you down. Like all neoprene accessories, gloves come in an array of thicknesses for use in different temperatures.
Various shapes of gloves have emerged to make your surfing a little easier, not just warmer. You use your hands pretty frequently while surfing – paddling out to the waves, grabbing the rails for a duck dive, popping into a stand. Therefore, in addition to the five-finger variety, there are three-finger gloves and mitten gloves, both with increased surface area to assist your paddle, but with enough flex to allow for some needed dexterity.
BOOTIES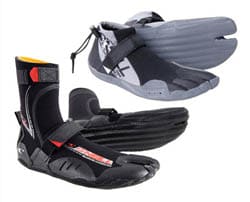 Booties keep you warmer, come in a variety of thicknesses and shapes, and also serve to protect your feet from sharp rocks on the seafloor. You can buy booties that look like heavy-duty neoprene socks (the most common shape), or you might prefer a split-toe shape to allow for extra movement and board feel. Spilt-toes are either external or internal (so your footprint looks like a normal bootie while the inside liner is split at the toe). Straps across the ankle give added support to your foot, and can be adjusted to fit you the best.
THERMALS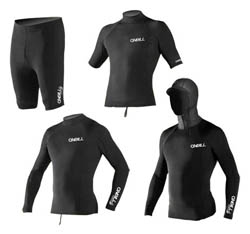 If you're going to be spending a lot of time in a freezing cold ocean, why not invest in a couple of pieces of thermal layering to give you a little added warmth. These pieces, which are typically fabricated from polypropylene, provide insulation as well as protection from the wind. They're designed to be worn as an inner layer, but they can be used as an outer layer if the water is warm enough. They come in styles such as vests, shirts (with or without hoods), shorts or pants and can be mixed and matched to your needs.
RASH GUARDS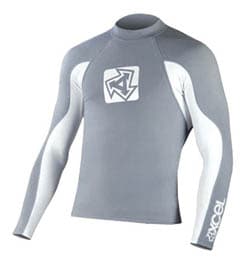 Rash guards are used in warmer weather as a substitute for an upper wetsuit layer, or in conjunction with a pair of boardshorts or swim suit bottoms. If you are in a relatively warm stretch of ocean, you can get by without a wetsuit, instead coupling a pair of wetsuit bottoms with a lycra top – a rash guard. If you are in super warm or tropical conditions, you'll probably be most comfortable without a lot of restrictive outerwear, so just don a pair of trunks and rash guard and you'll be set. Rash guards provide a layer of protection from the sun, so they're a good idea, even on hot days. They also protect your skin from a sticky, waxy surfboard. But remember that they don't really have any warmth qualities, so plan ahead.