Overview
This frame successfully captures the exact design, look and feel of its popular, larger sibling, the Lowdown. Smith's intention wasn't to create a popularity contest between the Lowdown and the Lowdown Slim. Quite simply, Smith scaled down the silhouette of the Lowdown to complement smaller faces who admit they want to hang with the "in-crowd."
Features
Frame Tech
Hydrophilic Megol Nose Pad
Fit
Medium Fit / Medium Coverage
Curvature
6 Base Curvature - The base curvature corresponds to the curve of the lens. The higher the number, the higher the curve. 6 base styles have a "flatter" look. 8-9 base curves hug closer to the face.
Frame Material
eVolve Material - For more than 40 years Smith has been a steward of the outdoors. Great days in the water, dirt, and snow are made better when we protect the environment as well. By utilizing a new material called Rilsan Clear, they are creating lightweight, durable, and fully transparent sunglass frames that are over 53% bio-based.
Frame Tech
Hydrophilic Megol Nose Pad - Placed at the nose and on the temple tips, this material gently grips your skin to help keep your frame in place. The gripping power increases when introduced to moisture.
Lens Tech
Carbonic TLT - Engineered to be the most impact resistant lens material in the world. Carbonic TLT lenses are optically corrected to maximize visual clarity and object definition.
Visual distortion occurs when light waves hit an aggressively-curved lens causing it to bend or distort an objects true size or position. Imagine looking through a fish eye lens. What your eye normally sees, is stretched beyond reality. Tapered Lens Technology corrects the distortion by progressively tapering the lens from the optical center towards the outer edges. Light waves are thereby delivered straight to your eye resulting in zero distortion and true optical clarity. What you see is what you get.
Frame Measurements (mm)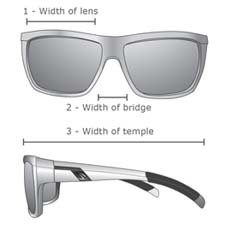 These measurements include the width of the lens, the width of the bridge and the width of the arms/temples.