What To Wear Snowboarding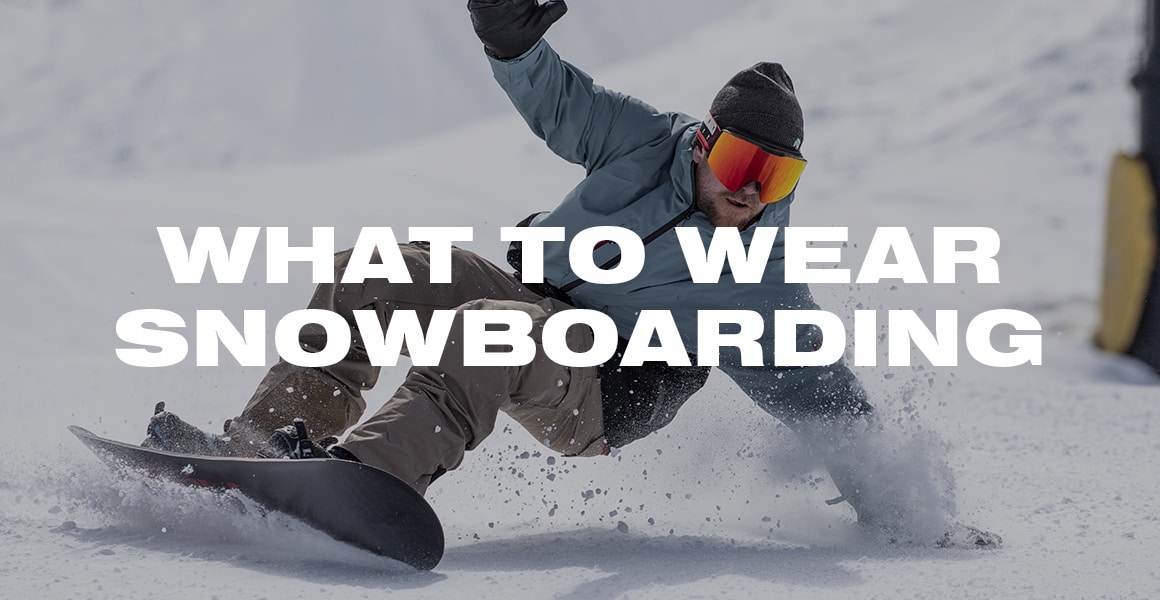 It doesn't matter if it's your first time snowboarding or your hundredth day of the season, having the right snowboard gear is critical for staying warm, dry, and comfortable in a variety of weather conditions while on the mountain. We have a huge selection of the best snowboard jackets, pants, goggles, gloves, and accessories to fit your style and budget needs. So get out that checklist and make sure you have all the snowboard clothing you need to enjoy winter to the fullest.
What to wear snowboarding:
---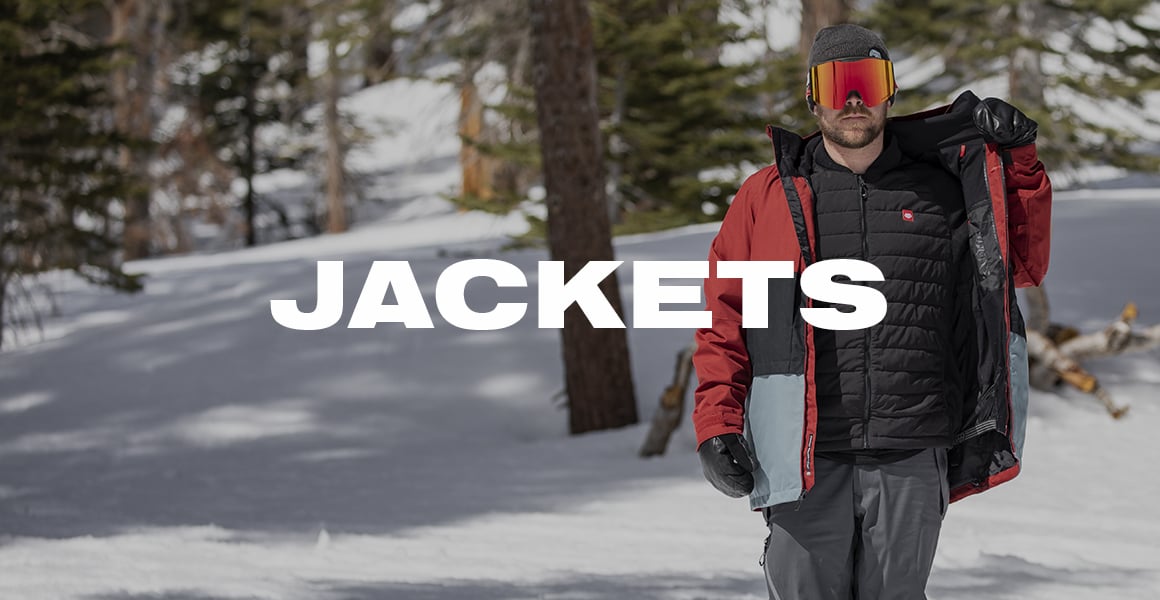 Snowboard jackets serve as the first protection layer from mother nature's harsh winter elements like snow, rain, and wind. Jackets are characterized by their construction and are either classified as being a shell or insulated. Shell jackets allow layering which offers the most versatility for changing weather conditions. Insulated jackets come equipped with extra insulation for increased warmth and less need for layering underneath. Despite their classifications, all jackets are designed to keep moisture out and heat in while still being breathable enough for rigorous all-day use. Utilizing a variety of different materials and construction techniques, jackets often come equipped with underarm vents, powder skirts and a multitude of functional pockets. The most important thing to note when choosing a snowboard jacket is the waterproofing and breathability rating which is provided by the manufacturer.
SHOP ALL MEN'S SNOWBOARD JACKETS
SHOP ALL WOMEN'S SNOWBOARD JACKETS
---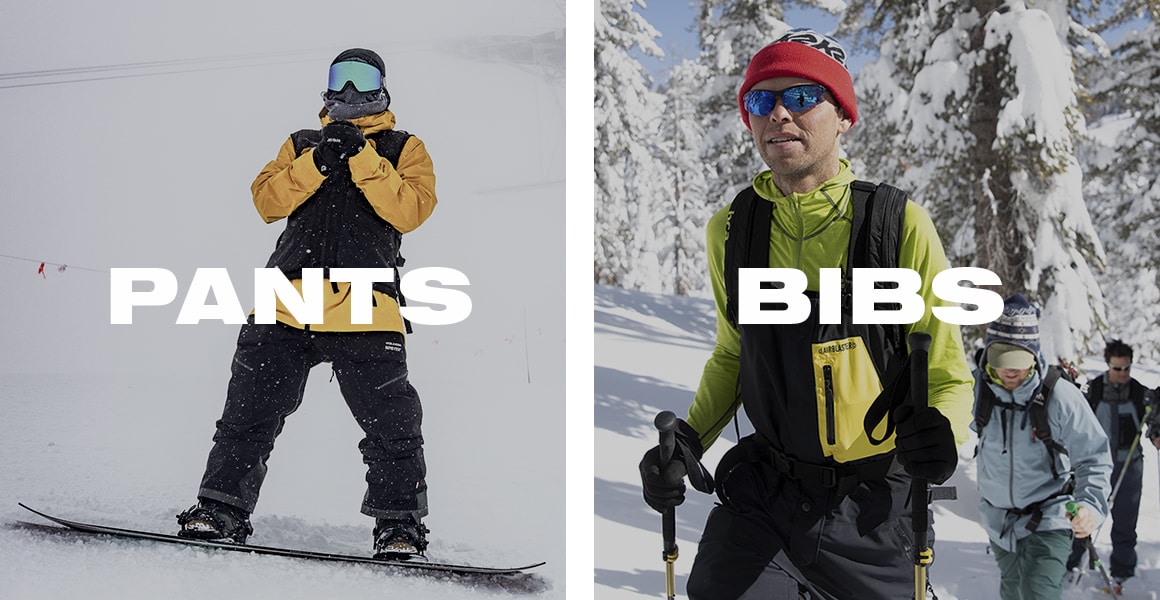 Snowboard pants are a vital outer layer that provides comfort and protection while out on the mountain. Whether your riding waist deep powder or slashing through the park on a spring day, pants are the one piece of snowboard outerwear you will use the most throughout the entire season. Made of the same materials as snowboard jackets, snow pants utilize waterproof materials and advanced construction to keep moisture out while retaining enhanced breathability. Available in two configurations, traditional pant style, and overall bib styles, each serves to keep you dry and warm while in the mountains. Comparable to jackets, the most important thing to note when choosing a pair of snowboard pants is the waterproofing and breathability rating which is provided by the manufacturer.
SHOP ALL MEN'S SNOWBOARD PANTS & BIBS
SHOP ALL WOMEN'S SNOWBOARD PANTS & BIBS
---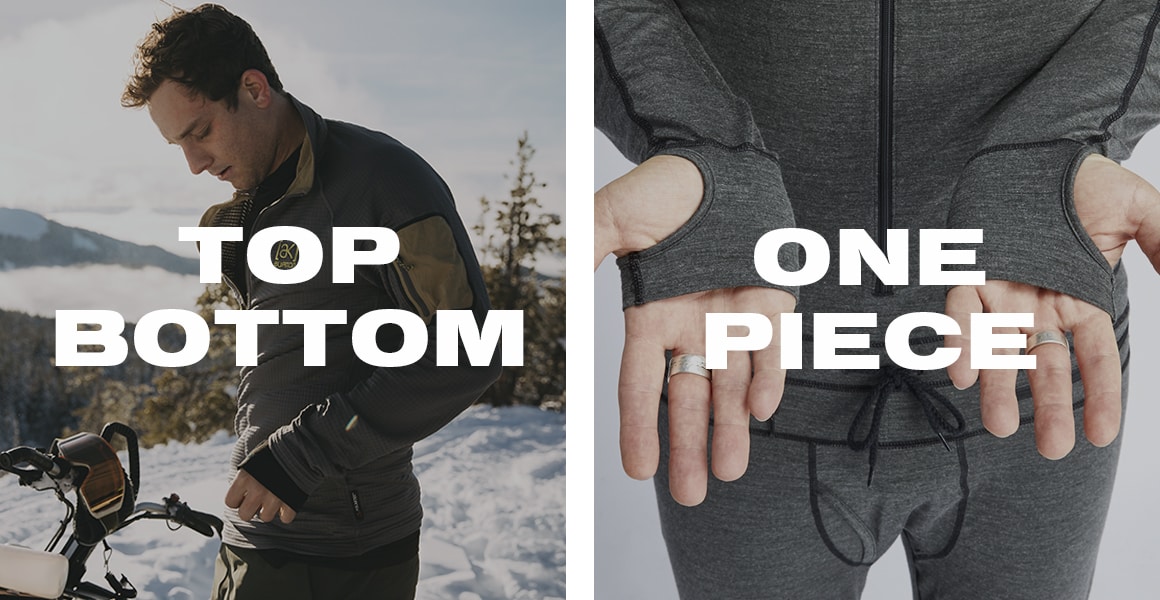 The key to comfort and warmth on the mountain is proper base layer/mid layer insulation. You can drop big bucks on the most expensive jacket and pant combo but if you fail to properly layer underneath chances are you will still be uncomfortable on cold days. Base layers come in two configurations: two-piece top and bottom styles and single one-piece designs. Each has its own pros and cons in terms of fit and functionality and comes in a variety of different materials that ensure maximum comfort, warmth and moisture-wicking properties.
---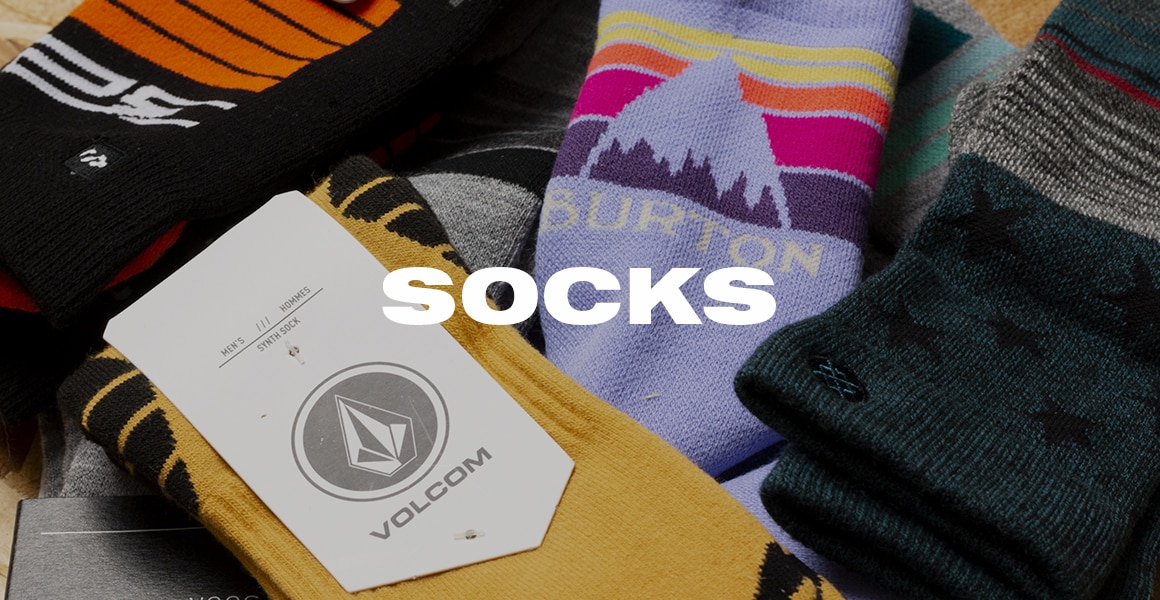 Snowboard specific socks were created to provide added warmth and comfort when out on the mountain. Wearing your everyday cotton socks inside your snowboard boots can lead to improper fitting boots, frozen feet, and general discomfort. Snowboard socks are designed specifically to work with your foot and ankles natural articulation to ensure less bunching of the sock and reduced risk for discomfort. These specially designed socks also offer increased moisture wicking properties for all-day comfort and typically feature materials like merino wool and nylon polyester blends for added warmth.
SHOP ALL MEN'S SNOWBOARD SOCKS
SHOP ALL WOMEN'S SNOWBOARD SOCKS
---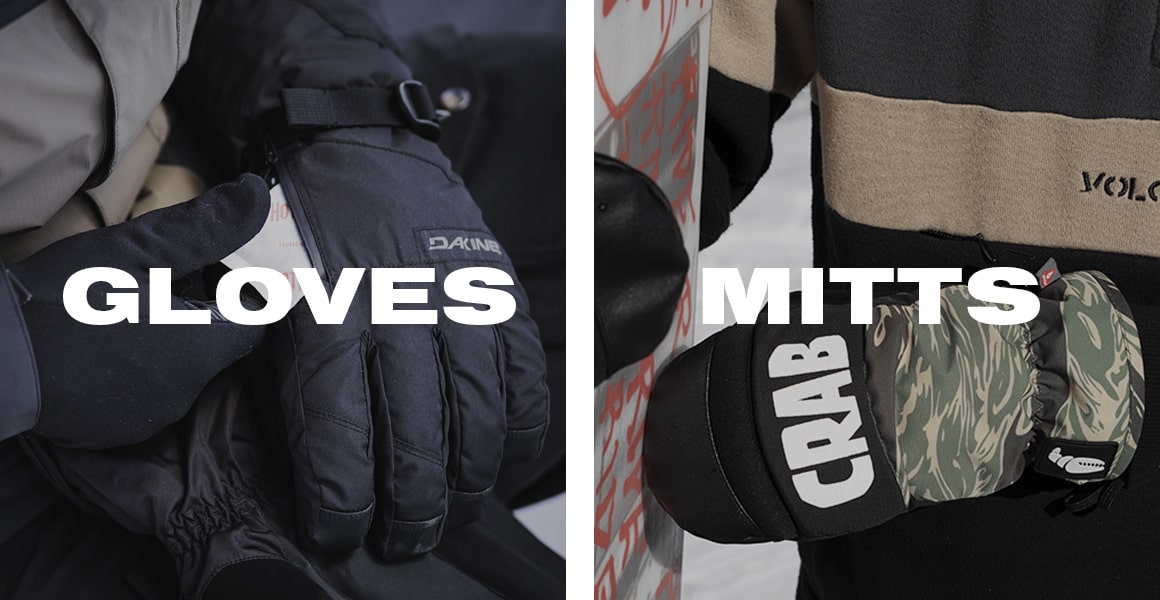 Wet and cold hands are the last thing you want to worry about when spending the day on the mountain. Snowboard gloves and snowboard mittens are designed to provide warmth and protection from the elements to keep your hands dry and comfortable. Traditional five finger gloves allow you full articulation and control over your all your fingers for increased grip and a more natural feel. Mittens provide increased warmth thanks to all your finger being located in a single shell. Both configurations are available in a variety of insulation levels and often feature shells that are made up of material like GORE-TEX®, Leather and Nylon.
---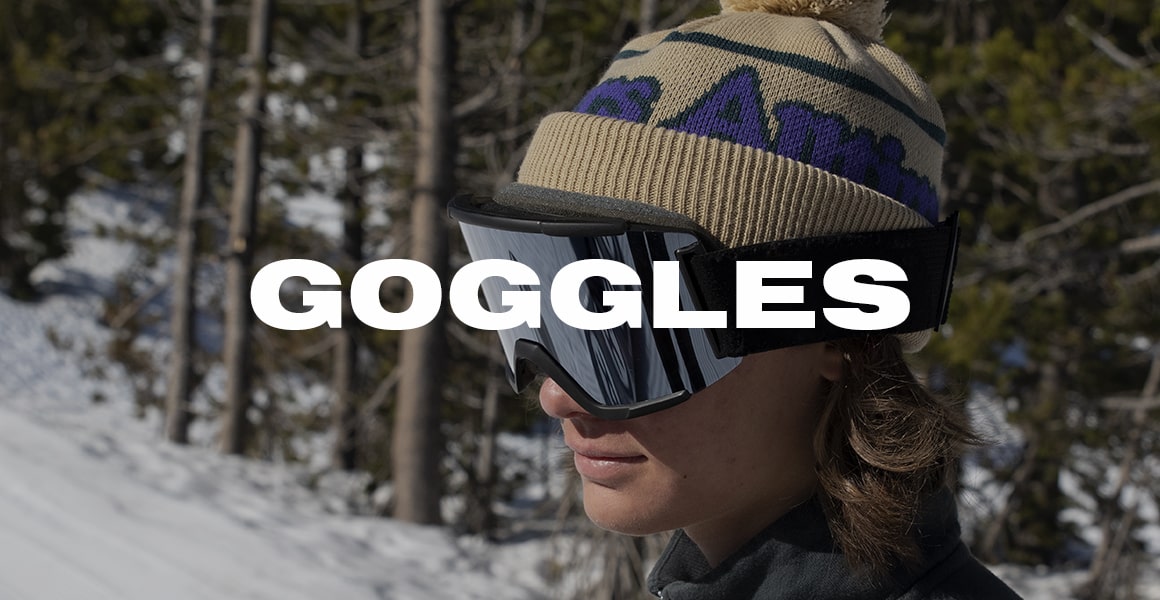 Snowboard goggles are a critical piece of snowboard equipment that provides comfort and safety on the mountain. If you can't see, you can't shred. All goggles provide fundamental protection from wind, snow and UV rays to keep your vision clear and line ahead of you visible. Goggles frames are available in a variety of different shapes and sizes but the most important thing you will want to pay attention to when selecting a pair of goggles is the lens tint and VLT rating. The color and tint of the lens should be directly influenced by the snow and lighting conditions you plan to ride it. Goggles with quick-change lens and frame configurations offer the easiest way to swap out different lenses on the fly.
---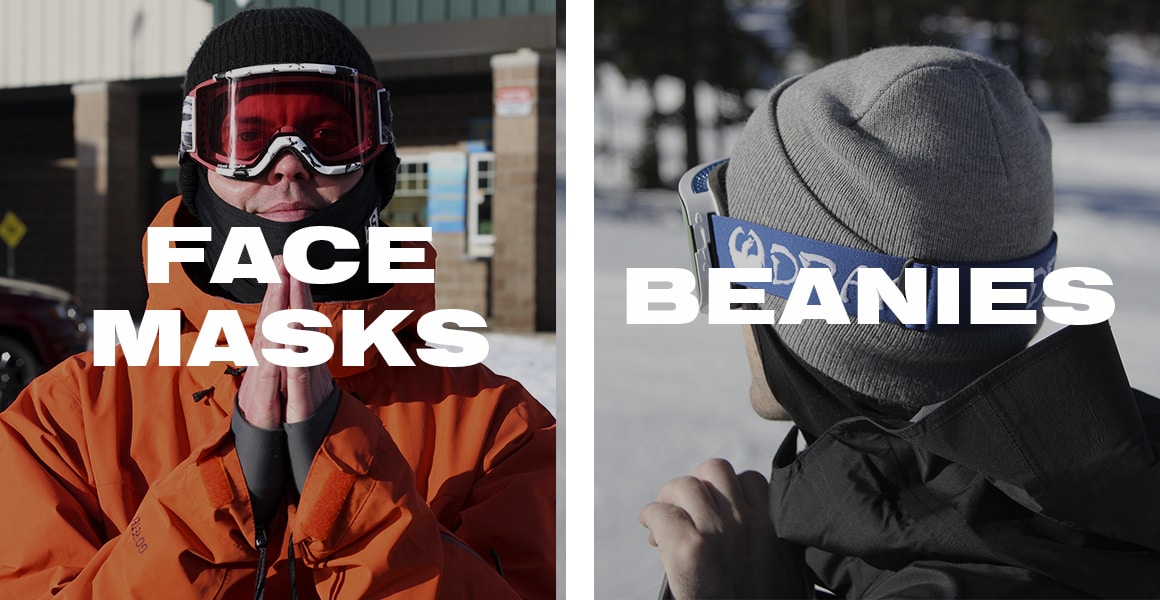 Beanies, facemasks, and balaclavas provide critical heat retention and protection which is a must for staying comfortable and warm on the mountain. Beanies come in a variety of different styles and materials and provide increased warmth thanks to their thicker design. Balaclavas and facemasks are a great choice if you prefer full protection for your entire head and face. Many styles also allow you to adjust how much coverage they provide by pulling them either up or down over your nose and mouth. Face masks and Balaclavas can be worn in conjunction with a beanie and are also a great choice if you wear a helmet, as the thin, contouring design will not interfere with your helmets overall fit.
SHOP ALL FACEMASKS & BALACLAVAS
---
LEARN MORE ABOUT SNOWBOARDING
---
STILL HAVE QUESTIONS?
We're here to help. You can call, email, chat or IM during business hours seven days a week. Our staff snowboards…a lot. We're happy to help you with all things snowboarding.